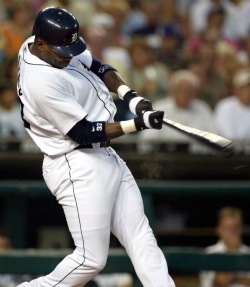 Marcus Thames is not an everyday player. Never has been, really. His abilities, which include a seeming ability to hit lefties, make him a platoon player. True to that, he's seen about 40 percent of his career plate appearances against lefties, whereas an every day player — I'll use Derek Jeter as an example — sees about 25 percent of his plate appearances against lefties. Since the Yankees have just two righties in their A lineup, a lefty masher might be a nice complement off the bench.
Yet Thames had something of a disappointing 2009. It's part of the reason that the Tigers didn't tender him a contract, and certainly a big factor in why he had to accept a minor league deal. His OBP, at .323, was among the highest of his career, but he didn't hit for nearly as much power as he had in years past. Even during his poor performance in 2007 he maintained a .257 ISO. That number dropped all the way to .202 in 2009, the worst mark of his career.
The reason for the power outage becomes apparent when looking at Thames's batted ball breakdown. He hit 47.4 percent fly balls in 2009, which ranks on the lower end of his career. In 2006, his career year, he hit almost 60 percent fly balls. The resulting increase in ground balls led to a higher BABIP in 2009, .301, but his batting average, .252, actually went down slightly from 2006. Furthering the problem, his HR/FB dropped to 14.3 percent, again the lowest mark of his career.
What I wonder is how much Thames's oblique injury affected his power numbers. He missed 44 days in 2009, hitting the DL on April 23 and not seeing action again until June 6. He actually hit well at first, posting a .267/.341/.527 line in the 164 plate appearances following his activation. His numbers dropped greatly at the end of the year, though, as he hit .235/.309/.351 in his final 110 plate appearances. The injury, for some reason, makes me think of Bobby Abreu, who strained his oblique in camp in 2007 and went on to hit .228/.313/.289 through the season's first two months.
As we can see in his splits, Thames's power outage came almost exclusively in August and September, as he posted excellent ISO figures upon his return. As you can further see, his fly ball numbers dropped in those months, as his ground ball frequency rose. Also obvious: his HR/FB dropped off in the last two months, most notably in September when he didn't hit a single home run. The injury might help explain some of that, and would explain even more if it recurred and he didn't tell anyone, though we have no way of really knowing that.
Unless the Yankees really like what they see from Jamie Hoffmann in camp, I'd bet Thames makes the team as a righty pinch hitter, mostly for Brett Gardner or Randy Winn. Bench players often bring one skill to the table, and Thames has demonstrated tremendous power in the past. If he recovers from last season he can contribute as a pinch hitter and possibly a starter against some lefties. In other words, he's something like a righty Eric Hinske. That doesn't sound all that bad.
Credit: AP Photo/Duane Burleson