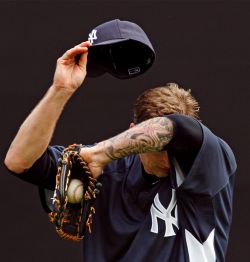 We can count on a few stories to pop up multiple times every spring. Some players show up in the best shapes of their lives. While that's probably the most common spring cliche, pitchers developing new pitches over the off-season ranks pretty close. The attached assumption is that another pitch means another weapon. Many pitchers, however, never implement this new pitch. They can work on it all off-season, but until they start throwing it in games they won't really know how it works. And since throwing it in games can cost runs, some pitchers shy away.
We won't know until April whether A.J. Burnett will use his changeup more in 2010, but he certainly worked on it this off-season. In fact, as Carig tells us, he worked on it harder than in any previous off-season. Adding a dependable changeup to his arsenal could keep hitters even more off-balance when his curveball is working well, and could provide a backup plan on days where his curveball falls flat. But even given his hard works and the effect it could have on his success, Burnett won't commit to mixing it in more often. "Whether I throw it or not, I don't know," he said.
To help him better develop the changeup, Burnett sought out 40-year-old Reds reliever Arthur Rhodes. It sounds perfectly normal for pitchers to seek advice from their elders, especially when they live nearby in the off-season. Rhodes has been a fine pitcher over his 18-year career, striking out nearly a batter an inning while maintaining a 4.15 ERA (107 ERA+). Without the 82 innings he's pitched against the Yankees, though, that would be a 3.88 ERA. He has also allowed eight runs in 6 playoff innings against the Yankees, though seven of those runs came during two games in the 2000 ALCS.
I'd love to see Burnett work in a third pitch, but it's not a simple process. I assume he'll throw it a bit more often once the spring games start to see if he can get a feel for it. But even then he might not have enough confidence, no matter how much progress he's making. Without full confidence in a pitch we can't expect a pitcher to use it, no matter how much it could potentially improve his arsenal. With Burnett, I'll expect another season of fastball-curveball, and take any further changeup usage as a bonus.
Photo credit: Kathy Willens/AP