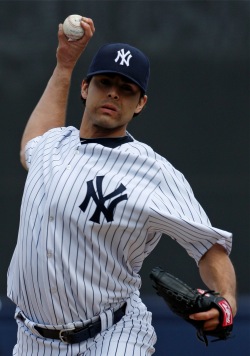 Sergio Mitre doesn't stand much of a chance to break camp as the Yankees' fifth starter. After pitching well in his first few outings he came back to earth in his latest, quelling the story he had created a few weeks ago. He is once again an afterthought, a pitcher not totally taken seriously as a starting candidate for the Yankees. But, since he's out of options, chances are he'll head to Boston as a member of the bullpen.
Over the winter I wondered whether Kei Igawa would profile as a reliever. The idea came from The Hardball Times's Jeff Sackmann, who identified key traits of quality relievers. These include pitching well the first time through the order (and also in the first inning of work), pitching well out of the stretch, and, less important for a righty like Mitre, strong platoon splits. If Mitre fares well in these aspects, perhaps he can survive as a short reliever. Otherwise, it's difficult to determine his value to the team.
Mitre has a 5.56 career ERA, spanning 362.1 innings, so he's already a prime candidate for bullpen conversion. As we often note, if you look through major league bullpens you'll see a bevy of failed starters. That covers 90 games, 61 of which were starts. His relief numbers are actually worse than his starting numbers, a 6.44 ERA, though we can't project much from a 36.1 inning sample. Still, perhaps there's something in the numbers that provide an indicator.
Like most pitchers, Mitre is more effective when facing a batter for the first time. Opponents hit .260/.321/.393 off him initially, but as expected they get a bit better the second time, to the tune of .311/.367/.455. The second line is pretty horrible, and the first line doesn't really stand out. In his 2007 season, however, Mitre did show better numbers the first time through the order. His OPS against the second and third time through were right around his career averages, but the first time through opponents hit .240/.286/.299. Unfortunately, we're again dealing with a small sample, just 242 PA. To demonstrate what can happen in small samples, opponents hit .344/.373/.510 against Mitre the first time through in 2009, while they managed just .235/.297/.469 the second time through.
On pitches one through 25 for his career, opponents have hit .274/.337/.411 off Mitre, still not an eye-opening number. Again, he did a bit better in 2007, .248/.300/.309, but in that similarly short sample. In other words, over the only meaningful sample Mitre provides, his career numbers, he hasn't fared too well in short bursts. Perhaps he'd change his style when relegated to the pen full-time, but that's not something a team like the Yankees can bank on.
Worse yet, Mitre does not react well to having men on base. Pitching out of the stretch during his career he has allowed opponents to hit .323/.383/.472 over 759 PA. That is not a pitcher I want in with men in scoring position. His only saving grace in that regard is that he keeps the ball on the ground. Then again, that's not a trait particular to having men on. He generally keeps the ball on the ground 60 percent of the time, which is the entire reason he continues to get a chance. It's tough to ignore someone with that type of ground ball rate.
I do think that Mitre is better than he showed last season. Then he had just finished rehabbing from Tommy John surgery and surely wasn't at his strongest. He also didn't keep the ball on the ground quite to the rate he had earlier in his career. Given the chance I think he could be a decent fill-in starter. He pitched well in 2007 before getting hurt, and if he can rediscover that form he might provide value. I do not think, however, that it will be for the Yankees.
As I mentioned last night, the Yankees have one too many pitchers. Their choices involve optioning a good young pitcher, trading one, or designating one for assignment. The first doesn't make much sense — unless the Yankees want to keep one pitcher stretched out at AAA (that could even be Aceves, I suppose). The second is an option for sure, but not one a team can rely on. That leaves the third. I think, though, that the Yankees would trade Mitre for peanuts before they released him. Again, he can fill a back of the rotation spot for a team in need. But given his track record, and given the construction of the Yanks roster, I don't think it will be for them. There are just too many pitchers better than him who deserve the spot more.
Photo credit: Kathy Willens/AP