The feeling around Tampa is that the lineup the Yankees trot out in tonight's exhibition game will be the one Joe Girardi hands to the umpires on Opening Day. That marks one of the team's more significant decisions this spring. As we've been saying since the outset, if the batting order represents a major decision the team is probably in good shape. After this the Yankees have just a few decisions to make, and only two that will actually affect who stays on the major league roster.
Fifth starter and bullpen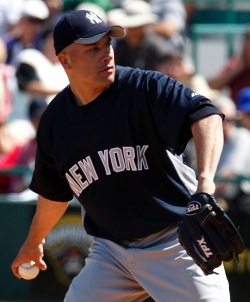 The most discussed position battle this spring has been for the last spot in the rotation. The Yankees insist that all five participants have an equal shot at winning, but that's what they're telling the public. Chances are either Joba Chamberlain or Phil Hughes will pitch behind Javy Vazquez, with the others moving to the bullpen. The Yankees know that they'll need to replace one or both of Vazquez and Andy Pettitte next season, so having at least one of their highly touted youngsters ready to step in would be to their benefit.
Yet the battle doesn't quite end there. This battle will see four losers, but there remain only three spots in the Yankees' seven-man bullpen. Mariano Rivera, Damaso Marte, Chan Ho Park, and David Robertson already have spots, so there isn't enough room for Al Aceves, Chad Gaudin, Sergio Mitre, and one of Joba and Hughes. This means that, one way or another, the Yankees will have to make a roster move. That might be trading Mitre, though there's no guarantee they can find an acceptable suitor. Otherwise, it means optioning a player.
Of the eight bullpen suitors, only Joba/Hughes, Aceves, and Robertson have options. There's almost no chance Robertson heads to AAA, so that leaves only two choices. The Yankees could send the either Joba or Hughes to the minors to remain stretched out, but they would also fit well in the bullpen. Sending Aceves down also appears to be a waste. They'll have to pick one, though, since it remains unlikely that they'd actually DFA one of these players.
Photo credit: Gene J. Puskar/AP
25th man
The bench won't be an issue for the Yankees heading into the season. Francisco Cervelli will back up Jorge Posada, Randy Winn will play the part of fourth outfielder, and Ramiro Pena figures to fill the utility role. That leaves just one spot open, and the Yankees have their battle between two players, Jamie Hoffmann and Marcus Thames. It won't be an easy decision for the Yanks, either way.
This battle isn't a matter of picking a winner and sending the loser to AAA. Either Thames or Hoffmann will end up elsewhere if he does not make the team. The Yankees must offer Hoffmann, a Rule 5 pick, back to the Dodgers if he does not make the 25-man roster. Perhaps at that point the two teams can work out a trade — maybe even a Mitre-for-Hoffmann swap — that would allow the Yankees to retain Hoffmann and place him in AAA. Chances are, the Dodgers would not refuse the Yankees' offer of return.
When Thames signed with the Yankees he knew there was a chance he wouldn't make the team out of spring training. In fact, with Hoffmann on board it would have made sense for the team to start the season with him in the majors and send Thames to AAA, where he could get at-bats while waiting for an opportunity. Seeing this in his future, Thames negotiated an opt-out clause in his contract that allows him to become a free agent if he does not make the 25-man roster. He could, of course, still end up playing for Scranton if no other teams shows interest. Those chances, however, don't appear strong.
Photo credit: Kathy Willens/AP
Watch them tumble
The Yankees will likely keep a number of pitchers on staff through the end of spring training. The regulars won't be completely stretched out, and there's always a need to fill garbage innings when a pitcher gets hammered. But, while we might see guys like Jon Albaladejo and Romulo Sanchez still pitching in big league camp during the last week of March, there's little to no chance they make the big league team. The Yanks have plenty of depth, to the point where they might have to option a good pitcher and release quality bench fodder. Thankfully, this is nothing but good news.