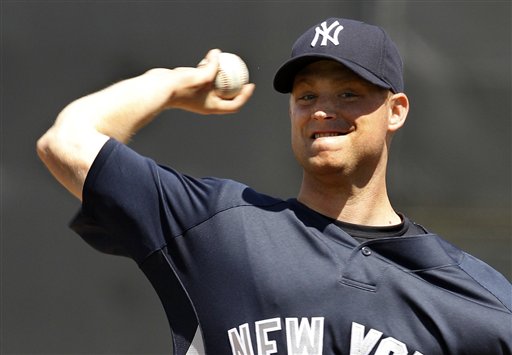 The battle for the fifth starter's spot appeared to lose a candidate overnight, as Ed Price reports that the Yankees have placed righty Chad Gaudin on waivers. Several things can happen now…
Someone claims him. The waivers are irrevocable, so whoever claims Gaudin will get him and his entire $2.95M salary, no questions asked.
He clears, and the Yanks send him to the minors. They'd still owe him his full salary.
He clears, and the Yanks choose to flat out release him. They'd still owe him 45 days termination pay, which would be $737,500 according to Ken Rosenthal.
Considering that he's bounced around so much (six teams in seven seasons), I'm willing to bet Gaudin's been outrighted off someone's 40-man roster before, which is essentially what the Yankees are doing. Under that assumption, Gaudin has the right to refuse a minor league assignment and elect to become a free agent, however he would forfeit his entire salary by doing so. Given the current economic climate, I can't imagine he'll find more than $2.95M on the open market, so it seems unlikely that he'll go this route. If he does, his agent will have given him some bad advice.
For the second straight year, Gaudin had a tough going in Spring Training. Last year the Cubs decided to cut him loose too close to Opening Day, so they had to pay him his full $2M salary. The Padres signed him for the league minimum, then flipped him to the Yanks in August. He's allowed 16 hits and ten runs with a 5-5 K/BB ratio in 9.1 innings this spring, covering four total outings (two starts), which is obviously pretty bad. However, did the Yankees fall for the trap of Spring Training stats by waiving Gaudin instead of Sergio Mitre?
Sure, Mitre's had an impressive spring (14 IP, 3.21 ERA, 14-3 K/BB), and with an $850,000 salary it's less likely that he would have cleared waivers. Maybe the Yanks felt this was the best way to keep both players in the organization, since Gaudin's hefty salary makes him less attractive than most of the other back-end types floating out there. I hope that's the case, because there's nothing in either player's track record to suggest that Mitre is better option going forward than Gaudin.
In over 460 career innings in the American League, Gaudin has been the definition of league average. His 4.25 ERA equals a 101 ERA+, his .271 batting average against isn't much worse than the .265-ish league average (basically one extra hit every 142 at-bats), and his 6.5 K/9 is right around the 6.8-ish average as well (one fewer strikeout every 30 IP). His walk rate (4.2 BB/9) is definitely high (~3.4 league average), but he mitigates it somewhat with a strong groundball rate (43.7%). There's nothing sexy about league average, but it's very valuable in the role he's expected to fill.
Mitre, on the other hand, has never been league average at much of anything, even before having Tommy John surgery. Even in his best season (2007), he put up a 4.65 ERA (93 ERA+) and a 4.8 K/9, both below average by any measure. And that came in the NL, in a pitcher's park. His groundball rate (59.7% career) is spectacular, but missing bats and avoiding contact is the name of the game in the AL East. Oh, and Gaudin's more than two full years younger.
The move to waive Gaudin all but assures that Mitre will open the season as the long man in the bullpen, yet there's not much to suggest he's the right man for the job beyond Spring Training stats. Thankfully, we're talking about two guys that amount to spare parts, though for all intents and purposes they represent the Yanks' sixth and seventh starters. Hopefully Gaudin clears and they're able to stash him away in Triple-A for the time being. It would be a shame to lose him for what amounts to salary relief.
Photo Credit: Gene J. Puskar, AP