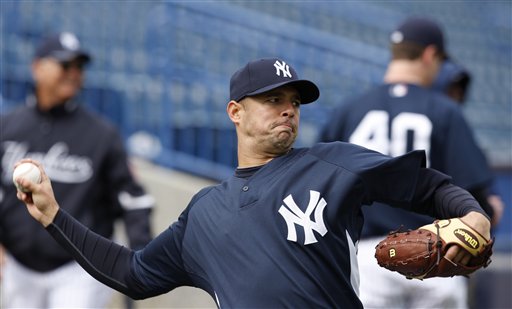 Ah the joys of Spring Training. We've got our first split squad game of the preseason today, as half the team will be in Bradenton playing the Pirates this afternoon while the other half will be home in Tampa to take on the Phillies. We're getting the home game of course, and for the first time since 2004, Javy Vazquez will be pitching in a Yankee uniform.
Vazquez is last starter to throw in some form of game action following Andy Pettitte's simulated game yesterday. I'm sure he'll be held to the same 35 pitch limit the other starters were held to their first time out, and chances are he won't be throwing much more than his fastball and a handful of breaking balls.  Thankfully, he won't be matched up against Roy Halladay.
Here's the starting lineup…
Gardner, CF
Johnson, DH
Teixeira, 1B
Posada, C
Cano, 2B
Swisher, RF
Thames, LF
Russo, 3B
Pena, SS
Scheduled Pitchers: Javy Vazquez, Mark Melancon, Royce Ring, David Robertson
Jesus Montero is scheduled to take over behind the dish once Posada gets a few at-bats. First pitch is set for 1:05pm, and you can watch on either YES or MLB Network. Enjoy the game.
Photo Credit: Kathy Willens, AP