It seems that spring training trades tend to involve small-time players. After evaluating players over the first month of exhibition, some of these role players become expendable. This is what we saw in the Rondell White trade. Hideki Matsui's addition rendered White a reserve outfielder. Rather than spend $5 million on a bench player, the Yankees traded him for a high-upside arm. Yet this isn't at all the type of trade Cashman pulled in the Spring of 2001. It involved two minor leaguers, Wily Mo Pena and Drew Henson. The players involved have quite a history with the Yankees.
The backstories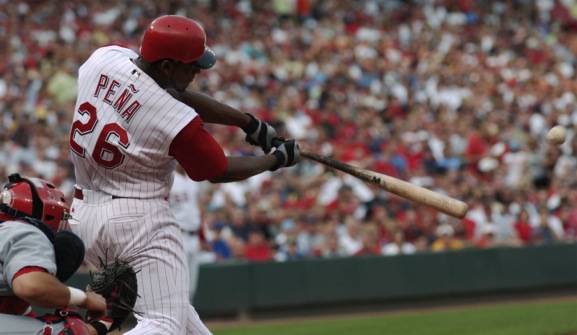 Photo credit: Tony Tribble/AP
During the international signing period in 1998, the Mets signed 16-year-old Wily Mo Pena. That winter, however, Major League Baseball voided the deal. Why this happened I could not find, but whatever the reason the Yankees stepped in a month later and signed Pena with a $2.44 million bonus, the largest non-Cuban bonus ever at that point.
The Yankees drafted Drew Henson in the third round of the 1998 draft. A star quarterback at the University of Michigan, Henson chose baseball and the Yankees thought he had star potential. But, needing a pitcher in 2000, they traded him to the Reds for Denny Neagle. Also included in that trade: Ed Yarnall, whom the Yankees acquired just a year prior in exchange for Mike Lowell.
The trade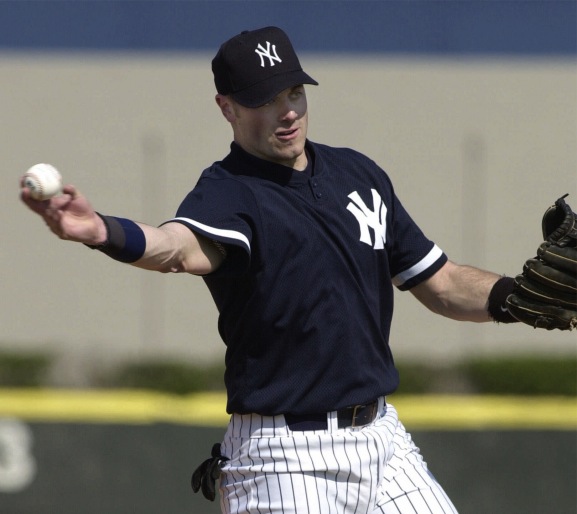 Photo credit: Chris O'Meara/AP
In the spring of 2001 Henson had recently completed his junior year at the University of Michigan, where he excelled at quarterback. He was still playing baseball, but it was clear that he could still choose to enter the 2002 NFL draft and try his hand there. His preference, however, was to play baseball, and specifically for the Yankees. As Buster Olney put it, the Yankees were convinced of his future stardom and wanted him back from the Reds before he had to decide on the NFL.
Pena had not impressed during his first two seasons in the Yankees' minor league system. He played his age-17 season in the GCL, hitting .247/.323/.446 through just 186 plate appearances. He followed that up with underwhelming performances in low-A and A levels in 2000, hitting for a combined .651 OPS. He played mostly in class-A, Greensboro at hte time, where he hit .205/.268/.361 in 276 PA. The performance itself was disappointing, but Pena was all projection at the time. His raw power certainly enticed other teams, and the Yankees took advantage.
The two teams worked out a swap in late March, with the Yankees receiving outfielder Michael Coleman in the deal. This was not much of a consolation, as Coleman had no remaining options — hence Cincinnati's willingness to deal him. His last at-bat of the season, and of his major league career, came on May 16.
The results
What started as a swap of two talented players turned into a swap of two busts. Pena appeared to be on his way in 2001, when he hit .264/.327/.485 in 565 PA at Class-A. He struggled at AA the next year, though, especially with his bread and butter, power. Still, he made his Major League debut that season. He hit well enough in 2003 to warrant a call-up, and in 2004 it appeared he was well on his way to mashing major league pitchers. He posted a .268 ISO in 2004 and .238 in 2005. Yet his plate discipline remained a big problem.
Pena was involved in another spring training trade five years after the Yanks traded him when Cincinnati sent him to Boston for Bronson Arroyo in 2006. His power numbers dropped that year, but his .301 average powered his OBP to a respectable .349. THat's what a .400 BABIP will do. Of course, that's unsustainable. After 172 poor plate appearances for the Red Sox in 2007 they traded him to the Nationals, where he picked it up. Unfortunately he stumbled again the next season. He spent 2009 at the Mets' AAA organization, where he hit .276/.296/.414.
Though Henson played at three minor league levels in 2001, he spent most of his time at AAA, 281 PA, though he struggled worse than Pena. His .145 ISO was the only remotely bright spot that season. In 2002 he returned to AAA and showed improvement, hitting .240/.301/.435, again displaying power, a .195 ISO this time, but once again showing not much in the way of discipline. He did get one major league PA at the end of the season. He was even worse in 2003, hitting .234/.291/.412. He went 1 for 8 that september with the big league club and never played baseball again.
Overall, Pena produced 0.8 WAR in his career while Henson was -0.1, so the Yankees didn't lose even one win by making the swap. I don't remember much of the trade, though I understand what they were doing. They wanted the athlete over the power product. As it turned out, neither reached their potential.