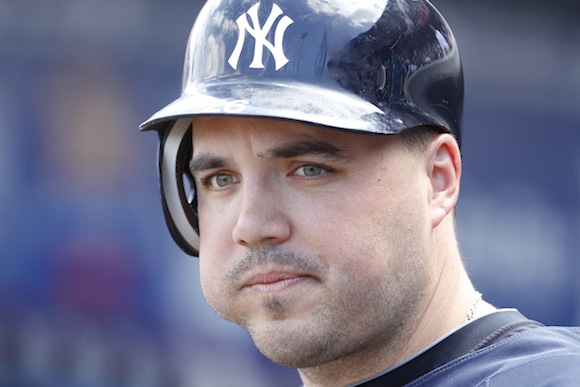 Nick Johnson has been a bright spot for the Yankees offensively this spring. (AP Photo/Gene J. Puskar)
We don't spend much time on Spring Training results. They are largely irrelevant, and the teams themselves are looking more at process, strength and red flags than who wins, who loses and who compiles the biggest stats. Some games end with tied scores and others have a bottom of the 9th after the home team has already won so that a pitcher can get some extra work in. It's a relaxed atmosphere where players who start often don't even know who won or who lost.
With their win over Tampa Bay last night, the Yanks wrapped up their 15th Grapefruit League game of the year, and in 16 days, 10 hours and approximately 35 minutes from when this post is published, the team will face off against the Red Sox in a game that counts. So at Spring Training's halfway point, let's have some fun with numbers.
NJ leading the way
Nick Johnson, the man atop this post who was brought back to the Bronx to the be the OBP machine at DH, has led the team offensively so far. In 18 ABs, he's hitting .389/.478/1.000 with three home runs, a pair of doubles and four walks. Robinson Cano is having himself a nifty spring as well with a .400/.444/.520 triple slash line in 25 ABs, and Mark Teixeira is right there with him. The switch-hitting first baseman sports a .333/.417/.619 line in 21 ABs.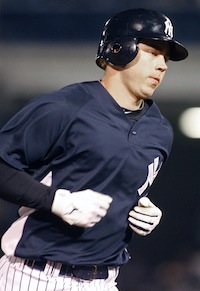 Of those not likely to make the team, Colin Curtis leads the way. He has just ten at-bats this spring, but two of them have resulted in three-run home runs. His seven RBIs lead all Yankees, and the 25-year-old has certainly flashed some offense this month. Jon Weber is 8 for 15, and Kevin Russo is 6 for 17. Juan Miranda, auditioning for a trade or a bench spot, is just 4 for 23.
The guys fighting for spots and playing time are faring a bit worse. Brett Gardner has four walks but is just six for 25. Jamie Hoffmann has three hits in 21 ABs but has just one strike out. At least he's making contact. Randy Winn is four for 21 with six K's, and all four of his hits were singles. Spring Training invitee Marcus Thames is three for 21 with seven whiffs.
Aceves strong in the early going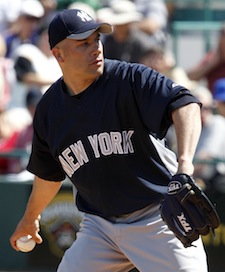 For the Yankee hurlers, Alfredo Aceves has led the way. He has tossed a team-high 10 innings and has allowed just one run on three hits. He hasn't issued a free pass and has struck out five. He should again turn out a solid season from the pen as he morphs into this generation's Ramiro Mendoza.
Beyond Aceves, Javier Vazquez has turned in an admirable spring as well. In three outings, he has unsurprisingly surrendered three home runs, but he has struck out nine while walking just three in eight innings. If he can maintain that K:BB ratio, he'll be just fine this summer. Sergio Mitre, another year removed from Tommy John surgery, has impressed as well. In nine innings, he has surrendered three runs on seven hits while walking two and striking out seven. Mark Melancon — 5.2 IP, 4 H, 1 ER, 1 BB, 7 K — remains a sleeper candidate for the bullpen.
The guys who have struggled on the mound include some big names. CC Sabathia sports an ERA north of 8.00 right now, and Joba Chamberlain, coming off of a strong outing on Wednesday, has allowed 12 in 6.2 innings with a K:BB ratio of 5:7. Jonathan Albaladejo holds the title for worst of camp though. In 2 innings, he has given up 15 hits and 10 earned runs.
It's tempting to draw conclusions from this numbers, but there's nothing much here. Players have too few at-bats, and pitchers are working to get a feel for pitchers. As long as no one gets hurt, the results are secondary. We'll worry about the results in April.
Photo credits: Colin Curtis via AP Photo/Brian Blanco. Alfredo Aceves via AP Photo/Gene J. Puskar.