With last night's victory the Yankees improved their season record to 6-3, having taken two out of three in each of the first three series. That doesn't quite place them atop the AL East, as the Blue Jays have played one more game (and won it), but it's an excellent start nonetheless. The Yankees aren't exactly used to this type of occurrence in April. For what seems like forever the team has taken its time to get into a groove, sacrificing April for torrid production later in the season. Imagine what the 2009 team would have looked like, for instance, if their April looked more like their August.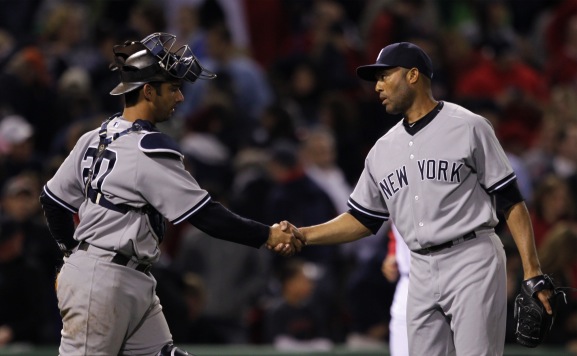 Six wins in nine games represents quite a pace when extrapolated over a full season. That's 108 wins, which would surely mean another AL East title. Of course, just because they hold a .667 winning percentage now doesn't mean they'll maintain it over the course of the season. April results, as we've seen over the past — well, forever — don't necessarily correlate to how a team plays over the course of a season. That presents more of a concern for teams like Toronto, which stand little chance of contending.
The last time I can remember the Yankees getting off to a decent start was in 2006. In 2005, I'm sure you remember, the team got off to its infamous 11-19 start, prompting plenty of questions about the team's moxie. That year they had played 15 games before they reached the six-win plateau. The next year went a bit better, but apparently the slow start in 05 left such a scar that my memory is willing to interpret a middling start as something positive. It took the Yankees 12 games to reach the 6-win mark. They actually played pretty much .500 ball through the first month.
I remember April 2007 very well. It was the month where Alex Rodriguez started to shed the choker tag, as he hit two walk-off home runs during the team's first two home stands. Yet that team started off as a .500 team as well, losing Game 11 before winning their sixth game in Game 12. It was afterwards that they stumbled, losing eight of their next 11 games to finish April at 9-14. May was just as bad, and they finished that month 22-29 before becoming the hottest team in baseball the rest of the way.
(Just how hot? They finished 94-68, so from June 1 on they went 72-39, a .649 winning percentage. From July 1 on, though, they went 56-27, a .675 win percentage. So while they stanched the bleeding in June, they really started to lay into the league in July.)
Most of us remember 2008 as a total disaster, with the Yankees facing injury after injury in Joe Girardi's debut season. The Yankees actually didn't start horribly, though they didn't start great. As in 2006 and 2007 the team went 5-5 through 10 games, but in 2008 they won Game 11, earning them their sixth win. They then lost Game 12 to even their record again, before falling to 20-25 after Game 45. They did make a nice recovery, but there was little to get excited about that season, other than Joba throwing gas in the rotation for a couple of months.
Last season opened the same way, with the sixth win coming in Game 11 (and the sixth loss coming in Game 12). So when was the last time the Yankees got to their sixth win in Game 9 or better? I thought maybe 2004, but they pulled the same .500 jig that year, attaining six wins after Game 12. It was actually 2003 when they got off to a rapid start, going 18-3 over their first 21 games. That year they were 6-1, so they got to their sixth win even faster, in Game 7. The Yanks could certainly use a little 2003 this season. They won the AL East by six games that year.
From the purview of a six-month baseball season the Yankees' hot start means little. We've seen teams get off to slow starts and win over 100 games. We've also seen teams get off to fast starts and crumble. After this off-season, however, it's nice to see the team starting well. Not only does the team face heightened expectations after a World Series victory, but they also faced a bit of criticism by pulling a few fan-unfriendly moves. From what I've gathered, the average Yankees fan didn't like the idea of replacing Matsui and Damon, and certainly, as demonstrated on Wednesday, did not approve the return of Javy Vazquez. The Yanks are doing their part to change the fans' mindsets. A hot start oftentimes cures all.