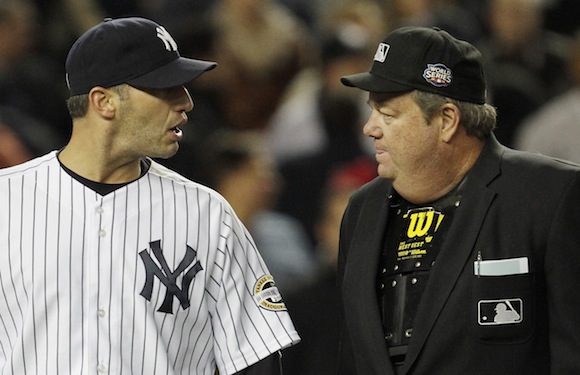 Cowboy Joe has a problem: The glacial pace of Red Sox-Yankees games is getting under his skin, and the players just don't respect him or the game.
"They're the two clubs that don't try to pick up the pace," Joe West, umpire, crew chief at Fenway this week and sometimes singer/songwriter, said prior to last night's game. "They're two of the best teams in baseball. Why are they playing the slowest? It's pathetic and embarrassing. They take too long to play."
West's rant came after players on both teams complained Tuesday night when they were denied time outs by home plate umpire Angel Hernandez. With reporters at the ready, West continued his tirade. "The commissioner of baseball says he wants the pace picked up. We try and still almost went four hours," he said. "All of baseball looks to these two clubs to pick up the pace… The players aren't working with us. This is embarrassing, a disgrace to baseball."
A disgrace to baseball. Strong words coming from an umpire who once quit his job as a failed labor negotiation tactic.
The reaction to West has, unsurprisingly, been swift and somewhat critical. Rob Neyer supported West's statements but wondered if the umpires should be at fault. Jason at It's About The Money, Stupid highlighted West's strike zone. Others have questioned West for speaking out in the first place. Umpires, many believe, should be seen and not heard.
But West has a point, and we'll get to that in a minute. First, I'd like to address concerns about West's strike zone as one reason for the game's delay. The argument alleges that West doesn't call low strikes, and thus, pitchers are throwing more pitches and the game takes longer. That is partially true, but if we take a look at the normalized strike zone, that argument breaks down. Via Brooks: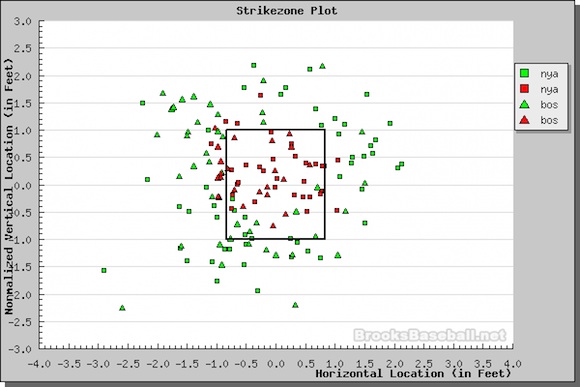 It's true that Joe West doesn't call a low strike, but he's willing to extend the zone to his left a bit. By my count, he called nearly as many pitches that were strikes balls as he did pitches that were out of the zone strikes. That's a spurious argument, and it detracts from West's valid points.
The valid point is that Yankee-Red Sox games are very, very long. Sunday's game took three hours and 46 minutes to play; Tuesday's lasted three hours and 48 minutes. Even last night's 10-inning affair went on for three hours and 21 minutes. According to figures from last year, an average major league game lasts around 2:52 while the Yankees play games that average 3:08 and the Sox 3:04. When the two teams play each other, they averaged nine innings in 3:30 last year, a good forty minutes slower than league average. Pick up the pace, indeed.
But, as always, the question remains: Does it matter? The Yankees and Red Sox both take more pitches than just about any other team in baseball, and the two teams were one and two in the AL in on-base percentage last year. As I said yesterday, the more pitches a team takes, the baserunners they have, the more runs they have, the more pitchers they see, the longer the game takes.
Meanwhile, from the money perspective, few fans care. In the New York area, YES Network enjoyed its second-highested rated regular season game ever on Opening Night, and NESN had its highest Opening Night ratings in its history. ESPN2, airing the game outside of the two major New England and New York media markets, scored a 2.4 rating, just a few thousand viewers behind the NCAA women's championship game. The fans have repeated said they don't mind the long games; they just want baseball.
In the end, I think Joe West's claims are right. The Yankee/Red Sox games do take too long, and some of that is because the games are sometimes managed as though they are Game 7 ALCS chess matches and not just games one, two and three of the regular season. I think baseball should try to cut down on these lengthy games for the overall health of the sport. After all, we want to see game action and not David Ortiz spitting on his batting gloves for the fourth time in three pitches.
But Joe West is also wrong. It's not his place to call baseball's marquee teams an embarrassment. It's not his place to yell at the players. Let Bob Watson spin his wheels arguing with teams over picking up the pace. The umpires just sound as though they're whining in the face of baseball's success, and that is what I find to be a disgrace to baseball.
* * *
Update (5:09 p.m.): Mariano fires back
As Joe West's comments reverberate throughout baseball, Mariano Rivera has slammed the umpire over his remarks. Brian Costello and George A. King III caught up with the Yankee closer who wasn't too pleased to hear West complaining about having to do his job.
"It's incredible," Rivera said to the two Post reporters. "If he has places to go, let him do something else. What does he want us to do, swing at balls?"
Rivera, a player who has tremendous respect for the game and the umpires, didn't hold back. "He has a job to do. He should do his job," Rivera said. "We don't want to play four-hour games but that's what it takes. We respect and love the fans and do what we have to do and that's play our game."
On the one hand, it will, as Costello and King write, be interesting to see how West reacts the next time he's behind the plate for a Mariano appearance. On the other hand, Rivera, the Yankees and the Red Sox should be insulted by West's comments. As many have pointed out, West's partiality is now in doubt, and Bud Selig should step in to calm this escalating situation.