From the first batter last night it was clear what kind of Phil Hughes we'd see. Instead of the starter who threw 91, 92, Hughes came out throwing 93 and 94 mph fastballs in the first inning. He threw 13 pitches that inning, 11 of them four-seamers, and struck out two Angels. He pitched very well through the next three innings before running into a bit of trouble in the fifth, which he escaped without any damage. It wasn't a great start, as he only lasted five innings, but it certainly was encouraging.
Biggest Hit: Curtis Granderson's first triple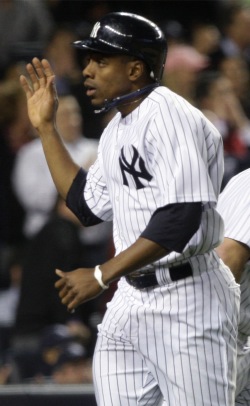 The Yankees trailed for just three outs in the game. After Hideki Matsui homered to lead off the second, Robinson Cano answered with a lead-off shot of his own. From there on it was all Yankees. Jeter's home run put the Yankees ahead, but it was Curtis Granderson's triple that opened up the game a bit. It drove in Marcus Thames, who had singled to lead off the fifth after doubling off the wall in the second.
Granderson's triple wasn't valuable only because it gave the Yankees a two-run lead with a quality pitcher on the mound. It also put him on third with none out, which meant he himself had a high probability of scoring. That happened two batters later, when Derek Jeter pulled a double into the left field corner. The Angels were shading him towards right, so Jeter put it in the perfect spot. Unfortunately, neither Swisher nor Teixeira cold bring home Jeter and really open up the game.
Honorable mentions go to Jeter and Cano for their solo home runs. Cano's was an absolute shot, and he followed it with another one in the fifth, that one chasing Scott Kazmir from the game. There might not be a hitter in the majors as hot as Robinson Cano.
Granderson pulled the improbable, tripling again one inning later. Only 67 players ever tripled twice in a game at the old Yankee Stadium. The last one to do it was Enrique Wilson in 2002. Granderson was the first to do it in the new Yankee Stadium.
Biggest Pitch: Matsui hits a rare Hughes mistake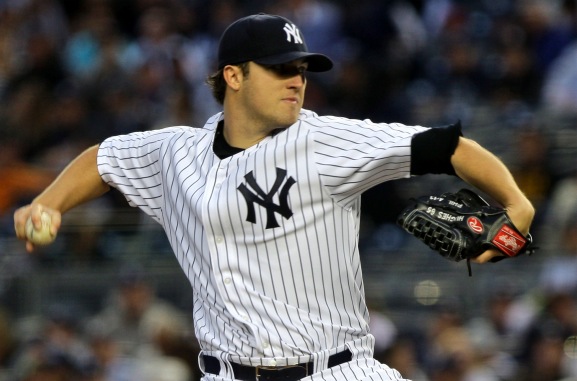 Phil Hughes looked unstoppable at the beginning of the game, but the fourth batter he faced, Hideki Matsui, put the barrel on a 1-0 fastball that didn't quite reach the outside edge. It went into the Yankees' bullpen and gave the Angels their only lead of the night. Hughes came back to finish the inning strong, inducing a grounder before striking out two hitters with the curveball.
Hughes tires in the fifth
For the first few innings Hughes's fastball looked like the one that made him the most coveted pitching prospect in the game. He sat mostly 93-94 mph in the first inning, dropping to 92-93 for the next few. By the fourth he was sitting mostly 92, and by the fifth he threw mostly 91 mph fastballs with some at 92. What impressed me most was the vertical break on Hughes's fastball*.
*Quick, quick PitchFX primer. Pitches are compared to a pitch thrown with no spin. A pitch with no spin would drop quickly compared to a pitch with backspin. Vertical break refers to how much higher a pitch with backspin stays over a pitch with no spin.
There must be something up with the system this year, because Hughes's veritcal break was sometimes as high at 18 inches. In last year's system an 11 inch vertical break was considered excellent. Hughes was often at or above that figure, but 17 and 18 inches? That has to be a change in the algorithm, right?
The only negative from his performance was the inefficiency. He generated a lot of foul balls with two strikes, which drove up his pitch count a bit. That hit him especially in the third, when Torii Hunter extended his at-bat with three two-strike fouls. Brandon Wood also started the inning by fouling off two two-strike pitches. A few too many three-ball counts in the fourth, fifth, and sixth pushed his pitch count a bit high. Still, it was one of Hughes's finer starts.
Cano is murdering the baseball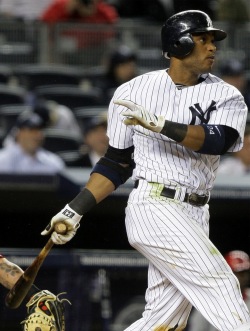 There might not be a hitter in the majors as hot as Robinson Cano. He came to the plate four times last night and picked up two hits, both of them home runs. That makes four home runs in 40 plate appearances on the season. It took him 17 games to get his fourth home run last year. The evening raised his average to .395, his OBP to .400, and his SLG to .816.
Not only has Cano been hitting the ball everywhere — he has more extra base hits than singles right now — it seems like even his outs are well-struck. That's the way Cano works when he's locked in. He has always possessed the talent to be one of the league's best second basemen. I don't want to make too much of a hot start, but this is the kind of talent we know Cano possesses. No, he won't finish the year with a slugging percentage that resembles an OPS, but he can still hit 30 homers and 50 doubles. That would be an incredible year.
He's in the prime of his career, he's surrounded by elite hitters, and, not to get all intangible on everyone, he's a champion. Hot starts can mislead, but I think Cano is going to turn this into one hell of a year.
Things that made me smile
Joba again. I had something to do and knew I'd miss the bottom of the eighth and the ninth, so I was kind of annoyed when Girardi made the pitching change. But Joba came in and got just what I was hoping for, a ground ball double play. I ducked out for the rest of the game, DVRing it. When I came back I mostly fast-forwarded, pretty much knowing the outcome. I especially enjoyed the Willets and Aybar at-bats. Joba fell behind both 2-0, but came back and threw nothing but strikes to each.
Thames producing against a lefty. No, Kazmir did not have his best stuff — and we don't know whether he'll ever have his best stuff again — but Thames had his number. His single in the fourth raised his average to .500, though later in the game it dropped to .429.
Did I mention Robinson Cano is slugging .816?
Robertson getting the ball just two days after his infamous ninth inning affair on Tuesday. He got the job done, getting two strikeouts and a groundout to end a minor threat in the sixth. He again looked strong in the seventh.
Nick Swisher is hitting the ball very well, too, but it didn't show up in the box score tonight. He was 0-4 with a walk, but in fairer conditions he might have sent a ball over the center field wall in the third.
Things that annoyed me
I absolutely loved this game. The mound visits and other pauses between pitches in the fifth got old quick, but the results made me forget that pretty quickly.
WPA Chart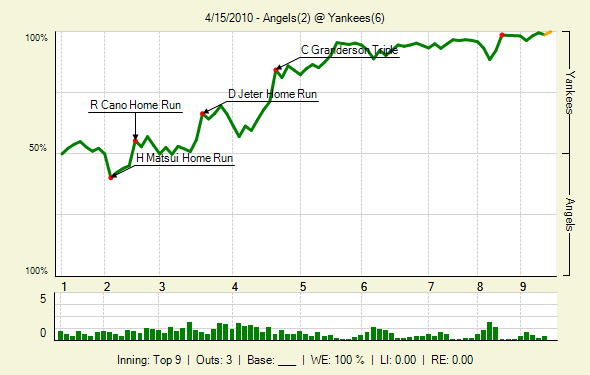 Can't argue with a graph like that. Full boxscore at FanGraphs
Next up
The Rangers, with freshly converted starter C.J. Wilson, come to town tomorrow night. The Yanks will send their ace, CC Sabathia, to the mound for his 2010 Stadium debut.