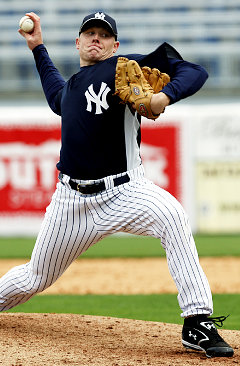 Mike does a great job compiling all of the stats and happenings across the Yankees' minor league system in his nightly Down on the Farm series. From Staten Island to Scranton, we have a pretty good sense about how our players did, even if we mostly only care about Montero, Romine, ManBan, Ramirez, Warren, Z-Mac, Stoneburner and a handful of other players.
But after a while we sometimes get "stuck" in the numbers — we forget how the guy that's just gone 0-5 with 4 K's during last night's game is very often the same guy that went 4-5 with two home runs the night before. So I'm going to be doing a recap of how some of the AAA farmhands have performed thus far, all of which came from milb.com or minorleaguesplits.com. Many of the players on this list are on Mike's Preseason Prospect List, where you can get a better look at their long term prospects. In this AAA installment I chose to recap players that are actual prospects, most of which will likely (if they haven't already) see major league action this year. Not too many are interested in seeing Amaury Sanit's progress, though I'm betting we'd all love to find out if Kei Igawa sleeps with those awesome sunglasses on (I'll do some digging and try to find out for you all).
Next week we'll take a look at how some of the AA guys are looking. Also, because there's a Montero Watch present in the sidebar and most DotF are comprised of MonteroTalk, we're going to leave him out on this one.
AAA Scranton-Wilkes Barre
Kevin Russo, 2B: With the big league club having apparently suffering a pandemic of Mets-itus, a few AAA players have seen some promotions. Chief among them, and for good reason, is utility player Kevin Russo. Russo, a former 20th round draft pick out of Baylor in 2006, had hit .302/.383/.425 as Scranton's second basemen before jumping to Massachusetts after Robinson Cano was hit by a Josh Beckett fastball. He got only two plate appearances but Russo's versatility – he can at least play three infield spots and man the corner outfield positions – defensively, his solid on-base skills, and good contact ability make him a good candidate to stick in the big leagues for a long time. With Ramiro Pena's mounting struggles with the bat (which was inevitable, really), Russo may take him over as a super-utility guy at some point. He'll have to show he can at least play SS passably, though, and there's no guarantee of that. Bonus: if there are minors fantasy leagues that exist (I'm hoping they do), he'll soon have CF eligibility, too. He's played there of late.
Season line in AAA: .301/.388/.416
Last ten games: .310/.383/.405
Time in New York: .000/.000/.000
Eduardo Nunez, SS: Most people saw this coming. Nunez got off to a torrid pace, as Greg Fertel and even RAB's own Mike Axisa have noted in his DotF postings. Consequently, Nunez has really tailed off, displaying why we shouldn't fall in love with early season small sample sizes. With a few middle infielders ahead of him in the pecking order and poor defensive skills (albeit with a great arm), Nunez is unlikely to see any big league action this year. If he does it will because of ghastly circumstances. Poor defense, weak power, unrefined on-base skills with very good contact ability, plus speed and a wonderful arm. That may translate to some modicum of minor league success, but I don't see it happening on the major league level for a middle infielder (and really one in name only).
Season in AAA: .321/.371/.400
Last ten games: .244/.262/.268
Juan Miranda, 1B: Miranda was a big-money IFA signing of the Yanks from Cuba back in 2006. You may remember he was once considered the future first baseman of the Yanks. While that doesn't look like it's going to happen, Miranda, in his final option year, is playing for a contract for a big league club next year. The book on him was that though he really nails right handers, he struggles with lefties and his defensive play is by no means great, even for a first baseman. Last year he took positive steps in correcting those problems, hitting lefties with a triple slash of .291/.367/.507. So far, in AAA, he's continued that pace, hitting .313/.389/.563 in 33 plate appearances (note: this is according to minorleaguesplits.com, which is a bit behind in their stats). Oddly, he's struggled against righties, hitting .222/.354/.364 in 66 plate appearances. He's been in New York for a few games, and with Nick Johnson possibly out for a few months, Miranda may stay in New York as a DH. Considering Johnson's injury history, the team couldn't be caught too surprised by that. This may be make or break for Miranda.
Season line in AAA: .260/.371/.438
Last ten games in AAA:.250/.357/.417
Time in New York: .143/.250/.286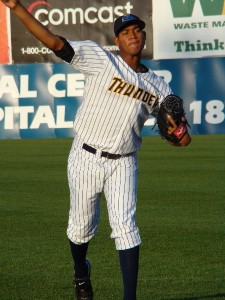 Ivan Nova, SP

Nova's rocketed up Yankee top prospect lists over the last two years as he's finally started to harness his very good stuff. He's been up in New York after the injury bug hit and he's largely impressed, though he's probably the guy sent back down with Park coming back from the DL. In his first appearance, Nova, signed by the Yanks and returned after being selected as a Rule V from the Padres, came in and threw two scoreless innings and in today's game he again looked fairly good. With a likely ceiling as a back-end starter in the AL East (which really isn't all that bad when you think about it), Nova is very likely to be the first guy up again with another injury, first because he's already on the 40-man roster, and second because a groundball pitcher with good stuff is always a valuable commodity. He also has an outside shot at a rotation spot next year depending on how things shake out.
AAA season: 37 IP, 2.43 ERA, 35 hits, 32 K, 12 BB, 1.78 GO/AA
Last two starts: 13 IP, 3.84 ERA, 17 hits, 7 K, 4 BB
Time in New York: 3 innings, 0.00 ERA, 4 hits, 1 K, 0 BB
Zack McAllister, SP

Z-Mac has had an up-and-down in his first run at AAA. Arguably the Yankees' top pitching prospect, McAllister ran into some issues in late April, early May, giving up over 6 runs in two of three starts. Still, he's sprinkled in some good games and has strung two consecutive 7-inning performances of good ball. A polished groundball pitcher, McAllister may wind up trade bait or perhaps in the rotation as early as next year. He, like Nova, has back rotation or possibly #3 starter potential, but he's going to need to get that groundball rate up again. A 34% GB ratio is not going to work at the big league level for a guy with his skill set. It wouldn't hurt to develop a true out pitch, either.
Season in AAA: 45 IP, 4.40 ERA, 52 hits, 32 K, 9 BB, 0.52 GO/AA
Last two starts: 14 IP, 2.14 ERA, 14 hits, 8K, 1 BB
Romulo Sanchez, SP/RP

The last of the famed "Fat Sanchezes," Romulo has been very impressive in his time in Pennsylvania and also in New York. Sanchez has a great fastball, occasionally hitting the high 90's with his 4-seamer, but he likely profiles best as a reliever in the future due to his erratic control and fringe-average off-speed pitches (a changeup and slider). If he can locate that big fastball and keep hitters off balance with one of the off speed offerings, he could definitely stick with the big club over the year. His numbers in Scranton are a bit misleading. In April he gave up 10 earned runs in only 2.1 innings. Otherwise, he's been among the better pitchers in the upper minors.
AAA season: 32 IP, 5.34 ERA, 30 hits, 32 K, 16 BB, 1.22 GO/AA
Last 2 starts: 14 IP, 1.42 ERA, 9 hits, 17 K, 2 BB
In New York: 3.2 IP, 0.00 ERA, 1 hit, 3 K, 1 BB
Mark Melancon, RP

The final name on our list, Melancon entered last season with high expectations and didn't live up to them in limited action. I recall his propensity for hitting opposing batters (along with old favorite Mike Dunn). It was probably just jitters because he returned to AAA and fell right back where he'd been before his callup. He came back up again briefly and showed signs of life, causing many of us to think he'd be up in the Bronx to start the year. Well, hasn't happened yet but it seems like just a matter of time. Melancon has again been very good in Pennsylvania in 2010. A look at his splits reveals some quirks, though. You might look at his numbers against righties and say, "Wait a second, this doesn't look right." And to some extent, you'd be right. But aha! Along with a BABip against righties of .462, he's also giving up a line drive rate of 26.2%, yet checking in with an FIP of 3.05. Look a bit further over and you see why. He's striking out 16.55 righties per nine innings this year. Wow, that's strange data. Against lefties he's getting lots of groundouts, another promising sign. I'd be fairly shocked if we don't see Melancon in the Bronx very soon.
AAA Season: 23 IP, 2.74 ERA, 21 hits, 31 K, 8 BB, 1.71 GO/AA
Last 4 appearances: 5.2 IP, 0.00 ERA, 4 hits, 13 K, 2 BB