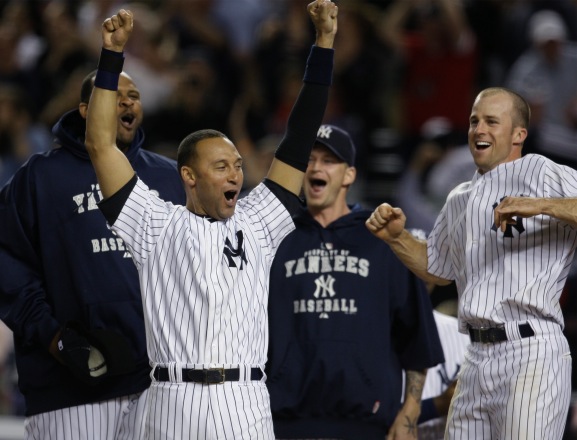 That title comes courtesy of Matt from Fack Youk, whom I met with before the game. Along with Mike and Ben, Moshe from The Yankee U joined us as well. It was a nice little pre-game get together. I can only imagine if we had sat together all game.
This isn't going to be a traditional recap. I had the thing written in my head in the bottom of the eighth. I'm going to include most of that — just because they won doesn't mean there it was a blunder-free game. Still, we'll lead with the most important stuff.
That straight fastball isn't what it used to be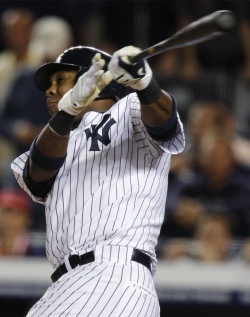 Jonathan Papelbon did work in a few splitters during the ninth, but for the most part stuck with his fastball. It has some zip, hitting 94 to 96, but it doesn't move all that much. When he spots it, he can be effective Thankfully, tonight he didn't quite have everything.
The book on A-Rod is to pitch him inside so he can't get his arms extended. That's where he generates his power, so keeping pitches under his hands can neutralize him to an extent. He'll adjust, as all great hitters do, but he might not do as much damage. Papelbon went inside with his first fastball to him, but also left it waist high. As soon as the ball took off the entire Stadium went nuts. This was no false alarm. We knew the game was tied before the ball landed in the visitor's bullpen.
Papelbon actually went back to the splitter against Cano, twice actually, getting him to swing and miss on the second one. Cano was looking for a fastball in his wheelhouse and just didn't get it. Once Papelbon got that first inside fastball across for a strike he didn't come back in for the rest of the at-bat. He did go back inside to Cervelli, figuring, I guess, that Frankie couldn't hit the inside heat. The second one, though, was a bit too inside.
Then came Thames, who was sitting dead red and got one belt high inside. There it went, game over, Yanks come back off Papelbon to win a game they should have had in the bag much earlier.
Which brings us to…
Bad pitchers, bad management
After their efforts over the weekend, both David Robertson and Joba Chamberlain were not available last night. With Sergio Mitre also not available, that limited Girardi's options. Further limiting Girardi's options was Phil Hughes, who couldn't pitch past the fifth inning. Hughes, however, is a topic for another post. The bullpen, however, is a topic ripe for immediate discussion.
Again, Hughes didn't make this easy. He did, however, leave with a lead, and the Yanks tacked one on in the bottom of the fifth to give them two. Problem is, without Robertson ready for the sixth and Joba for a later inning, there was no real easy call there. He could have gone to Park, but then would have had to put together two more relievers to cover the next two frames before going to Mo in the ninth.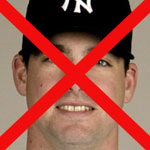 Girardi's choice, unfortunately, was Boone Logan. The image to the right describes exactly how I, and many others, feel about Logan's presence on the team. He's a lefty who has gotten crushed by same-handed hitters this year. He does not throw strikes. In fact, it was his inability to throw strikes that cost the Yankees a run last night. He threw Victor Martinez, who has crushed lefties this year, three straight pitches out of the zone. After coming back with a gimme 3-0 strike, he delivered one middle-in, and Martinez was all over it. It looked like he was guessing all the way, and it paid off.
Logan did take care of the rest of the inning. Only Logan, though, could allow David Ortiz to hit a grounder to the one spot where the infielders weren't standing. A double play took care of that, and then he finally took care of the lefty Jeremy Hermida. In any case, the Yanks could probably use a reliever tomorrow, and there should be no hesitation to call Melancon's number and tell Logan to go have fun in Scranton. There's just no place for him in a contender's bullpen.
Chan Ho Park, fresh off the DL, then came out for the seventh, which seemed like the logical move. He probably would have come out for the seventh even if Joba had been available. Again, that worked out well. He killed a leadoff single with a sweet double play. My seats gave me a great vantage point of Jeter leading Cano with the throw, allowing him to flip to first while getting out of Darnell McDonald's way. All's good, right?
When Chan Ho came out for the eighth, I thought little of it. He's a guy who can go multiple innings. Problem was, he hadn't pitched multiple innings since April 13, which was the last time he appeared in a game before hitting the DL. He had a short rehab stint, in which he pitched a single inning. Girardi obviously wanted to go as far as he could with the relievers he had, but Park just wasn't up to the task. A single and back-to-back homers later, and he had coughed up the lead and put the Sox in a good position to win. It was the second day in a row that the Yanks had blown a game in the eighth inning.
Damaso Marte might have been up to the task. He came in essentially with a blank slate, bases empty and none out, and put down the Sox 1-2-3. I'm not sure why Girardi didn't call Marte's number, especially with Drew leading off. I guess he's still thinking of him as a LOOGY. In a game like last night's though, I think he has to think a bit more deeply about it.
When Javy Vazquez entered in the ninth, it was clear that Girardi was just trying to get into the ninth with the two-run deficit. I'm sure he didn't want to use Vazquez, that he was a option of last resort. He would have been a better option in the eighth, though, than Park. But, again, he was probably a break glass in case of emergency reliever. His four pitches will not affect his status as Friday's starter.
A win's a win, and last night's was pretty sweet.
WPA Graph and boxscore
Wheeeeeeeeeeeee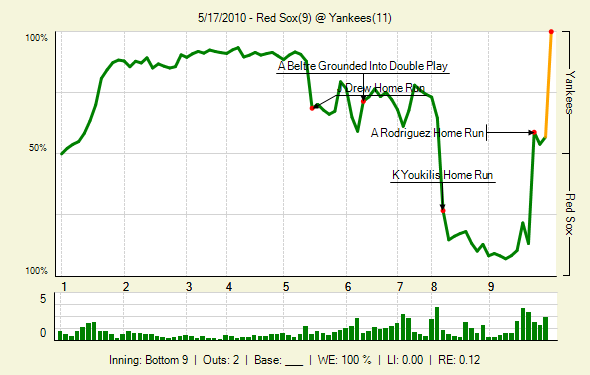 More at FanGraphs. Here's the boxscore.
Up Next
They say it's going to rain, but if it holds up we have CC vs. Beckett tomorrow night.