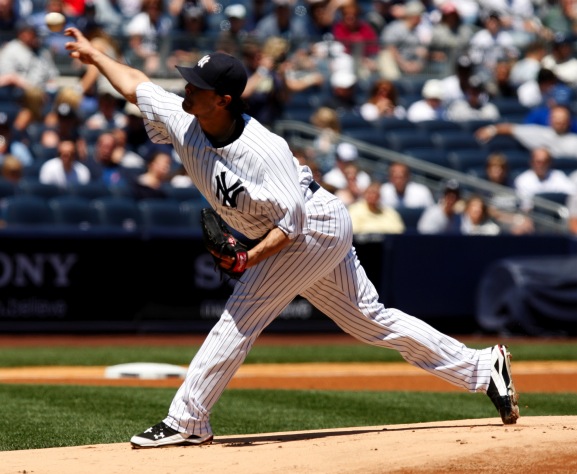 A sure sign that you're the mop-up man in the bullpen: you've pitched in just two winning efforts all year. That pretty much defines the season for Sergio Mitre. He's the long man and spot starter, which means he comes in only in the direst of situations. When Andy Pettitte had to miss a start, Mitre was the man. When a rain delay caused a schedule kerfuffle, Mitre took a turn. When the Yanks are down big, or when the starter doesn't go long, Mitre's the guy. He's done rather well in these roles, perhaps well enough to earn himself a spot in higher leverage situations.
Mitre's most recent appearances, both against the Mets this weekend, have impressed for a number of reasons. First, he held the Mets to just one hit in three innings, striking out two and walking none. Second, he didn't allow them to make quality contact, as none of the hitters he faced hit the ball on a line. Third, he was replacing pitchers who had seen little luck facing the same hitters. On Saturday both Phil Hughes and Chan Ho Park allowed many more baserunners than innings pitched and each let the Mets extend their lead. On Sunday, after the Mets rocked CC Sabathia, Mitre tamed them with two perfect innings.
These performances have me wondering if Mitre might be an option of sorts for short relief. The Yankees have had some bullpen troubles, and could certainly use an effective arm. Why not ride the Mitre wave? He's been a bit lucky so far — he won't sustain his current .193 BABIP — but part of effective bullpen management is finding the pitcher who has everything working. That appears to be Mitre right now. Hitters just aren't making great contact off him.
The biggest concern would be with his propensity to allow home runs. He has allowed three so far this year in 22 IP. That might be an improvement over his 2009 rate, but it's still far too many for a high-leverage reliever. The mitigating circumstance here is that two out of the three came during starts, one of them coming off the bat of Justin Morneau on what appeared to be a decent pitch. The first, off the bat of a super-hot Ty Wigginton, came during Mitre's third inning of work. While this doesn't eliminate the home run threat, it certainly puts it in a bit more context. In high-leverage, short stints perhaps it wouldn't be much of a problem.
We just don't know, though, how Mitre would respond to high leverage at-bats. His pLI — the average Leverage Index (LI) of his appearances — is just 0.51. Of the 86 batters he has faced, only one has been in a high leverage situation. He did retire that batter on a grounder, but that's meaningless in determining how Mitre would perform when faced with more of these situations. The only way to tell is by putting him into those situations in live games.
Will Girardi give him a shot? I doubt it. He clearly values having a long man in the pen, as he expressed when he explained why the team skipped Javier Vazquez's start last week. I'd like to see him get a shot, though. Mitre went through some tough times last year, but this year he has done his job and done it admirably. While some of the other guys struggle, and while Al Aceves sits on the DL, maybe the Yankees could find strength in their bullpen by using Mitre in short relief.