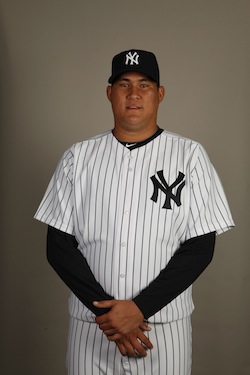 Updated 4:47 p.m. (scroll down for more on the rotation and Mariano): As the Yankees gear up for a weekend showdown with the Red Sox, the team announced a pair of complementary roster moves this afternoon. With Andy Pettitte expected to miss a start and Sergio Mitre all but officially penciled in for Tuesday, the Yankees have recalled Romulo Sanchez from AAA. To make room on the roster, the team has optioned Greg Golson back to Scranton.
Meanwhile, Jorge Posada isn't in the lineup tonight, but neither he nor Pettitte are going on the disabled list yet. For the Yankees, then, the team is effectively struggling to make do with a 23-man roster. Until they know the extent of Posada's and Pettitte's injuries, they will play with a short bench and a long bullpen. Sanchez, scheduled to start tonight for Scranton, will replace Mitre as the team's long man, and Randy Winn will be expected to be the versatile back-up outfielder in the event of a catastrophe out there. Hopefully, this roster holding pattern will clear up soon, and for what it's worth, Posada, who says his tight calf may limit his running, says he could play tomorrow.
Going forward, this move suggests that the Yankees will send out Sergio Mitre, Javier Vazquez, Phil Hughes and CC Sabathia to pitch against Detroit next week. Pettitte wants to pitch, but the Yanks keep saying no no no, according to Amy Winehouse Jon Heyman. Posada, who took BP today, should be back in the lineup soon, and if he's not, then Chad Moeller will be activated. The team can't go too long with Ramiro Peña as the emergency catcher.
Sanchez, 26, is a big guy with two cups of coffee in the majors. Listed at 6′ 5″ and 260 pounds, the right-hander made 26 appearances for the Pirates in 2007 and 2008, and he arrived on the Yanks in a trade last year for Eric Hacker. In his limited big league career, he has thrown 31.1 innings while giving up 16 ER on 14 hits and 14 walks. He has struck out 14 as well. This year for Scranton, he was 0-2 with a 6.48 ERA but impressed the Yankees during Spring Training.
According to Greg Fertel at Pending Pinstripes who has a full scouting report on Sanchez, the righty can dial his fastball up to 99 but sits in the mid-to-upper 90s. He has a good change and some decent enough breaking pitches that he has trouble keeping under control. Despite starting at AAA, the Yanks seem to view him as a bullpen option only in the big leagues, and for the weekend at least, he'll be the team's 25th guy on a rather inflexible roster.
Mitre to pitch Monday; Rivera available tonight
The updates for the walking wounded continue to pour in. Joe Girardi announced a few minutes ago that the team is reshuffling its rotation next week to give Andy Pettitte a few days off. Sergio Mitre will start Monday's game against the Tigers, and Javier Vazquez will pitch on Tuesday. Pettitte, says Girardi, will likely pitch next weekend against the Twins and will avoid a trip to the DL. No word yet on why Mitre and Vazquez are getting flip-flopped. The Yankees, though, are in need of a long outing from Vazquez.
In good news, Mariano Rivera is available to pitch tonight, and if the Yanks have a late lead, Girardi will not hesitate to call upon his future Hall of Fame closer to save a win. Take that, Sports Illustrated cover jinx.