With the recent spate of bullpen ineffectiveness, Yankees fans have pined for one of the few steady presences in the bullpen, Al Aceves. He's been on the DL since earlier this month with a bulging disc in his back, an injury that sounds pretty bad. It sure looked bad when he hurt it mid-pitch in Boston. He has since received a cortisone shot, and claims that it feels much better. That's good news for the bullpen if Aceves can return to his 2009 form. A look at his early season peripherals makes me wonder, though, whether the back has been a lingering issue all season.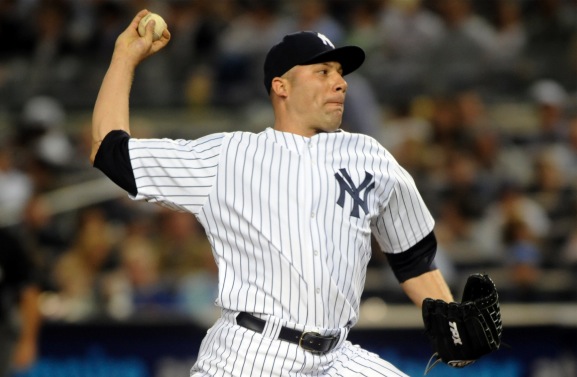 In 2009 Aceves helped save the bullpen. The unit posted a 6.46 ERA in April, and that was no fluke. They allowed far too many baserunners, and almost half of opponents' hits went for extra bases. Aceves got the call by month's end and helped stabilize the endgame. He not only generated excellent results, including a 3.54 ERA, but he had the components to back it up. In 84 innings he struck out 69 to just 16 walks and 10 home runs allowed, which amounted to a 3.75 FIP. His xFIP, which normalizes the HR/FB rate, was a bit higher, at 4.09, but from my experience this is a common occurrence among relievers.
This season his breakdown has changed a bit. He walked four batters, a quarter of his 2009 total, in just 12 innings. Worse, he struck out just two batters. That represents quite a slide in K/BB ratio, from 4.31 to 0.50. This meant more balls in play, and thankfully most of those were ground balls. In fact, he essentially replaced his missing strikeouts with ground balls, which, while not as positive an outcome, is a far better one than allowing more fly balls and line drives in place of strikeouts. Still, it can be rather tough surviving in the majors with a 1.50 K/9.
In terms of pitch type there doesn't seem to be much different with Aceves's approach. He threw a few cutters this year in place of curveballs, but that's about it. The cutter, however, appears to be the only pitch that has lost velocity this season. Baseball Info Solutions data has that as a 2 mph drop, while PitchFX measures it as only 1 mph below last year. According to his pitch type values the cutter has actually been more effective than last season, though that only considers an at-bat's ultimate pitch. Perhaps Aceves has had trouble locating the pitch in order to set up batters. Batters are whiffing at it far less — 2.4 percent this year to 8 percent last year — and are putting it in play more often, 31.7 percent this year and 22.5 percent last year. Those are not positive changes.
We're dealing, of course, with small samples. Aceves has appeared in just 10 games so far and has pitched 12 innings, so we can't get a real accurate read on him. Maybe his lack of work plays into the change. He threw just 12 innings in the team's first 29 games, which put him on pace for 67 innings. He threw 84 innings last year and was only on the roster for 137 games. Another possible cause is a lingering back issue. Aceves had problems with it at the end of spring training, and while it didn't necessitate a DL trip it probably lingered a bit, coming to a head in Boston on the 8th. If it was the back that caused him problems, we might see a better Aceves upon his return.
While a bulging disc can be a pretty serious injury, it sounds like the Yankees might have lucked out. Aceves did report feeling better just before the Yankees placed him on the DL, so I'm not sure how much to trust his most recent statement, but if it is accurate then they might get back a useful setup man in a couple of weeks. The layoff, too, might help him get back to form. His back probably needed rest anyway, and the DL stint provides just that. When he returns, maybe, finally, the Yankees will be rid of Boone Logan.