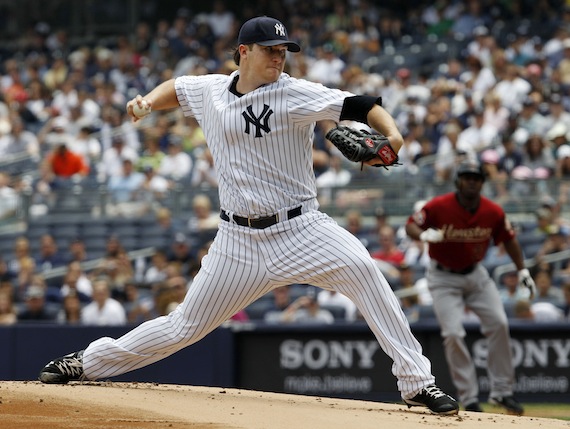 In the span of two batters on Sunday afternoon, Phil Hughes' start against the punchless Astros went from great to mediocre. Tommy Manzella singled just past the reach of Derek Jeter to drive in two runs; former Yankee Kevin Cash homered for just the second time this year to plate another pair; and instead of a six-inning, one-run performance, Hughes found himself tagged for five earned runs in 5.2 innings against the NL's worst offense.
For Hughes, the last two batters served as something of a microcosm for his recent performances. He had Manzella at 2-2 but then had to throw five more pitches — four fouls and a called ball — before the weak-hitting Astros' short stop came through. During the AB, the pitches weren't bad, but Hughes couldn't locate his out-pitch. Manzella battled against the fastball and fouled off a curve. The home run by Cash, on the other hand, was off an 88-mph cutter that had too much of the plate.
With the book closed on yesterday's outing, Hughes stands at an impressive 9-1 with a 3.11 ERA, a 3.69 xFIP, a K/9 of 8.84 and a BB/9 of 2.63. Every single one of those numbers is better than Hughes' career averages, and as a 23-year-old, he's showing us why he's constantly been regarded as one of the game's top young pitchers. But complacency can come at a price, and Hughes needs to be a few adjustments. Let's break it down.
Over his first six starts of the season, Hughes went 5-0 with a 1.38 ERA. With a one-hit, 7.1-inning performance weighing heavily on the numbers, opponents hit .165/.243/.203 vs. Hughes as the righty struck out 39 hitters in 39 innings and walked 14. Tellingly, he gave up just one long ball. Over his next six starts, Hughes went 4-1 but with a 4.95 ERA. His strike out and walk rates — 35 K and 8 BB in 36.1 innings — are where they should be, but he has allowed four home runs over this span. Opponents have hit .277/.312/.419 against Hughes.
So what's going on here? First, we have to address the variances in Hughes' BABIP. As the second chart on this page shows, Hughes has seen his individual game BABIP trend constantly upward. At the same time, opponents have been hitting more fly balls and fewer ground balls off Hughes than they were at the start of the season. As such, a few more of those balls have left the park, and the ERA has ticked upward.
But BABIP and its cousin, while convenient scapegoats, aren't the only culprits. Hughes has been getting hit because teams have been picking up his pitch selections. He's had trouble throwing the curveball for strikes — only seven of the 18 he threw Sunday were strikes and all were called. He threw 22 cutters and no change-ups, by now a routine performance for Phil. By the time Cash teed off on a cutter, the Astros had gotten a good, long look at Hughes' weaker pitch.
As the season has gone, Hughes has been a revelation. His peripherals are fantastic; his fastball electric; his curveball devastating. He's pitching himself toward a spot on the All Star Game and justifying the Yanks' faith in him over the last few years. But he's still a work in progress. He still needs a change-up he can use as an out-pitch when hitters aren't missing the fastball. He still needs to improve his pitch selection.
If the Yanks keep the rotation as is, he'll face the Mets — a team against which he struggled in May — this weekend, and that could be a test for Hughes, making his last starts before he turns 24. But at that age and under the Bronx glare, every start is a test.