The Tampa Bay Rays have a new mantra, and it appears that Francisco Cervelli is feeling the vibe all the way up the east coast.
Last year the Rays didn't fare too well with runners in scoring position. They weren't terrible, hitting .269 as a team, 10th in the majors. But they surely noticed that four of the nine clubs in front of them were the AL playoff teams. If they were going to succeed in 2010 they'd need a few breaks, one of them being the ability to bring home men in scoring position. This led to a new drill in spring training under new hitting coach Derek Shelton.
Earlier this season John Romano of the St. Petersburg Times described the new team philosophy and its mantra: Get The Man In, or GTMI. The acronym works better, because apparently the players use a variation of Man when they refer to the drill. The idea behind it is to make better contact with a man on third and less than two outs. Strikeouts can be deadly in those situations. Merely putting the ball in play in many cases will put a run on the board, even if it means using an out.
And you know what? It's working. As Steve Slowinski of DRays Bay examined last month, the Rays are not only getting more hits with runners in scoring position, they're also striking out less and hitting for more power. This represents a stark change from last year, when the Rays struck out more and hit for less power when they had a chance to plate some runs. It has certainly shown up in the runs column, as the Rays have gone from 4.96 runs per game in 2009, fifth in the AL, to 5.36 runs per game this year, third in the AL.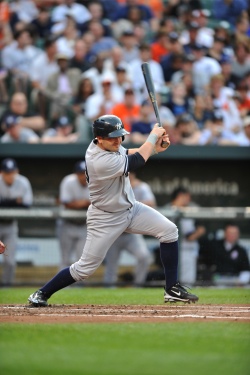 Francisco Cervelli has gotten that message, though he doesn't have a dugout full of teammates repeating the mantra. As we saw yesterday, Cervelli's production has dropped of late, something that was to be expected. There was just no way he was going to hit in the mid-.300s with an OBP over .400. He's good, and might be better than his minor league numbers indicate, but he's not that good.
But while Cervelli's numbers have dropped since he started playing full-time, he's still produced at times when the Yankees have needed him. With runners in scoring position he's hitting .447/.500/.553. That amounts to 17 hits in 51 chances (that's PA, not AB), which is pretty damn amazing. He has struck out only six times with runners in scoring position. He's also doing an excellent job with a runner on third and less than two outs. He's only faced 13 such situations, and in five he's gotten the job done with either a single or a sac fly. He has also walked four times and been hit by a pitch. The only blemish there are the two strikeouts, but two in 13 tries is still pretty good.
Where Cervelli has truly excelled this season is with a runner on third and two outs. He's faced that situation 14 times and has gotten the man in ten times, nine with hits and one with a bases loaded walk. That makes for 17 RBI. On the season Cervelli has just 29. So while his production might have dropped, he's still hitting in those critical situations.
Normally I'd say that this is not a repeatable skill, that there are copious amounts of luck involved. While I still stand behind the latter, the Rays have me wondering about the former. They went into the season with a deliberate focus on getting the man in, and they're executing. It's doubtful that Cervelli will continue hitting quite this well with runners in scoring position, but if he maintains even a hint of the pace he's on it will be valuable to the Yankees. He's already helped put wins on the board.