When the 2010 season started and the bullpen picture became clear, Jon Albaladejo was on the outside looking in. He had minor league options remaining and his big league performance to date (4.21 xFIP in 62.1 IP) hardly stood out, so he was an easy cut. The Yankees simply had better options, so for the first time in his Yankee career, Albaladejo was not on the team's Opening Day roster, instead sent back down to Triple-A Scranton to wait until his services were needed.
His chance almost came in Detroit last month. The Yanks had a doubleheader against the Tigers, so Albaladejo was summoned to the Motor City but not activated. The team instead had him sit around in the hotel, and if they burned through the bullpen in the first game, they would have officially added him to the roster for the second game. Javy Vazquez went on to have his best game of the season (to date), so the trip to Detroit resulted in nothing more than a few more airline miles for Albaladejo.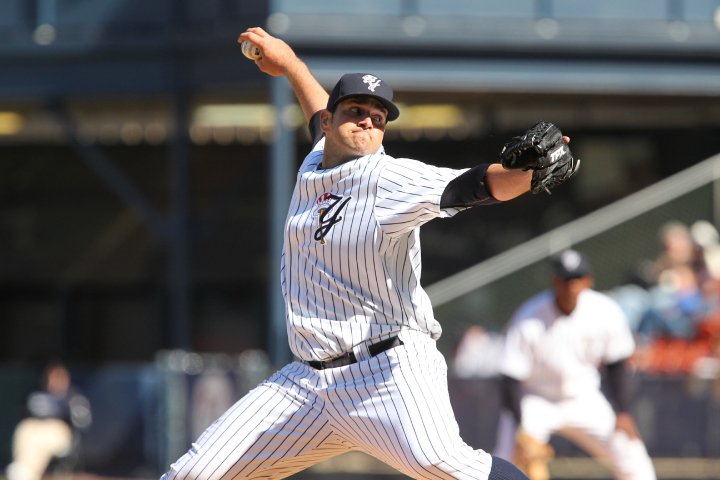 Biding his time until his next actual call up, Albie has been simply untouchable as Scranton's closer this season. He's struck out 45 batters in 34.1 IP, and just about 44% of the balls put in play off of him have been on the ground. Only 19 hits have fallen in behind him, and that includes the three he gave up in 1.1 innings of work two days ago. Just five of those 19 hits have come off the bats of righthanders, who are hitting (ready for this?) .085/.175/.101 in 63 plate appearances against the husky righthander. That's a .276 OPS. Two seventy six. Lefties haven't fared much better at .222/.292/.374 in 65 plate appearances. There's no other way to put it, Albaladejo has been stunningly good this year.
The funny part is that Albie was simply dreadful in Spring Training, if you remember. He allowed 16 hits and 11 runs in just 2.2 IP after showing up to camp some 30 lbs. lighter, and the joke of spring said he needed to put that weight back on to be effective.
Now in his age-27 season, Albaladejo is starting what should be the prime of his career, but dominance like this goes far beyond just physical maturation. Yankee fans remember him as a mostly pitch-to-contact sinker-slider guy that sat 88-92 and would mix in the occasional curveball, but the scouting report has changed this season. Take it away, Donnie Collins…
[Albaladejo] has completely reinvented himself, relying less on the two-seam fastball that he used to pound the zone with during his up-and-down tenure with the Yankees. Now, he's almost exclusively throwing a four-seamer that touches the mid-90s, changing the eye level with his slider and keeping hitters on their heels with a knee-buckling curveball. He is still mixing in two-seamers, but it's no longer his bread-and-butter.
Collins also provides a quote from Albaladejo's teammate and fellow Triple-A bullpener Royce Ring, which backs up the increased usage of the four seamer.
Improvement is always good, but improvement with tangible evidence to back it up is even better. He's essentially gone from a generic sinker-slider reliever to a guy that can pitch up in the zone with the cheese, making the breaking pitches down in the zone that much more effective. Quite frankly, it's the same recipe that guys like Joba Chamberlain and Dan Bard and Brad Lidge and Jose Valverde and Joe Nathan and about a million other relievers employ.
So what does this mean for the Yankees? Well, obviously it means they have a cheap and flexible relief option that is pitching with extreme effectiveness and is just a phone call away at pretty much all times. The tricky thing is that Albaladejo will be out of options next season, meaning that the team would not be able to send him to the minors without first passing him through waivers. Spring Training and September are no time to evaluate players (again, just look at what Albie did in camp this year), so if the Yankees want to get a good look at what Albaladejo actually brings to the big league table, they're best off doing it at some point this summer.
The core of the bullpen (Mariano Rivera, Joba, Damaso Marte, David Robertson) isn't going anywhere, and you have to figure that Chad Gaudin is safe as the de facto long man for the time being. That leaves Boone Logan and Chan Ho Park, both of whom seem to be on perpetually thin ice. There's really no sense in cutting Park right now because it'll compromise depth, plus it's not like he's blowing games and being used in high leverage spots anyway. Perhaps the best more for the time being is to swap Albaladejo for Logan.
The Yanks finish off the first half with games against the Diamondbacks (one, tonight), the Dodgers (three, this weekend), the Mariners (seven total), the Blue Jays (three), and the A's (three). Oakland is only one of those teams that can be classified as lefty heavy, so a second LOOGY is nothing more than a luxury until the All Star break. Why not give Albaladejo a look? Logan has options and can go to Triple-A without incident, so there's no loss of depth and the Yanks get to see if what Albie's doing in the minors can be somewhat replicated in the show.
Rumors have the Yankees on the prowl for a relief pitcher prior to the deadline, and if you're going to go shopping for a volatile relief pitcher, why not give an in-house option the first look? Albaladejo's certainly earned a shot, that's for sure.