Like most of you, I woke up this morning and did a cursory check of my email on my phone before going about my routine. Most of the time there's nothing to see and life goes on, but today was different. Word got out late last night that the Yankees were on the verge of acquiring Cliff Lee from the Mariners, and again, like most of you, I had mixed feelings when I saw this. The deal is not yet finalized, but that won't prevent me from sharing my thoughts about the situation.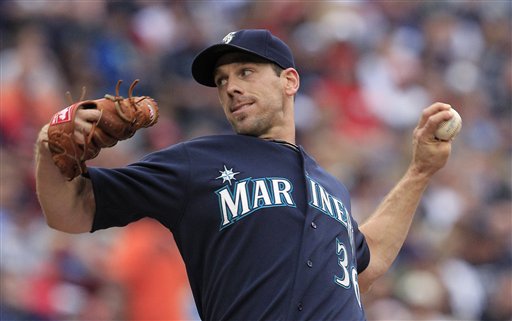 First of all, I got the "holy [email protected]#king s*%t" feeling when I saw the report, the reaction that I usually get when I see the Yanks are dangerously close to acquiring a premium player. That's the excitement, all the anticipation of what's to come and wondering what Lee will look like in pinstripes and what Red Sox Nation is thinking and what it's going to be like sending CC Sabathia and Lee to the mound five times in a seven game series and all that jazz. Just overwhelmed with joy.
The second part was a little bit of sadness, because you know acquiring Lee, even three months of him, won't be cheap. Sure enough, Jesus Montero headlines the package going to Seattle, which is a bummer. The Yankees haven't had a hitting prospect like that in ages, realistically since Derek Jeter, and he was the team's only internal hope for adding a premium bat to a lineup with an aging Jeter and Alex Rodriguez and Jorge Posada. You don't want to see a prospect we've gotten so attached to go away, but there's no way around it. Trading Montero for basically a rental is a bit of a downer.
If consummated, this trade tells me a few things. First, GM Brian Cashman is clearly going all in this year. Unless you live in a glorious world of naivety, you understand that the window of opportunity for this current Yanks' team is closing. Andy Pettitte flirts with retirement on an annual basis, Mariano Rivera is 40-years-old, Jeter is looks more and more like an over-the-hill shortstop every day, ditto Posada and the catching position. That doesn't mean they don't have a solid core going forward, because they certainly do, but the window with those four dynasty guys is closing very soon.
Second, there has to be a another deal already in the works, presumably involving Javy Vazquez. I can't imagine Cashman is going to swing a deal for another starting pitcher given the strength of his current rotation without having another move in the back of his mind. If the trade goes down, the Yanks will have four All Star starters plus A.J. Burnett plus Vazquez on their staff, which is an embarrassment of riches. Javy is the obvious candidate to go, perhaps in a Jayson Werth deal since the Yanks have expressed interest and the Phillies have scouted Vazquez recently, but either way the team will almost have to move someone.
The team doesn't have to rush out to flip another starter either. The All Star break is coming up, which buys them time, and they could also choose to skip Phil Hughes once after the break (starting the spare starter in his place) to control his innings. They could also stick Hughes in the bullpen, which would be rather idiotic. Yes, you'd want to get a deal done as soon as possible, but there's no urgency right now.
Third, I'd have to think the Yanks are also getting another piece in return, presumably a player with some team control left. Giving up what's being reported – Montero, David Adams, plus a third player – is a whole lot to give up for three months of a player, even one of Lee's caliber. Perhaps that second piece is a reliever, someone like Brandon League (under control through 2012). He's really the only guy that makes sense with Mark Lowe and Shawn Kelley on the disabled list, but those two could be players to be named later. Lowe is out long-term, however. I can't imagine it's three prospects for three months of Lee, unless the lefty is willing to sign a well below market extension. Something like $15-16M per year, not a Roy Halladay $20M per year discount.
Fourth, the Yanks were down a bit on Montero. Not necessarily because they don't think he'd hit, but because he doesn't really have a position. Austin Romine is clearly a better long-term catching prospect, and Mark Teixeira isn't going anywhere at first. The outfield could have been a possibility, but more than likely Montero would be nothing more than a glorified DH for the Yanks, filling in behind the plate or at first once or twice a week. Granted, there's value in that, but that's not optimal value.
And fifth, the move also keeps Lee away from the Yanks' competitors. This is more of a fringe benefit than an actual motive to acquire him, but it's a benefit nonetheless. The Yanks won't have to worry about the Twins, a likely October opponent, acquiring him, ditto one of their AL East rivals.
Just to mention the draft pick thing, it's pretty inconsequential. Yes, if the Yanks trade for Lee and then sign him to an extension they'll avoid losing a first round pick in a monster 2011 draft, but picks are just lotto tickets. There's nothing guaranteed about them. They're real time value is pretty small, less than a guy with ten at-bats in rookie ball. They shouldn't ever stand in the way of acquiring a premium talent, which the Yanks showed during the 2008-2009 offseason.
We'll have more analysis if the trade is ever made official and we know all the details, but it's tough to argue with it. I don't like giving up prospects for a few months of Lee, but if the second move is to turn around and acquire someone like Werth, I mean holy cow, trading sessions don't get any better.