For four innings this seemed like a typical rebound game. After getting their asses kicked last night the Yanks scored six runs in four innings while holding the Angels scoreless. Javier Vazquez had thrown just 37 pitches through those four innings, and it didn't look like the Angels had much of a chance. But from the fifth inning on it became anything but a typical ballgame.
Biggest Hit: Miranda takes out an insurance policy (WPA) and Cano's tater (subjective)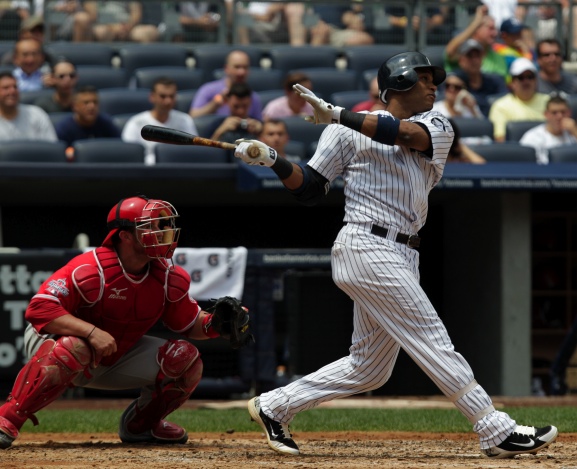 The aim of WPA, as I see it, is to capture the essence of the moment. Given the current base-out state and score situation it can, using data from thousands of games, describe how important a certain moment or event appears. Of course, you can't always capture emotion in a number. When it comes to important moments in a game I'll sometimes argue with the value WPA assigns to it. Today we'll split the difference.
Heading into the bottom of the seventh the Yanks were walking a tightrope. In a matter of two innings they saw their 6-0 lead cut all the way to 6-5. The Angels mounted a few threats that the bullpen quelled, but it still felt like heartbreak could be a few pitches away. That's why Juan Miranda's one-out solo home run in the bottom of the seventh was so important.
Scot Shields got Cano to, once again, chase a pitch at his eyes to cap a three-pitch strikeout. That brought up Juan Miranda, 0 for 3 to that point, with none on and one out. On the 2-1 pitch Shields delivered a fastball up and over the plate, and Miranda laid into it, sending it into the Yanks' bullpen for some much-needed insurance. Even the one additional run made the lead seem so much safer.
To me, though, the biggest hit came earlier, during the four-run third. The Yanks had rallied on a Jeter single, Swisher double, and Teixeira single to extend the lead to four. Two batters later Robinson Cano took a 2-0 sinker over the center field wall to break open the game. At that point, with Vazquez cruising, it felt like a comfortable game.
Biggest Pitch: Joba gets another grounder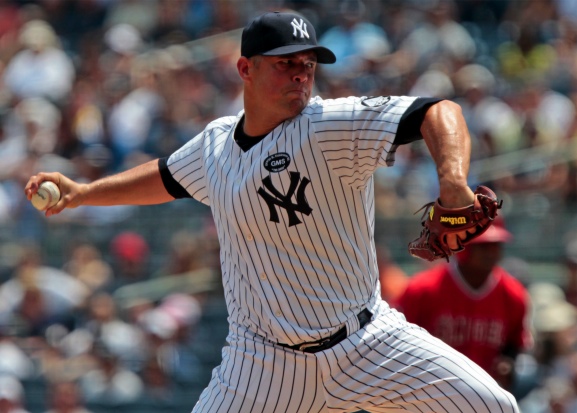 I don't know what happened to Javy. I don't think Javy knows what happened to Javy. Girardi explained it as him trying too hard to avoid the walk. It could be that. It's definitely not something you see every day from a pitcher who was going so well earlier in the game. David Robertson then worked himself into a jam in the sixth but got out of it in what was the second biggest pitch of the game. He ran the count to 3-1 on Howie Kendrick before getting him to line out on a high fastball.
In the seventh, Girardi went to Boone Logan, who retired both lefties and allowed a single to the righty Torii Hunter. With another righty, Mike Napoli, due up, Girardi went to Joba Chamberlain for the final out. He basically let Hunter steal second, and then on a 3-2 count missed low with a fastball to put on Napoli. It looked like he'd get out of it when Juan Rivera hit a chopper towards third, but it was hit too weakly and everyone reached safely. For the second inning in a row the Yankees faced a bases loaded jam, and for the second inning in a row they avoided damage. Kevin Frandsen grounded to A-Rod, who stepped on third to end the inning.
The bullpen did a great job, Joba's eighth aside, for the second time in three games. The relief corps remains one of the weaker parts of this team, but they've come through lately and have helped deliver two big wins.
Miscellany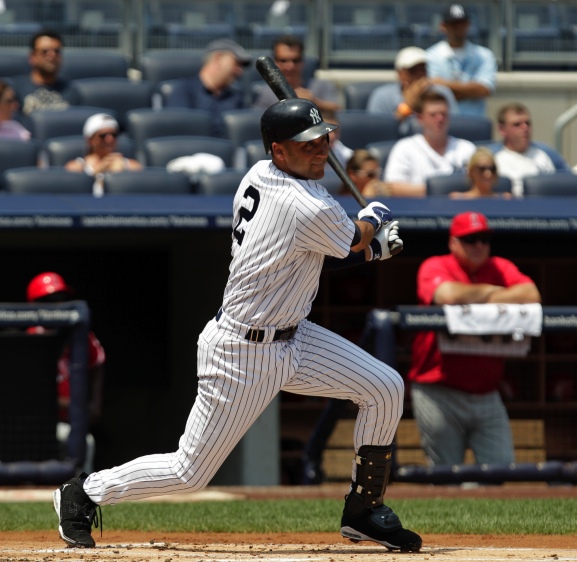 Derek Jeter had a nice-looking day. He'll go on a tear sometime later this month into August. Just watch.
If I didn't know better I'd think that Nick Swisher has a chance to hit .300 this year. It looks like he can hit anything up there. He looked especially good in the third when he waited back on a curveball and served it back into center for a base hit.
With this 3 for 5, two-double night, Mark Teixeira's line is up to .256/.366/.471. I have August 8 in the pool of when he'll get his SLG over .500.
A-Rod has struck out only 4 times in his last 40 AB.
As Chad Jennings notes, Robinson Cano hadn't been intentionally walked twice in a game since 2007.
For the second time this season Juan Miranda homered off a pitcher with the last name Shields. He hit one off James on May 20.
Granderson looked good, going 2 for 4. If it takes a critical article every day to get him going, I'm up to the task.
Yesterday was Cervelli's 10th multi-hit game in 49 starts.
Brett Gardner lost a chance to bring his batting average back over .300 when he got ejected, for the first time in his career, in the seventh.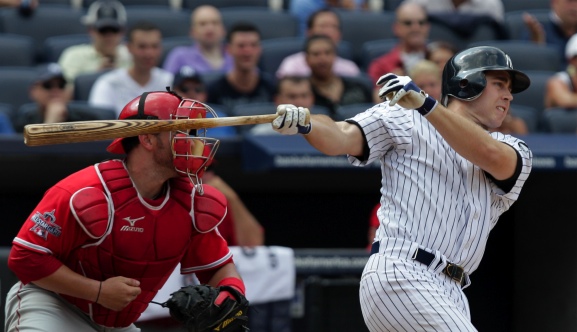 Colin Curtis, who hit his first career home run, is the only player in the league with the last name Curtis. There are only two players whose first name is Curtis.
And finally, Michael Kay got all riled up for an A-Rod fly ball that didn't even push Matsui to the warning track, but showed no emotion when, one batter later, Robinson Cano put a ball in the bullpen to give the Yanks a 5-0 lead.
Box, graph, and highlights
Poppa, what does the tall red bar mean?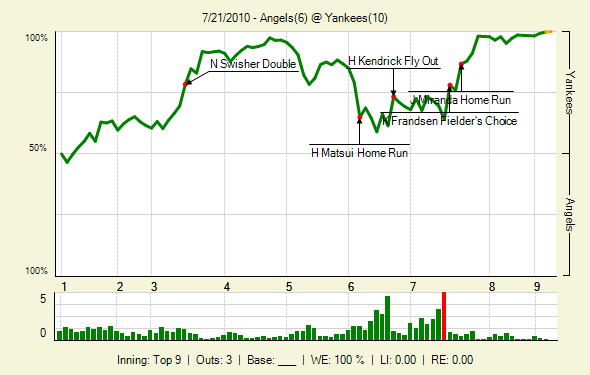 More at FanGraphs. Also: traditional box and highlights.
Up Next
The Royals come to town for a four-game set. Thanks to the luck of the draw, Zack Greinke pitched on Wednesday, and so he won't face the Yankees. Bruce Chen will square off against CC Sabathia at 7:05 p.m. tonight, and the Yankees will hope their starting pitcher can make it through six innings for the first time since CC's last outing.