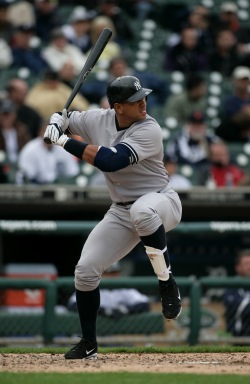 For the past week and half we've experienced the mystique of a round number. To almost everyone, it has grown old. Alex Rodriguez has not homered in his last 43 plate appearances, leaving him at 599. I'd repeat the tired phrase, stuck on 599, except it doesn't seem true at all. This isn't like 2007 when A-Rod hit 54 homers but experienced a lull between Nos. 499 and 500. In 2010 a home run drought doesn't seem as out of place — or wouldn't, if everyone understood the type of year Alex has had.
Earlier in the season I looked at some interesting A-Rod trends from the first 33 games. That's an incredibly small sample, so I expected some things to change. For the most part they have, though it hasn't produced better results. At the time A-Rod was swinging at fewer pitches, making contact more often, and striking out less. While those numbers are for the most part still off of his career totals, they've clearly regressed towards that mean. The effect is clear. He's been swinging more than he did earlier in the season and is therefore walking less. He's also striking out a bit more, which probably results from a longer swing. That shows up in his power, which is up considerably.
Even considering the increased power production — a .168 ISO in the first sample and a .228 mark since — we've seen A-Rod experience a home run drought during that second stretch. From June 3, when he hit a home run in his second PA, until June 22, when he hit a homer in his first PA, A-Rod went 53 PA without a home run. No one, of course, claimed that he was stuck on No. 591, because 592 isn't a a round, easy to digest number. Being somehow stuck on 599 is just a narrative created because of our obsession with round numbers.
Still, it hasn't been the greatest 43 PA stretch for A-Rod. He started it off well, following up No. 599 with a double. Since then, though, he's just 8 for 37 with three walks and only two extra base hits. That might be a result of him pressing, sure. Just because we can't definitively pin down psychological aspects of the game doesn't mean they don't exist. But since we've seen this kind of stretch from him this season it's difficult to determine the cause of this current slump.
Today at FanHouse, Frank Piliere discusses the mechanical side of A-Rod, noting that he's not generating power from his lower body.
If you look back at his playoff home runs when he was driving the ball out to right-center field, A-Rod's swing looked effortless mainly because of his strong base. He had what every hitter strives for, and that's a lower half providing the power and the ability to let his hands fly through the zone. The swing we see from Rodriguez now is one more reliant on his upper body, with far less explosive torque and his hips following his stride. It's more spread out and far less compact in every way. Obviously, with all that said, questions about whether his now famous troublesome hip has anything to do with his problems immediately arise, but there's really no way to know for sure.
There's plenty more to it, including the problem with A-Rod's leg kick, a problem that has hurt him from time to time in the past, but which has seemingly been a problem for most of this year. That leads to problems in all parts of his swing. "Now, he's more upright and not sitting on that back leg, losing that power on his front side," Piliere writes.
A-Rod did miss time in June with tendonitis in his hip, though he and the team claimed that it was not related to the surgery he had last March. After a five-day rest A-Rod returned to the lineup, but he hasn't been at all the same since, hitting .238/.312/.470 in those 173 PA. The power, a .232 ISO, is still there, but it comes at the cost of contact and discipline (9.8 percent walk rate). This is not the A-Rod we've come to know; it's not even the A-Rod who hit .290/.361/.482 in his first 255 PA of 2010.
It hasn't been the greatest year for A-Rod in 2010, and that extends far beyond his long journey to No. 600. His vital numbers are down across the board. Whether this is a correctable issue or just a general sign of decline remains to be seen. We know A-Rod will work hard to overcome these problems. But for 2010, I wonder how much he can do.