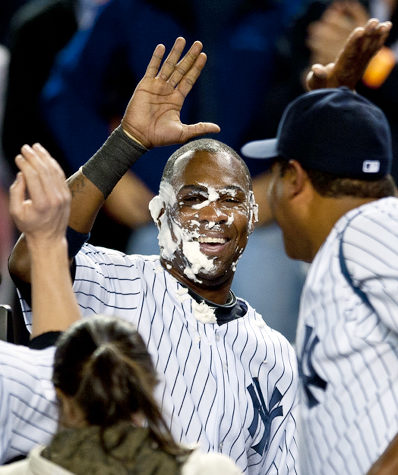 Brian Cashman had a tough offseason coming into 2010.  While many of his moves made sense at the time, several of Cashman's offseason trades and signings have not worked out.  Nick Johnson is likely out for the season after less than 100 plate appearances.  Javy Vazquez has at least provided innings, but otherwise has been much worse than expected.  Curtis Granderson, so far, has not rebounded from his poor 2009 and will need to hope Kevin Long can get him straightened out with an overhaul of his swing.  Chan Ho Park and Randy Winn, again signings that made sense, were disasters.  All of this brings me to one move that Cashman nailed in the offseason: Marcus Thames.
Thames was brought in to mash left handed pitching.  Cash likely had some visions of Thames playing the OF, but the injury to Johnson has for the most part left Thames in the DH role.  That's a good thing.  Thames is a butcher in the outfield, but we knew this before he was signed.  Keep him out of the outfield at all costs. Despite doing everything asked of him and more, Thames has seemed to get no love this year which is unfortunate.
It started for Thames in spring training when he could not buy a hit.  He went 7 for 52 putting up a stunning .135/.182/.269 line.  Just 33 at-bats into spring training people already wanted Thames cut (Ed. Note: Like this idiot).  Small sample size be damned, people were killing the Thames signing and instead wanted the Yankees to keep Jamie Hoffmann, or explore the Jermaine Dye, Gary Sheffield market.  Luckily cooler heads prevailed and Thames made the cut.
Thames shining moment of the season, when he was finally appreciated by the majority of fans quickly disappeared.  On Monday May 17th Thames did the thing that Yankees fans might enjoy most for a regular season game.  Hit a walkoff against Jonathan Papelbon.  It doesn't get much better than that, and remember, Paps is a right handed pitcher, so it wasn't what Thames was brought in for.  If Thames had struck out there I would not have been surprised nor pissed at him, it's not his primary role.  24 hours later of course it all came crashing down as Thames dropped a ball in the outfield that led to a Yankees loss, again against the Sox.  Thames was nearly in tears after the game; probably as much for the reception he would get from fans as he was for blowing the game.  Again though, Thames was outside of his element, he had no business being in the field in the 9th inning of a close game.
Getting back to Thames' actual role he could not be doing a better job.  He is hitting .343/.416/.448 off left handed pitchers.  More shockingly Thames is even destroying right handed pitchers this year to the tune of a .283/.386/.500 line.  For a guy who was only brought in to hit lefties, could he have possibly brought more to the table than he has?