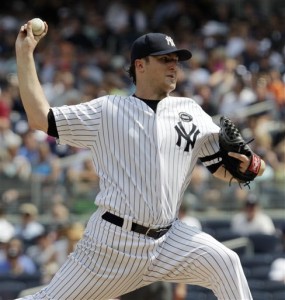 It wasn't Phil Hughes's best start. After showing signs of fatigue his day ended with one out in the sixth inning. He needed 99 pitches to record those 16 outs, and the last few were pretty loud. Yet it was far from his worst start. He managed to keep the Blue Jays off base in most innings, and when he did allow runners he bore down and left them stranded. As Mike said in the recap, those efficiency issues are just going to take some time to work out.
At the end of July Hughes encountered some problems with his fastball. For most of the season the four-seamer had been his best weapon, but as he approached his previous high-water mark in innings pitched, it seemed to fade a bit. The velocity dip was minimal and unconcerning. What gave me pause was the vertical break on the baseball. The beauty of Hughes's fastball is not only that he throws it 93, 94 mph regularly, but that it has around 10 inches of vertical break, making it what baseball people term sneaky fast. It gets right up on a hitter, making it appear faster than it really travels.
I'm happy to report that in his last two starts Hughes has not only been better, but his fastball appears to be back on track. Against Tampa Bay last Friday he had a good outing, six innings of quality work that were marred by one bad pitch to Matt Joyce. His fastball was back up in a major way, averaging over 93 mph and maxing out at 95. Best of all, it had 10.42 inches of vertical break, which helped him generate five swings and misses out of 35 total pitches. It appears his cutter came along for the ride, as it had a vertical break of 9.25 inches, way up from his average of 6.7 inches. The velocity was also way up, averaging 91.29 mph against a season average of 88.9.
Yesterday we saw more of the same from Phil. His fastball was right around his season average, and his vertical break was right there, too. He apparently knew it, too, as he threw it 63 out of 99 times, generating an astonishing 13 swings and misses. His cutter was back to normal, averaging almost 89 mph with 6.55 inches of vertical break, but his four-seamer made it a bit more effective. Hughes threw 10 of 16 for strikes, including three swings and misses.
The only downside, it seems, is that because the fastball was so good Hughes didn't turn to his other pitches as frequently. Against the Rays last Friday he actually threw the cutter more times than the fastball, 39 to 35, and mixed in 30 curveballs. That's a healthy ratio, as it keeps hitters guessing and can even make the four-seamer more effective. Yesterday he leaned on the fastball for 63 pitches, leading to just 17 curves and 16 cutters. This time he did throw three changeups, but they were all taken for balls. It worked, but it didn't work as well as it could have.
This makes me wonder about the question of strategy vs. execution. Did Hughes throw more four-seamers yesterday because the scouting report said that his fastball could beat the Jays? As a team that swings out of their shoes at just about everything, that doesn't sound right. But who knows, maybe Hughes's fastball is the type that can beat a team like the Jays. As you can see in his strikezone plot, he got a ton of swings and misses up in the zone. But at the same time I wonder if it was a matter of his feeling better with the fastball, regardless of the Jays' hitting style. Or, if it's a combination of the two, at what point did he make the decision to stick with the four-seamer?
After a couple of disappointing outings Hughes has come back to pitch well in his last two starts. He'll get an extra day off before his next start, which I'm sure is welcome. Fatigue is going to be an issue to watch at this point, since he's getting up there in innings — at least compared to his previous workloads. While we saw signs of trouble in earlier starts, we've seen his fastball revert to form lately. If he can throw it later this month like he threw it yesterday against the Jays and Friday against the Rays, the Yankees should have little to worry about.