When players struggle we want answers. It's in our nature to seek the cause of a change. When A.J. Burnett fell apart in June we could easily point to Dave Eiland's absence as the reason. Every time Derek Jeter slumps at least one person claims he's hiding an injury. If any new player has a tough time it's clearly because he can't handle the pressures of playing in New York. The list goes on and on, but it seems that we always search for a single cause to explain everything.
The coaching staff seemingly understands this phenomenon. Every time a player goes through a rough patch we hear about the staff working with him on something specific. Derek Jeter, who prides himself on not using video to analyze his swing, took to the monitors with Kevin Long this season. A-Rod wasn't hitting for much power, so he and Long worked on opening his hips. The list goes on forever, but two instances this year stand out.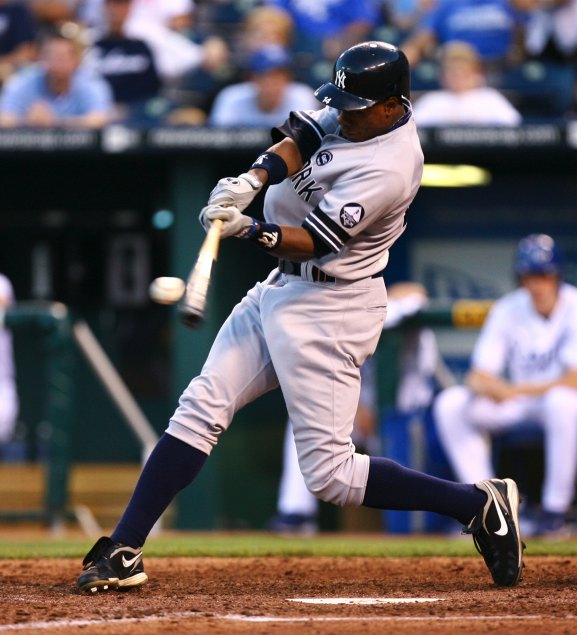 For most of the season Curtis Granderson has looked lost at the plate. He has had a few hot streaks and has hit a few big homers, but for the most part his production has declined from even last year, which was a step down from his excellent 2007 and 2008 seasons. Earlier this month he and Long worked on his swing mechanics. Since then he has hit .258/.352/.484, which, while not stellar, is still an improvement. He has also cut down on his strikeout rate and increased his walk rate. It seems as thought the tweaks worked.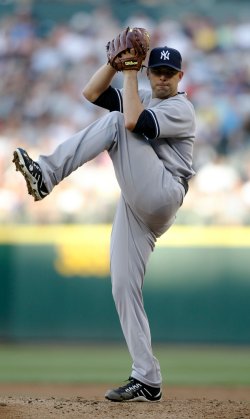 After a rough start Javy Vazquez returned to form, and from mid-May through the All-Star break he was the Yankees' second best starter behind CC Sabathia. Vazquez came up particularly huge in June when Burnett had trouble recording outs. But in August Javy experienced difficulties. The Yankees termed it a dead arm, which caused his velocity, already significantly below last year, to fall even further. Not satisfied with just the dead arm explanation, Dave Eiland went to work. As Chad Jennings noted last night, he seems to have found something.
There is a slight mechanical adjustment that seems to be helping Vazquez's fastball. When he lifts his left leg in his delivery, Vazquez is bringing the leg farther back. It's not more of a twist, he said, and the leg's not coming up any higher, it's just coming a little farther back toward second base.

"The arm angle also has to play a part of it, but (pitching coach Dave Eiland) feels like that's going to give me better momentum, and it has," Vazquez said. "The ball was true to where I wanted it to be."
Considering Vazquez's success, along with his velocity, during his last two relief appearances, it seems that Eiland's mechanical tweaks worked. Notice, though, how the word "seems" appears frequently in the preceding paragraphs. It means that we can't really prove any of these claims.
The problem with using these correlations to create a causal case is that we rarely see an incident with just one cause. We often see myriad little things, rather than one big thing, cause something to happen or to change. Sure, you can see that Granderson keeps both hands on the bat longer, and if you studied video you might be able to see the difference in Vazquez's leg kick. But there is probably much more going on than we can readily see.
The placebo effect could very well be at work here. Both Granderson and Vazquez knew something was going wrong, so they made efforts to improve. Both instances involved concrete changes — the hands for Granderson, the leg kick for Vazquez — so the players could have a specific area of focus. Now that we've seen both players show signs of improvement we can look back to that one instance and attribute the mechanical tweaks to the change. But really, the mechanical tweaks might serve as nothing more than a confidence boost. We have no way of knowing for sure.
A-Rod lacks power, works with Long, hits three homers in a game. Granderson strikes out a lot and has trouble getting on base, works with Long, cuts down on his strikeouts and starts getting on base. Vazquez starts throwing in the mid-80s with poor command, works with Eiland, starts throwing 90 with precision. In all of these cases it's easy to make the connection, but the easy answer isn't always the right answer. In a game as complex as baseball there are almost always multiple factors at play, and confidence does not rank least among them. It's great to see Granderson and Vazquez showing signs of life after working with the coaching staff. But I'm not quite ready to chalk up their recent success to those tweaks. There are just too many other factors at play.