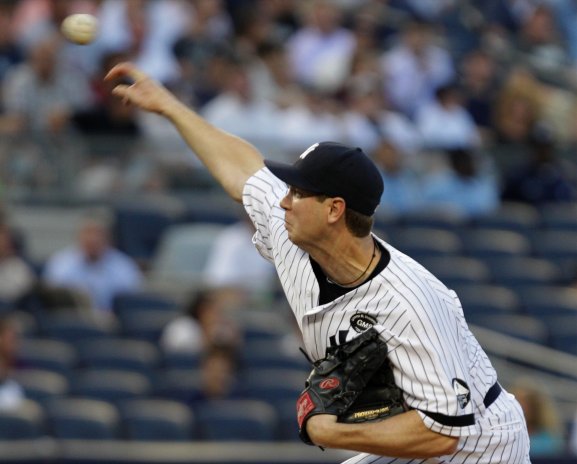 It is clear from the first pitch you see that Dustin Moseley won't overpower anyone. His fastball averages around 88 mph, topping out at 90, 91, depending on the night. A pitcher like that requires precision with his pitches. If he leaves one of those over the plate, major leaguers are going to hit it hard. Since the Red Sox didn't hit him hard last night it might seem like he located balls in favorable spots. But after looking at the data this does not appear to be the case.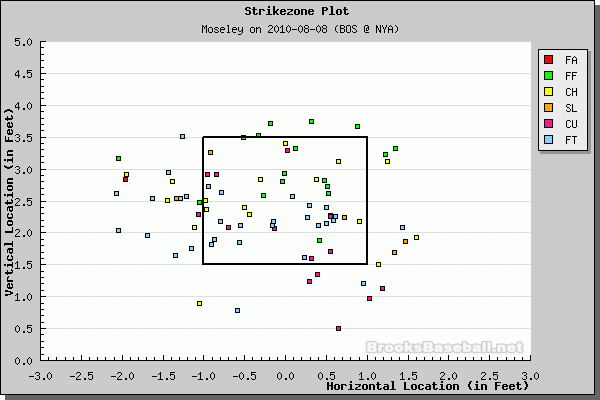 This chart, supplied by Brooks Baseball, looks odd for a guy who doesn't blow pitches by hitters. It looks odder still for a pitcher who got 12 grounders out of 19 balls in play. Normally when we see a flurry of ground balls we also see pitches, particularly two-seamers, low in the zone. Moseley, it appears, worked in the lower half, but generally didn't hit the bottom quarter of the zone with his groundball-inducing pitch.
Instead, we see a belt of two-seamers that crossed around the middle of the zone. Thankfully only three of them were above the mid-point. The rest were below, though not by a lot — again, in one of the middle quarters. For a guy who requires groundballs to perform his job well this might seem like a hindrance. But the Red Sox hitters seemingly could not connect with the two-seamer no matter its location. When they did, it was mostly on the ground. Of the 26 batters Moseley faced, 15 saw a fastball with the final pitch and they broke down like this:
2 walks
4 strikeouts (3 looking)
2 liners (1 base hit)
7 ground balls
Not bad for an 88 mph fastball that crossed, for the most part, near the middle of the zone. The key, it appears, is the movement he puts on the pitch. In 2003, when he ranked No. 4 on the Reds prospect list, Baseball America noted that, "he has plus movement and manipulates the ball to both sides of the plate with a cutter and a two-seamer." The cutter, it appears, has been scrapped in favor of a slider, but the movement on the two-seamer remains.
Baseball America also notes the effectiveness of his 12-to-6 curve and his changeup, both of which remain in his arsenal. Last night he threw 18 changeups, 10 of which were strikes. According to PitchFX it traveled about 5 mph slower than his fastball, with about half the horizontal break and obviously a lot less on the vertical axis. He didn't generate any swings and misses, but he did get five batters to put the ball on the ground weakly, one to pop up, and the other to gently fly out. Otherwise he used it to set up batters, and it was quite effective in that regard. According to linear weights it was by far his most effective pitch of the evening.
What I find most odd about Moseley's start is that despite the lack of a power fastball he still relied on the pitch. PitchFX separated the pitch into four-seamer and two-seamer, but the movement and speed on both seem identical, so I'm sure he wasn't doing much different with them. All told he threw 50 fastballs, 18 changeups, 14 curveballs, and five sliders. It was an effective mix, as the results showed. The Sox hardly made quality contact, as even the bulk of their base hits came on ground balls. If Moseley can continue attacking opposing offenses like that he'll have some kind of role on this team.
Last night the Yanks got all they could have expected out of Dustin Moseley. He took advantage of a slumping offense and pitched six and a third strong innings. It came in a strange way, getting groundballs on pitches that were near the middle of the zone. But it worked. He might not be Andy Pettitte, but in his place Moseley has thrown 24.1 innings to a 2.96 ERA. Not bad for a guy who this past off-season was non-tendered by the pitching-shallow Angels.