Javy Vazquez with diminished velocity can survive. Javy Vazquez with no command is like any pitcher with a high 80s fastball and no command. Seattle hit him hard at times, leading to his exit before recording an out in the fourth. The Yanks have Ivan Nova to help give the rotation a rest. It could mean more than just a day for Vazquez.
Biggest Hits: Breaking the tie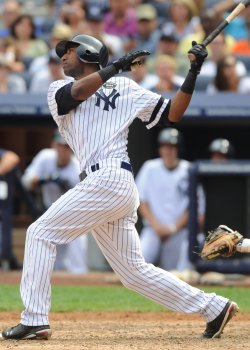 Twice in this game the Yankees broke ties. The Mariners got out to a quick lead on homers by Ichiro and Russell Branyan, but the Yanks came back with a quick two of their own on a Robinson Cano double. Two batters later, Jorge Posada crushed an outside pitch over the wall in left to put the Yankees ahead. It granted Javier Vazquez a reprieve, but he'd give back those runs in due order.
Neither the Yankees nor the Mariners mustered a run from the bottom of the third through the top of the seventh. After a rough first inning Jason Vargas settled in, at one point retiring 14 straight. He came out for the seventh, and three batters in had runners on the corners with one out. That brought up the rookie, Eduardo Nunez. Vargas dealt him a 1-1 fastball up and away, and Nunez slapped it through the hole and into right, driving home Austin Kearns for the go-ahead run.
The middle innings might have been slow, but when the Yanks put on base they did a good job of driving them home. Nine of their 13 base runners scored, and the team was 4 for 8 with runners in scoring position.
It could have been worse for Vazquez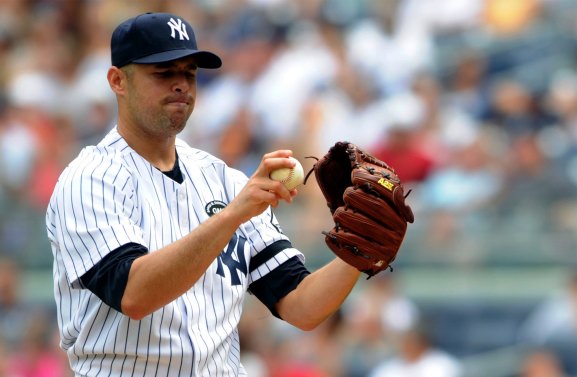 Joe Girardi had the definitive take on the Yankees' decision to recall Ivan Nova and declare him Monday's starter: "The greatest problem would be that he pitches extremely well Monday." Confidence in Nova could afford the Yankees the flexibility to give Javier Vazquez some time off in an attempt to straighten himself out. He had a rough outing right from the start, and it lasted just three innings and a batter. It might have been shorter still if not for a break in the third.
The Yanks went on a tear in the first to undo the two home runs Vazquez surrendered, and with two outs in the third it looked like he might be back on track. Ichiro had homered for for the second time to lead off the inning, but Vazquez then got two outs, including a strikeout. At the plate was Jose Lopez, who has the lowest OBP, by 10 points, of any qualified MLB player. So it came as no surprise when he came up with a two-out single.
Franklin Gutierrez followed with a single of his own, and then Casey Kotchman hit one to Cano's right, tying the game. Matters got a bit worse when he walked Josh Bard to load the bases for Michael Saunders, who had homered off Vazquez when the Mariners played at the Stadium on June 30. Vazquez threw him a fastball low and then a curveball high for two called strikes before getting Saunders to chase a changeup high and away. He flied it right to Swisher, ending the threat.
Vazquez would last just one more batter. It doesn't take a scout to see that something's wrong with him on the mound. Perhaps a little rest will help.
Three cheers for Guadin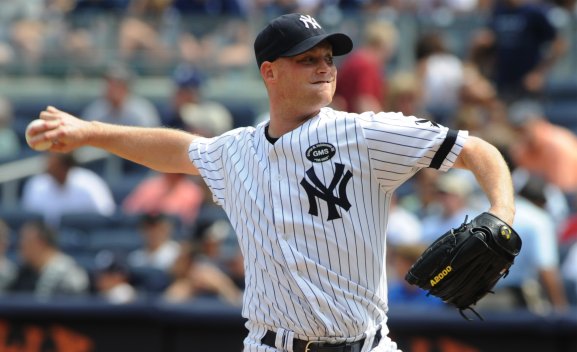 Chad Gaudin hasn't had the greatest time with the Yankees this season. He's been decent at times, but most of our prevailing memories involve him giving up runs. He was in danger of being DFA'd earlier, but now with roster expansion on the horizon the Yankees will certainly hang onto him through the end of the year. Yesterday he came through in a big way.
Last night he pitched two perfect garbage time innings in relief of A.J. Burnett. Joe Girardi called on him again today with on outs in the third. Gaudin inherited a runner, but stranded him. He then pitched two more scoreless innings, allowing just one hit and striking out three. That let the Yanks get to the tougher part of their bullpen and hold onto a win.
Miscellany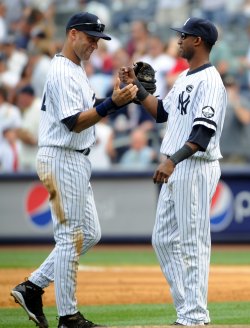 From August 1 through August 16 Robinson Cano hit .231/.333/.288 in 60 PA. On the 17th he hit his first homer of the month. Since then he's 7 for 19 (.368) with four walks (.478 OBP) and four extra base hits (.895 SLG).
Russell Branyan has 11 hits at the new ballpark. Seven of them are home runs. Whenever he accepts his future role as bench bat, I hope it's with the Yanks.
Via Chad Jennings: Boone Logan has retired 30 of his last 36 batters faced. That includes 23 of the last 25 lefties he's faced.
After his 1 for 3 day Austin Kearns is now 13 for 37 (.351) with three walks (.415 OBP) and four extra base hits (.514 SLG) since joining the Yankees on August 1.
Graph and box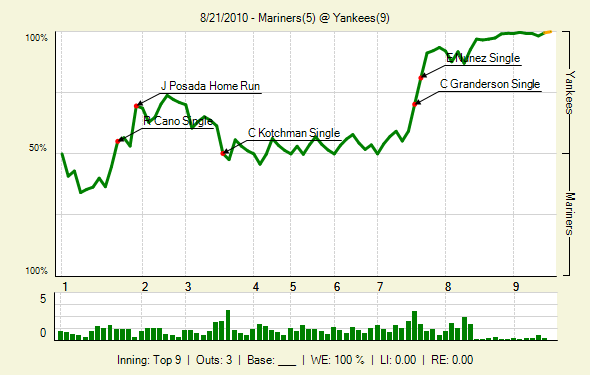 More at FanGraphs. Also the box score.
Up Next
CC Sabathia and Luke French end this homestand at 1 p.m. tomorrow.