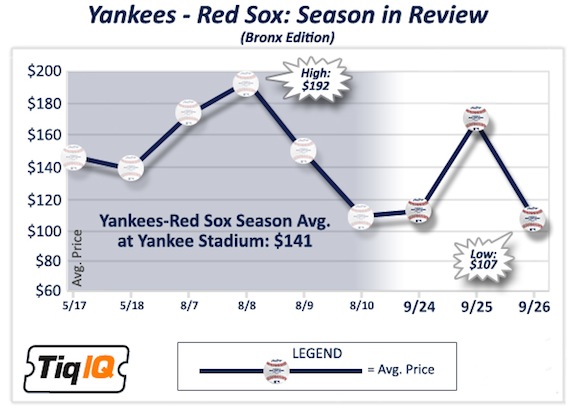 Only three more home games separate the Yankees from the end of their regular season slate in the Bronx, and because baseball's scheduling gods tried to create some dramatic tension late in the year, the Red Sox are in town. Unfortunately for Boston though, they're on the brink of a postseason spent watching the playoffs on the couch as the Yanks enter Friday's game with a Magic Number of three.
Still, Yankees/Red Sox tickets, as our partners as TiqIQ report, are in high demand. The chart at the bottom of this post shows that, on average, tickets on the secondary market for this weekend's set are selling above the Yanks' season average of $90 per ticket. Saturday's mid-afternoon Jon Lester/Ivan Nova match-up is pacing the field while tonight's Andy Pettitte/Josh Beckett showdown is significantly lower and the Sunday night Phil Hughes/Daisuke Matsuzaka game, which threatens to feature way too many pitches thrown, is the cheapeast.
In fact, as the chart at top highlights, tickets for Sunday's game are the best deal for any Yankees/Red Sox game in the Bronx this season. That's what happens, after all, when the Red Sox could be mathematically eliminated by then, and the Yanks could toss out a lineup resembling that of Scranton's. As always, RAB Tickets has your seats, and we'll have some playoff promotions in the upcoming weeks.