Winning a four game series is a difficult thing to do against any team, especially when you don't know what you're going to get out of your starting pitcher. A.J. Burnett wasn't great but was good enough to win with the run supported given to him on Wednesday, and the bullpen did the rest behind him. The Yankees have now won five straight games, their longest winning streak since a seven gamer in early July.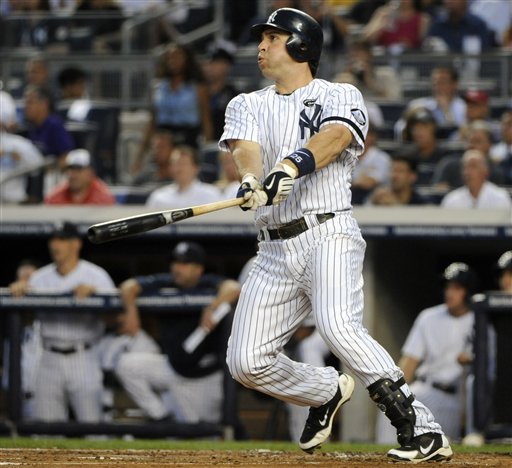 Biggest Hit: Tex Marks The Spot
Mark Teixeira is on some kind of hot streak. The Yanks' first baseman came into this game hitting .316/.410/.663 with 17 (!!!) homers since July 1st, and he has been making life especially miserable for the A's this week. He put the Yanks on the board three batters into the game with a run scoring double off the left-centerfield wall on a ball that I thought was gone off the bat, but his biggest offensive contribution didn't come until the next inning.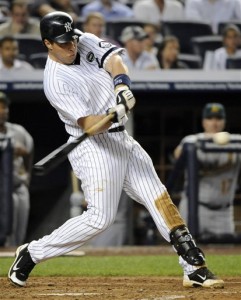 The Yanks had already extended the lead to a pair of runs, and up came Tex with the bases loaded and two outs and a chance to blow this baby open. It's easy to get greedy in this, the Year of the Grand Slam, but a solid line drive base hit somewhere on the outfield grass would have plated at least one and made us all happy. Well, it wasn't a solid line drive, but it didn't drive in one either, it drove in two. Teixeira sent a 1-2 slider, the fourth straight slider Brett Anderson threw him, third base bound on the ground, but it was perfectly placed and split Cliff Pennington and Kevin Kouzmanoff. The ball rolled into shallow left while Eduardo Nunez and then Derek Jeter came around to score, pushing the Yanks' lead up to 4-0. Sure enough, they needed every one of those four.
Biggest Out: Mo Closes The Door
This game had a weird feel to it, in that it was a whole lot closer than it felt towards the end. The A's chipped away and put the tying run on base in the ninth inning against Mariano Rivera, and even had that runner get into scoring position. We never lose faith in Mo, but one dinky little bloop single and this game is probably still being played (okay, maybe not). Instead, Mo did what he always does, and closed out the win by striking out Kurt Suzuki. Piece of cake.
Believe it or not, the WPA swing of Suzuki's strikeout (.117) was the single biggest play of the game.
Honorable Mention: Wood Escapes
One inning before Mo escaped his mini-jam, Kerry Wood had a mess of his own to clean up. Boone Logan recorded the first out of the eighth inning by striking out Jack Cust, then in came Wood with David Robertson having pitched in yesterday's game. He got a quick groundout for the second out of the inning, but a single by Mark Ellis and a walk to Jeff Larish put two men on and suddenly one swing of the bat would have given Oakland a two run lead. Rajai Davis battled valiantly by taking curves in the dirt for balls and fouling off tough high fastballs, but he ultimately caved when Wood got him to ground out weakly to short on a slider. Easy as pie.

Quality Start A.J.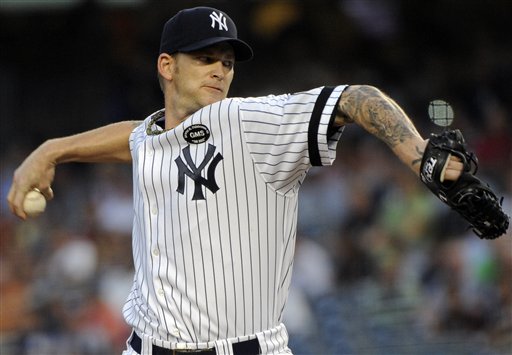 Under the microscope as always, A.J. Burnett delivered his best start since his complete game loss to the Royals a little more than two weeks ago. Obviously the A's aren't a worldburner offense (.312 team wOBA coming into this game), so we have to take this start with a grain of salt, but it was good to see Burnett go out and give the Yanks a chance to win. He hasn't been doing that nearly enough this summer.
I honestly thought A.J.'s curveball was the best he's had in weeks, and he even mixed in a few effective changeups for good measure. He threw 36 Uncle Charlies total (out of 91 pitches), 24 for strikes and got eight swings and misses, which is exactly where he needs to be with the pitch. Burnett retired eight in a row from the first through fourth innings, then pitched around trouble over his final two innings to reach the magical six inning plateau. His biggest mistake was a high fastball to Kouzmanoff, who sent the ball out to right for a two run homer that cut the Yanks' lead in half.
In the end, Burnett's final line was six innings, six hits, three runs (all earned), two walks, and a season high tying eight strikeouts. Obviously we can't deem him cured based on this one outing, but it was an encouraging sign nonetheless. Maybe he found his release point or some other mechanical idiosyncrasy that allowed him to throw the curveball with some more consistency. That would really be the best thing to come out of this game, nevermind the win.
Leftovers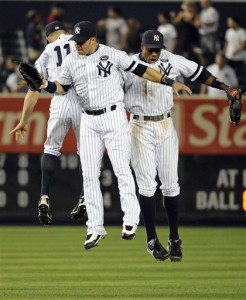 Tex is now 8-for-10 with two doubles and two homers in the series. In fairness, two of his hits today were bleeders that found holes through the infield, but when you're hot, you're hot. And damn is he hot right now.
Hooray for Curtis Granderson singling to the opposite field off a lefty. That would have been a minor miracle back in June. He also picked up another hit later in the game, again off a southpaw.
Frankie Cervelli was pinch hit for in the eighth inning, though I'm not sure if it was just Joe Girardi attempting to generate an insurance run, or if he was banged up. Cervelli really took a pounding back there an inning or two earlier, with one shot off the inside of his right knee looking particularly painful. Lance Berkman went to the plate for Frankie, and doubled to the right-centerfield wall on the first big league pitch he's seen in over two weeks.
Jorge Posada had a legitimate beef when he got tossed for arguing balls and strikes one batter after Berkman's double, the ball was literally in the other batter's box. It was pretty funny to watch him go back and draw a line in the dirt with his bat showing where the pitch crossed the plate, we don't normally see Jorge do things like that. Good thing they had Chad Moeller around.
Austin Kearns broke an 0-for-19 skid with a single and Derek Jeter picked up just his third hit in 36 trips to the plate.
Not only did the Yankees win, but so did the Rays and Red Sox. That means the lead in the division remained at one, and the lead on the Wild Card remained at eight games. The magic number to clinch a playoff spot did drop down to 22, however, which is always a good thing.
WPA Graph & Box Score
MLB.com has the box score and video, FanGraphs all that other stuff.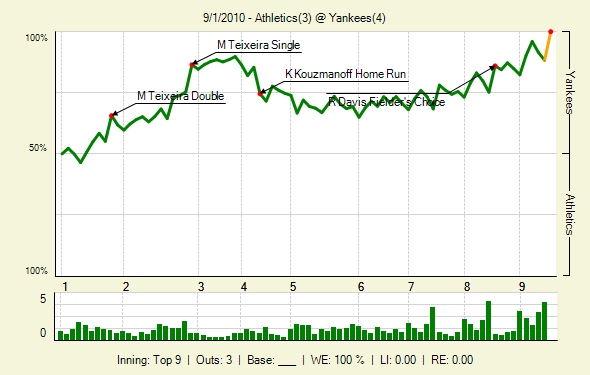 Up Next
These same two teams will wrap up the four game series tomorrow afternoon when CC Sabathia takes to his mound against Dallas Braden. I can't imagine the locals will be kind to him, but then again I don't blame them.