A few people will miss Javy Vazquez, but I'm sure the overwhelming majority were glad to see Joe Girardi come out of the dugout and remove him from the game for the final time in his Yankee career. Vazquez gave up hard-hit ball after hard-hit ball in his 4.2 innings of work, which resulted in seven Blue Jays runs. The bullpen would hold them down, but the offense couldn't capitalize on a rally and ended up dropping their 10th game of the season against the Blue Jays 8-4.
Biggest hit: All those homers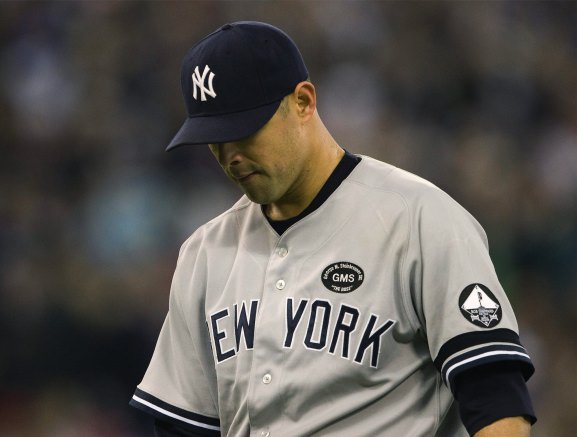 Entering the game Vazquez had allowed 29 home runs, giving him the highest HR/9 rate in the league among pitchers with 150 IP. That went up in a hurry. A night after he recorded the Blue Jays only run on a homer off CC Sabathia, Travis Snider took Vazquez deep in the Jays' first at-bat. Vazquez gave up a number of hard-hit balls that inning, but did manage to escape without allowing another run. That would have to wait until the second.
With none on and two outs in the second John Buck whaled a low, outside pitch over the wall in right-center, giving the Jays a 2-0 lead. Then in the fifth, this time with two men on, Vazquez gave up another long fly, this one to Aaron Hill. That made the game 7-0. That is almost certainly the last pitch he'll throw as a Yankee.
I know there are plenty of fans who revel in Javy's failures in pinstripes, but I'm as saddened by the end of his second stint as I was at the first. After 2004 I was sure that he would bounce back with a solid 2005. Trading him for Randy Johnson, I thought, was not such a great idea. This time around I realize that he has to go. He'll sign for cheap somewhere, and while in a way I'd like that to be with the Yankees, I realize the impossibility of the idea.
Biggest bummer: Swish kills the rally
The Yanks actually fought their way back into the game in the sixth inning, right after Royce Ring came in and ended the game-killing fifth. A-Rod led things off with his 30th homer of the season, which gave him his 14th 30 HR, 100 RBI season, and his 13th straight. After Brett Cecil plunked Robinson Cano and walked Austin Kearns the Yanks had a shot. Cervelli started the carousel, singling in Cano and moving Kearns to third.
The mighty Greg Golson followed with his own single, which set up the Yanks with first and second with one out and drove Cecil from the game. In came Jason Frasor, who gave up a single to Derek Jeter. Nick Swisher came to the plate as the tying run, and he was backed by Teixeira and Rodriguez. But Swisher swung at the first pitch and grounded it to Aaron Hill, who started an inning-ending 4-6-3 double play.
This, that, and the other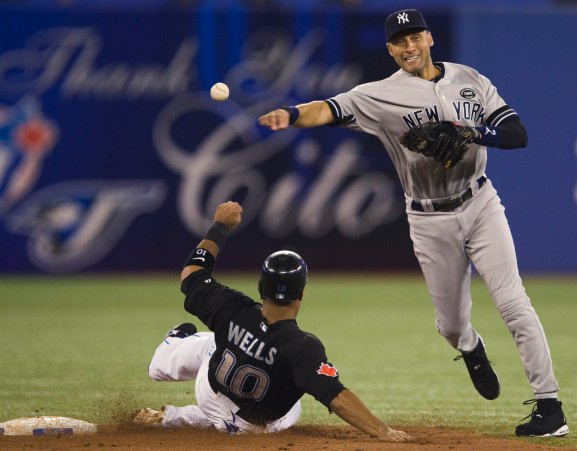 Andrew Brackman? Anyone? Bueller?
Francisco Cervelli in September: .367/.512/.433 in 43 PA. BABIP: .440. Hot and cold, hot and cold.
Alex Rodriguez has 40 fewer PA than Miguel Cabrera but has driven in just three fewer runs. A-Rod might be having a sub-par season by his standards, but he's still coming up with men on base (.300/.372/.571).
If Mark Teixeira catches A-Rod's throw Joba's appearance looks a lot better.
At this point, is Sergio Mitre a better option than Chad Gaudin for the postseason roster? Ideally they'd carry neither — in fact, I submit that Royce Ring is a better choice then both.
Box and graph
I coulda done without this one.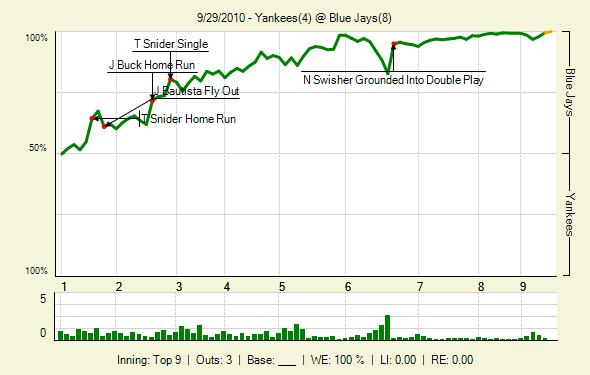 More at FanGraphs. Boxy thing here.
Up next
It's an off-day as the team heads back stateside and into Boston. Andy Pettitte and Daisuke Matsuzaka do battle on Friday.