It was bound to happen at some point. After avoiding it for the first five-plus months of the season the Yankees were swept in a three game series this weekend. None of the games was particularly inspiring. They were in all of them and scored their season-average number of runs across the first two games, but bullpen woes meant that no lead was safe. Moseley took one on the nose in this one, though he pitched as well as the Yankees could have expected. Cliff Lee made it all moot, though, as he had trouble with just one Yankees hitter in his eight-plus-inning, one-run auditionperformance.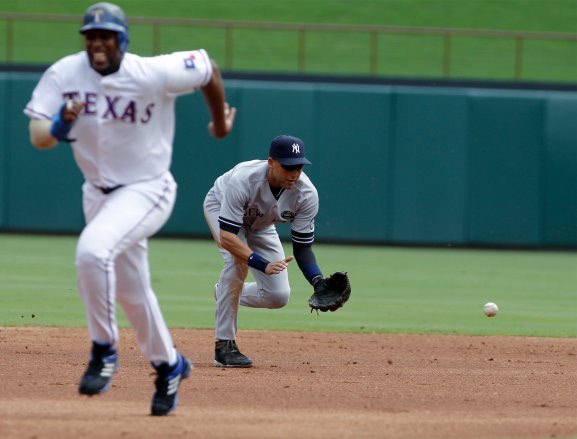 Rather than dwell on the team's poor hitting in this one, let's look at the one bright spot. Derek Jeter came to the plate four times and had four excellent at-bats. The rest of the team had maybe one among them. In those four plate appearances Jeter saw 27 pitches, or just a hair under quarter the number Lee threw all game. That's all the more impressive considering his third PA, a double that drove in the Yankees' lone run, lasted just one pitch. The first and last were nine pitches and resulted in walks. The second lasted eight pitches and ended with a ground out.
Jeter went 1 for 2 with two walks and an RBI double against Lee. The rest of the lineup went 1 for 25 with one walk. This might not be Jeter's finest season, but yesterday he looked like an All-Star while the rest of the team tripped and stumbled towards the end of the series. If he starts looking like this more often it could lend some consistency to the offense down the stretch and into the playoffs.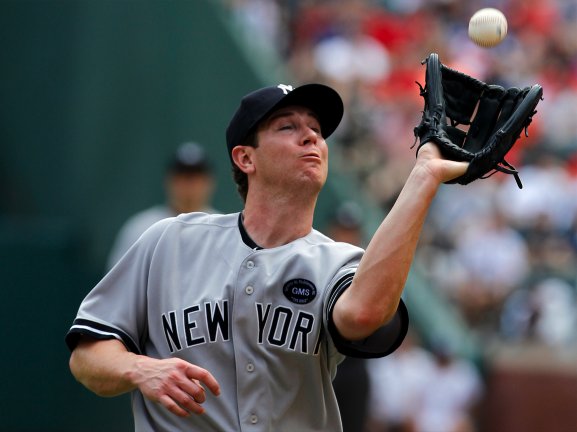 Dustin Moseley deserves some credit, too. He has thrown just 10 pitches since August 30, but he kept the Yankees in this one. Through six he was downright excellent, almost matching Cliff Lee frame for frame.
Moseley through 6: 3 H, 1 R, 1 ER, 1 BB, 1 K
C, Lee through 6: 2 H, 1 R, 1 ER, 2 BB, 4 K
That all changed in the seventh, of course. Moseley had thrown just 79 pitches through six, and Girardi "loved the way he was throwing the baseball." But his first seven pitches resulted in a walk, and considering his like workload in the past two weeks a move might have made sense there. Moseley did get the next two guys, but thanks to a smart tag-up at first by Ian Kinsler the Rangers were able to capitalize on a single. A stolen base and another single ended the day for Moseley.
The Yanks now fly to Tampa and try to escape this week-long funk. They'll have their best guy give it a go tomorrow night, but it will be ace against ace.