Both times the Yankees faced the Blue Jays in August they lost the series 2-1. There are worse things than 2-1 series losses, especially to a team that has played like the Jays. It's not like they lose a series to the Indians or Royals. With yesterday's victory the Yankees locked down another series.
Biggest Hit: Mr. Automatic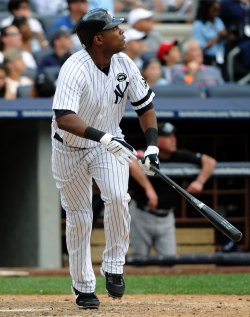 What type of runs would you like? Do you like yours when down in a close game? How about game-tying? I hear that go-ahead runs are just the tastiest. Except walk-off, of course. Walk-off runs are the juiciest runs of them all. Marcus Thames has cooked up all of them this season. Yesterday he prepared us a helping of go-ahead runs.
The game took some early turns. Neither starter got through the fifth. Javier Vazquez did make a bid, but Joe Girardi removed him in a first and third, two outs situation in the fifth. In a scenario that we will discuss in a moment, the Blue Jays tied the game. It stayed that way for a couple of innings. Until Marcus Thames came to the plate, that is.
Thames actually led off in the bottom half of the fifth, but he realized that he had plenty of time. Instead of pulverizing a Jesse Carlson slider he merely grounded it to third. It was a gift by appearances, but Thames was just biding his time. In the seventh he recognized that the situation had become dire. Carlson retired six straight and his successor, Jason Frasor, added two to the tally. But then Robinson Cano snapped the skid with his second up-the-middle single of the game. Thames would not let the opportunity pass.
Frasor threw his first pitch, a slider, towards the inside edge. Thames swung, but he managed only to foul it away. Carlson, fool that he is, tried the same thing again, but this pitch he left right in the center of the plate. Thames put a mighty swing on it and drove it to the bit field in left-center. But it could not contain Thames. He sent the ball into the visitor's bullpen, putting his Yankees ahead.
A curious pitching change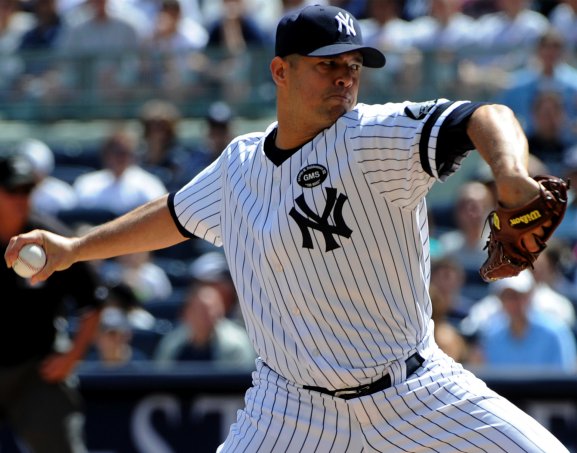 Over the course of a season the manager makes hundreds of pitching changes. There is no way that they'll all work. Most of the time, if he's a good manager, he'll make the right call. But most is just more than 50 percent. There are plenty of times when the manager will make a good call that fails. Other times he'll make a plain bad call. It happens. Joe Girardi mostly makes the right call. Yesterday he made a suspect one.
Javier Vazquez was not pitching like he had during his previous two relief outings. His fastball didn't crack 90. He didn't have the command necessary to compensate for his diminished velocity. He threw too many damn sliders, a pitch that just hasn't worked this year. It amounted to three runs through four innings, both on second inning home runs. But Vazquez had settled down, allowing no runs in the third and fourth before retiring the first two batters in the fifth. But then he walked Jose Bautista. No biggie. It became a biggie, apparently, when Vernon Wells followed with a single.
That brought Overbay, who had homered earlier in the game, to the plate. Joe Girardi bound out of the dugout after the single, so it was clear that he in no way would let Vazquez face Overbay again. That might sound like a reasonable position, especially considering how Javy looked, but there were a few things to consider here. First, the tying run was 270 feet away, so it would have taken a big hit to score him. Second, the homer earlier on the game came on a slider. Letting Vazquez pitch to Overbay, but forbidding him to throw a slider, was probably the right call. But Girardi went to Dustin Moseley. I fail to see the upgrade.
Maybe if he'd gone to Robertson, or Chamberlain, or even Logan, I wouldn't have thought it such a bad call. But Moseley? Maybe he could have brought Moseley in to eat an inning or two after that. The big guns in the pen have been worked hard lately. That tends to happen when you win a lot of games in a short span. If Girardi wants to go with the long man in the sixth with a two-run lead, so be it. But Moseley with the tying runs on base? It just seems odd coming from a guy who, just a month and a half ago, used Robertson in the third inning in a crucial situation.
This doesn't make Girardi a bad manager. No one will make the right call 100 percent of the time. But this seemed like a fairly obvious one. Don't go to Moseley with the tying run on base unless it's of the utmost necessity.
Wrap-around lineup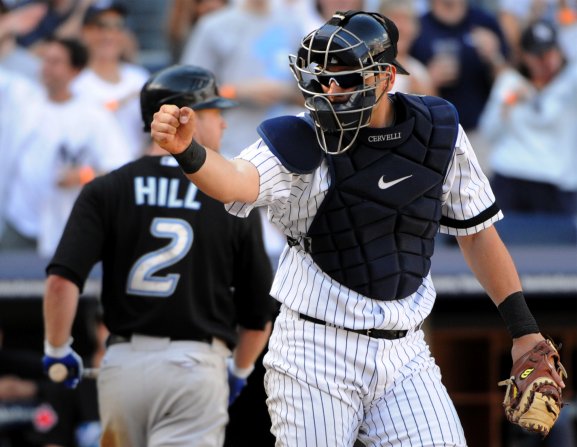 For much of the season Brett Gardner has hit ninth. That makes him a "second lead-off hitter," whatever that means. Really, it means he's hitting ninth. I don't know why Girardi does it, but he likes having that second leadoff hitting advantage. But ever since A-Rod's injury Girardi has found a spot in the top of the lineup for Gardner. Which makes sense. He takes pitches, he gets on base, and he's a threat to steal. That means not having a wrap-around lineup. Unless you do.
Francisco Cervelli had another pleasantly surprising day. He doubled twice and came around to score both times, first thanks to a wild pitch and second thanks to a Derek Jeter chopper that — to invoke Michael Kay — fortuitously ricocheted off the third base bag. As Chad Jennings relays, it was the first multi-double game of Cervelli's career. It's always a little easier to score runs when the bottom of the order produces. Cervelli deserves much praise for his recent timely hits.
Graph and Box
If I just saw this graph and the final score, I'd probably think that this was a pretty good game. And I'd be right.
More green lines at FanGraphs. Fogies can get their fix with the traditional box.
Up Next
It's never a bad game when you're looking at not only a sweep, but a ninth straight win. Phil Hughes goes for it, while Brett Cecil tries to stop it. It's Day Game No. 4 of 5 from the Bronx.