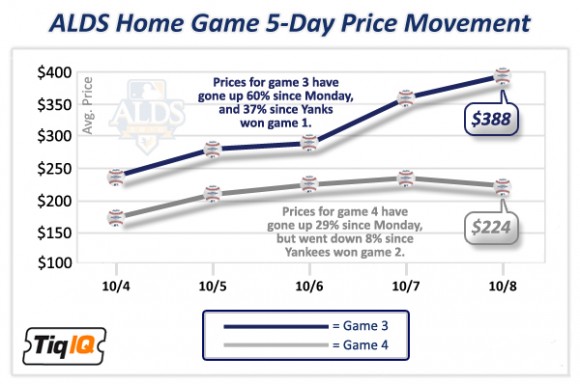 After the Yanks grabbed the first two games of their best-of-five set from the Twins this week, the action returns to the Bronx tomorrow night as the Yanks have two cracks at home to wrap up this ALDS. Not surprisingly, ticket prices are on the rise. Our patterns at TiqIQ provided us the above graph, and we can break it down.
As the playoffs have progressed the average price of tickets on the secondary market for Game 3, the first potential clincher, have shot up markedly. Between October 6th and earlier today, over 1000 tickets moved on the secondary market as the average price went from $283 to $384. Some of that movement was due to cheaper tickets coming off the board, but a few hundred have been added since. The extra inventory has pushed the price up around $10 on average, and it's clear that people are paying with the hopes of seeing a clincher.
Meanwhile, Game 4, right now, is on the downswing. With the Yanks on the verge of an ALCS berth, the secondary market seems wary of a potential Game 4. I'd say snap up those Game 4 tickets now because if it looks as though the game will be played, the prices will shoot way up after Game 3. If the game isn't played, StubHub's FanProtect Guarantee will cover the price.
For those looking to buy tickets for Game 3, RAB Tickets has you covered, and we get a small cut of the sales to help power this site. Don't forget, as well, to join the RAB Tickets Facebook page. After the ALDS is over, we'll select one fan at random to win a Yankee cap.