Over the next week or two or three, we're going to recap the season that was by looking at what went right as well as what went wrong for the 2010 Yankees.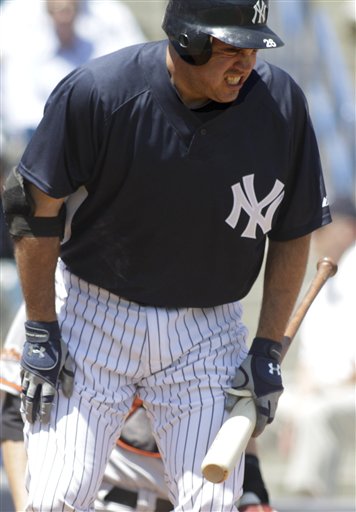 In the aftermath of their 2009 World Series celebration, the Yankees were facing several tough decisions with stalwart players. Both Johnny Damon and Hideki Matsui were free agents after their identical four-year, $52MM contracts expired, but Brian Cashman and the rest of the brain trust remained in "get younger and more athletic" mode. Despite all of their postseason heroics, Damon and Matsui were still a pair of 36-year-olds last winter, with the latter having significant concerns about the health of his knees.
The first domino fell barely a week into December, when the Yankees swung a three-team trade that brought Curtis Granderson to New York. That filled the vacant outfield spot, leaving the designated hitter's job the only one left open. Matsui took himself out of the running five days after the Grandy trade by signing a one-year deal with the Angels at 50% pay cut. His reason for signing quickly was sound; he didn't want to be shut out in a market that getting more and more unkind to DH types. Understandable.
Damon and Scott Boras were sticking to their guns about a multi-year deal without a significant pay cut, and the two sides were still worlds apart on a deal after the Grandy trade. With Johnny and Boras playing hard-to-get, the Yankees moved on to a familiar face to fill the DH hole, signing Nick Johnson to a one-year deal a week after Matsui went to SoCal. The contract was worth just $5.5M with incentives tied to plate appearances, very reasonable considering the $13M both Damon and Matsui made last year.
Everyone knew about Johnson's laundry list of injury trouble, but there were reasons to be optimistic about his ability to stay on the field in 2010. After missing all of 2007 and most of the 2008 season, he stayed on the field for 574 plate appearances in 2009, his most since 2006 and the second most of his career. Getting him out of the field and resting comfortably as a designated hitter also figured to help him stay fresh and in the lineup. And, of course, a man with a .402 career on-base percentage (.426 in 2009, third best in baseball) figured to make baseball's best lineup even more potent. The Yankees had their new DH, and Damon eventually found a one-year deal in Detroit.
The trouble for Johnson started almost right away. He missed the team's second Spring Training game with a stiff back, brought about when he caught a spike in batting practice. The lower back issue popped back up in late April, causing NJ to miss two games and three days. Through the season's first 27 games, Johnson remained a strong on-base threat (.396 OBP) but he wasn't doing much with the stick (.171 AVG, .143 ISO). The Yanks were in Fenway Park on May 7th, and Johnson was in the lineup as the DH and in his customary second spot in the lineup. His first at-bat resulted in the second of three straight Josh Beckett strikeouts, and his second trip to the plate resulted in a weak groundout to the second baseman to lead off the fourth. That was the last time we would see Johnson in 2010.
Marcus Thames pinch hit one inning later, replacing Johnson who was sidelined a sore wrist. It was the same wrist he had surgery on in 2008, causing him to spend 137 total days on the disabled list. An MRI revealed an inflamed tendon, and the original diagnosis had NJ missing several weeks. Less than two weeks later, Johnson was on the surgeon's table after a cortisone failed to do the trick. Three months after that, the same wrist was sore yet again, and one week later he was again having surgery. All told, Johnson spent 166 days on the disabled list in 2010, falling short of the very modest 100 plate appearance plateau, finishing with just 98.
Looking back, it's clear the team (and us fans as well) was mesmerized by the potential of having someone reach base 40+% of the time in front of Mark Teixeira and Alex Rodriguez, and who wouldn't be? The problem was that Johnson offered little in the way of power (though 20 homers in Yankee Stadium was very possible) and even less in terms of dependability and durability. Even if the Yanks declined to meet Damon's demands, better (and cheaper) DH targets like Jim Thome ($1.5M) and Russell Branyan ($2M) didn't come off the board until late in the offseason. That obviously comes with the benefit of hindsight, however.
For all intents and purposes, what played out was the worst case scenario for both the Yankees and Johnson. The team had to scramble to find a replacement DH, eventually trading a pair of young players at the deadline to fill the hole, and Johnson now faces an uncertain winter coming off surgery. Cashman admitted during Monday's press conference that Johnson was his Plan C at DH, behind Damon and Matsui. He might as well have called him Plan K, because the 2010 edition of Nick Johnson was a big fat whiff.