For the first five innings of last night's game, the Yankees were at the mercy of Francisco Liriano. They attempted to start a rally in the third inning when Brett Gardner walked and Derek Jeter singled with no outs, but all that appeared to do was anger the Twins' lefty. He retired the next three batters with ease, emphatically ending the threat by getting Alex Rodriguez to swing-and-miss at three straight sliders. Those were the first three batters of a stretch in which Liriano would retire ten in a row, but after that things went downhill for him.
True to form, Liriano killed the Yankees with his slider and changeup early on. He threw those two pitches a combined 51.4% of the time this season, and stuck right with that plan for the first five innings and one batter. By my very unofficial count, Liriano threw 34 offspeed pitches out of the zone to the first 19 batters he faced, getting the Yanks to chase a whopping 15 of them. That's broken down into eight swings-and-misses and seven with contact, whether it be a foul ball or a ground ball or whatever. Either way, Liriano was keeping the Yanks off balance by mixing his pitches and making them look like strikes before they darted away from the zone and turned into ball.
"[Liriano] really went to his offspeed pitches tonight," said Nick Swisher, who started the sixth inning by chasing a changeup and a slider out of the zone for a leadoff strikeout. "We made a little adjustment."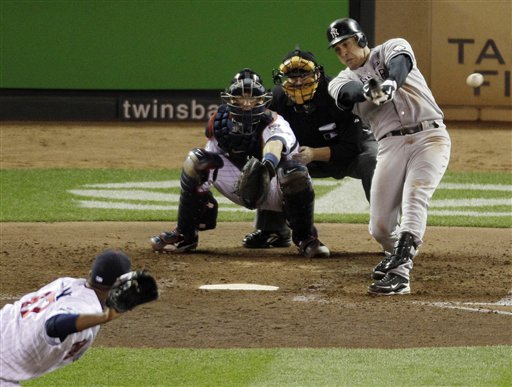 Liriano, who averaged just 97.5 pitches per start this season, had thrown a very manageable 80 pitches through Swisher's strikeout. Mark Teixeira, perpetually susceptible to changeups down in the zone, knew what to expect from Minnesota's ace after he'd gotten him on (yep) a changeup in his first at-bat. Liriano threw a first pitch change and got Tex to swing-and-miss on a pitch that was both off the plate and below the zone. Tex made one of those little adjustments Swish talked about, and jumped all over the second straight changeup down in the zone, yanking it down the leftfield line for a double. With a man on second and his pitch count approaching 90, the Yanks forced Liriano to abandon his comfort zone.
A-Rod walked on six pitches as the next batter, four of which were fastballs. He took a slider for a strike and then a changeup down for a ball (as David Cone likes to say, he just spit on it) before Liriano went back to the heat. Robbie Cano got two fastballs in his two pitch at-bat and singled in the Yanks' first run. Even though Marcus Thames followed that with a strike out for the second out of the inning, Liriano didn't throw him a breaking ball until he got two strikes on him. The next batter, Jorge Posada, fouled off a first pitch slider in the zone, but he then took two straight fastballs for balls. Liriano tried to get him to chase a slider down for a strike, but again, Posada just spit on it. The next slider was a mistake pitch that was left about thigh high, and Posada lined it over Orlando Hudson's head for a single and another run.
Joe covered Curtis Granderson's sixth inning at-bat this morning, but the pattern is important. Liriano got a called strike on a slider that hugged the outside corner of the plate, a borderline pitch. As he did with Posada, the lefty went to two straight fastballs after the first pitch breaking ball, and again both went for balls.
Liriano knew what was up at this point; the Yanks weren't going to swing at his offspeed stuff unless it was a hittable pitch in the zone. After getting crushed with sliders and changeups early, the Yankee lineup simply took those pitches away. They swung at just one of six offspeed pitches out of the zone after Swisher's strikeout, and that was the strike three to Thames (who had to be in protect mode with two strikes, swinging at anything close). Liriano's fourth pitch to Granderson was another fastball, this one missing badly and eventually clanking off the wall in right-center for a two-run triple. For the sake of completeness, Liriano Jose Mijares retired Brett Gardner to end the inning one batter later, throwing him nothing but fastballs during the seven pitch at-bat.
As we've seen them do numerous times this season, the Yanks adjusted to the starting pitcher's game plan the third time through the order. Liriano's slider and changeup are both among the very best lefthanded offspeed pitches in baseball, but in that sixth inning the Yankees just took them away by simply not swinging. Swisher called it a little adjustment, but it was a little adjustment that reaped huge benefits.