They don't call them the Bronx Bombers for nothing. The Yankees had no fewer than six players in their everyday lineup capable of taking any pitcher deep at any moment this past season, and the result was 201 homeruns, the third most in baseball. Alex Rodriguez and Mark Teixeira both reached the 30 homer plateau again while Nick Swisher and Robbie Cano chipped in 29 each. Curtis Granderson provided another 24.
Unsurprisingly, quite a few of those 201 homeruns traveled very far, which is what we're going to look at today. Thanks to the amazingly great Hit Tracker, we'll look at the five longest homeruns hit by a Yankee this season using their True Distance tool. That tells you how far the ball would have traveled from home plate had it landed back at field level and not been interrupted by things like stands, fans, upper decks, etc. It does not remove wind, however, but that's something we can look at in the future.
It's worth mentioning that although Jorge Posada did not crack the top five, he accounted for the sixth, seventh, and eighth longest Yankee homeruns of the season. That tenth inning shot off Dan Wheeler in Tampa (video) is just sixth, which surprised me. On to the list…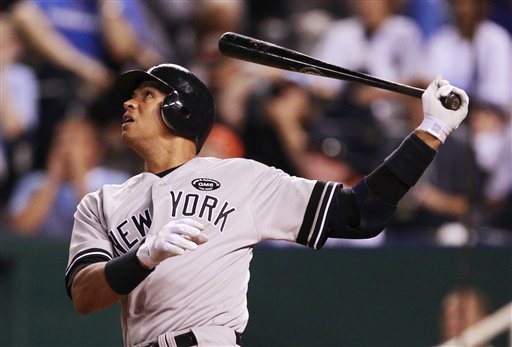 5. A-Rod off Greg Holland, Aug. 14th (video)
Get used to seeing Alex Rodriguez's name, he's going to be featured prominently in the post. This homer was the third of his three homer game in Kansas City, a two-run shot that extended the Yankees' lead to 8-3 in the ninth inning. Holland, who was making just the third appearance of his big league career, started A-Rod off with two sliders off the plate before coming back inside with a 96 mph fastball in a 2-0 count. The Yanks' third baseman turned on it, sending it into the fountains beyond the left-center field walk. True Distance: 449 ft.
4. Robbie Cano off Jamie Moyer, June 16th (video)
This game was one to forget, as is any game that features eight stellar innings from the relic known as Jamie Moyer. The Phillies jumped out to a 4-0 lead in the top of the second, but Cano got one back in the bottom half. A-Rod had just hit a ball to the warning track for the first out of the inning, a shot that embodied everyone's frustration that night. Moyer pulled his slow-slower-slowest routine with Cano, throwing sinkers away until coming inside in a 2-2 count. Or at least he tried to come inside. The 81 mph pitch stayed up and right out over the plate, so for all intents and purposes it was a batting practice pitch. Cano didn't miss it, and the solo shot landed about halfway up the rightfield bleachers. It was the 504th homer Moyer had given up his career, bringing him to within one of Robin Roberts for most in history. True Distance: 451 ft.
3. A-Rod off Wade Davis, May 19th (video)
Thirty-four games into the Yankees' season, Alex Rodriguez had just three homeruns to his credit. He was on pace for just 14 (13.9, really), which would have been the lowest total of his career by far. He started to kick it into gear in May 14th, going deep against the Twins (grand slam off Matt Guerrier) and then again three days later against the Red Sox (game tying shot off Jonathan Papelbon in the Marcus Thames walk-off game). Two days after that, A-Rod got Davis. It was a sixth inning of an otherwise forgettable game (Rays won 10-6), and the Tampa right-hander came right after Alex leading off the sixth. The ten pitch at-bat featured, yep, ten fastballs, the first three for balls, the fourth for a called strike, and the next five for foul balls. Davis eventually made a mistake, leaving a 94 mph heater up and out over the plate, and A-Rod hit it into Monument Park for a solo shot. True Distance: 452 ft.
2. A-Rod off Craig Breslow, April 20th (video)
Alex didn't hit his first homer of the season until the team's eleventh game, but his second came just two days later. The Yanks were out in Oakland and nursing a 3-0 lead when Breslow replaced Gio Gonzalez. There was just one out in the fifth, but the Yanks forced the A's starter to throw 97 pitches (five walks no doubt did the trick). Breslow's first pitch fastball was right over the plate for a called strike, but he then missed with a fastball away and a slider down to fall behind 2-1. His fourth pitch was a mistake and a total cookie, an 88 mph heater thigh-high and ever so slightly on the inner half. This one landed well beyond the left-centerfield wall, and it gave the Yanks a 6-0 lead as a three-run shot. True Distance: 452 ft.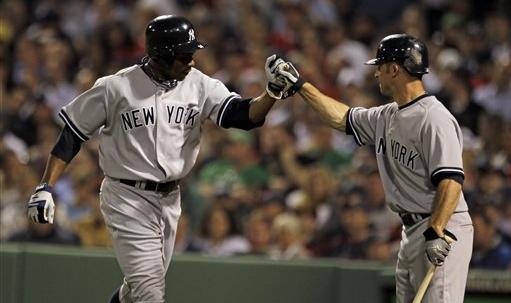 1. Curtis Granderson off Josh Beckett, April 4th (video)
Everyone remembers this one. It was the very first game of the season, and it was Curtis Granderson's very first plate appearance as a Yankee. Posada had given the Yanks a 1-0 lead with their first baserunner, hit, homer, and run off the 2010 season with a solo shot off the Pesky Pole just one batter early. Grandy stepped in and Beckett went right after him with fastballs. The first one missed for a ball, the second was fouled off, and the third missed again for a 2-1 count. Beckett's fourth pitch was nearly identical to his second, a mid-90's fastball up in the zone, but this time Granderson didn't miss, clobbering it over the bullpen more towards center than right for his first hit, homer, and run in pinstripes. True Distance: 455 ft.