One of my favorite events of the baseball year is the annual Rule 5 Draft, which takes place during the Winter Meetings in December (apparently it's going to be earlier than that this year) and is designed to help advance the careers of players stuck in the minors. The rules are pretty simple; any player selected has to stick on his new team's 25-man roster all season or be offered back to his old club for half the original $50,000 claiming fee. The Yankees have lost a few players to the Rule 5 gods over the years, most notably Kanekoa Teixeira (Mariners) and Zach Kroenke (Diamondbacks) last season.
Last year the Yankees traded Brian Bruney to the Nationals for the player to be named later, though they worked out a deal with Washington that gave them the first overall pick in the R5D. They drafted outfielder Jamie Hoffmann, gave him a look in Spring Training, and ultimately decided to return him to the Dodgers. A few years before that they rolled the dice with Josh Phelps. Rule 5 picks rarely stick and when they do they're often spare parts like middle relievers or bench players. Every once in a while there will be a Dan Uggla or Johan Santana or Joakim Soria or Josh Hamilton though, which is what makes it so interesting.
For all intents and purposes, high school players drafted in 2006 and college players drafted in 2007 (or earlier, of course) are eligible for this year's Rule 5 Draft. Through the miracle of the internet, Donnie Collins provided us with a full list of Yankee farmhands – confirmed by VP of Baseball Ops Mark Newman – eligible for this year's Rule 5 Draft. For prospect nerds like me, it's pretty much a gold mine. Jesus Montero, despite signing as a 16 year old in 2006, is not eligible this year. Don't ask me how, I don't completely understand the eligibility rules, but all I know is that the team confirmed he isn't eligible.
There are currently 43 players on the Yanks' 40-man roster since Al Aceves, Damaso Marte, and Nick Johnson are sitting on the 60-day DL. Johnson, Lance Berkman, Austin Kearns, Chad Moeller, Marcus Thames, Javy Vazquez, and Kerry Wood all go away once free agency starts next week. Derek Jeter, Mariano Rivera, and Andy Pettitte will come off the 40-man as well, but they're coming back or will be replaced by someone. That puts the Yanks at 36 players, and you have to assume they'll sign a few free agents, so let's call it an even 40. Cut candidates include Sergio Mitre, Dustin Moseley, and Chad Gaudin, but let's play it safe and say that two of them will be back. Reegie Corona and Royce Ring can go, ditto Steve Garrison.
That gives the Yankees four 40-man roster spots to use for protecting prospects from the Rule 5 Draft. Dellin Betances and Brandon Laird are absolute no-brainers, so we're already down to just a pair of spots. I see four realistic candidates for these spots: George Kontos, Lance Pendleton, Ryan Pope, and Craig Heyer. Almost everyone else on the list can be left unprotected for obvious reasons, and I don't believe Melky Mesa and Bradley Suttle are advanced enough to stick on a big league 25-man roster all season. The odds are overwhelmingly in favor of them being returned at some point should they get picked.
Let's break down the cases for Kontos, Pendleton, Pope, and Heyer…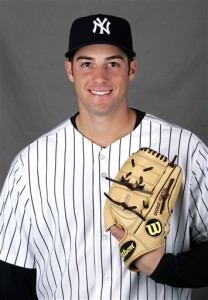 George Kontos
The Greek God of Pitching returned from Tommy John surgery this June and transitioned from starter to reliever. Kontos pitched well after coming back from surgery (3.37 FIP in 45 IP) and is currently getting his brains beat in (8 IP, 20 baserunners, 13 runs) like every other pitcher in the Arizona Fall League. The 25-year-old righty has firm stuff (low-90's heat, good slider, eh change) tailored for a relief role, which is realistically the only spot he'd fill for the Yanks. His minor league strikeout rate at and above Double-A is very good (8.6 K/9), but the walks are a touch high (3.5 BB/9) and he's always been homer prone (one longball for every eleven innings pitched as a pro). The equipment is there for Kontos to be a serviceable reliever.
Lance Pendleton
The Yanks' fourth round pick in 2005, Pendleton missed the entire 2006 season due to Tommy John surgery (damn Rice pitchers). He's been an absolute workhorse ever since, throwing a total of 445.1 innings (3.28 FIP) in the last three years, including 154.2 this year. The elder statesmen of this group, Pendleton is already 27, so his solid but not overwhelming rates (8.0 K/9, 3.3 BB/9, 0.9 HR9) have to be taken with grain of salt since he's always been older than the competition. I'm not sure if and how much the scouting report has changed through the years, but he was a low-90's fastball guy with a curve and change back when he was drafted. It's enough that he can start, and frankly he's probably no worse than Moseley. At the very least he's cheaper.
Ryan Pope
Pope's always been an interesting case just because he the second player ever drafted out of the Savannah College of Art and Design. A year ago we wouldn't have even been having this conversation, but the 24-year-old righty put himself on the map this summer after shifting into a relief role. He went from a fringy guy without swing-and-miss stuff (6.9 K/9 before 2010) to a dominant reliever, striking out 9.7 batters per nine while walking just 1.8 unintentionally. The homers are a bit of an issue (0.9 HR/9 as a reliever), but that's life. We have to be careful with the sample (just 59 IP as a reliever), but Pope's definitely put himself into the mix as a bullpen prospect.
Craig Heyer
Heyer's been sneaky good since signing as a 22nd round pick back in 2007, earning the praise of Keith Law recently. Still just 24 years old, his walk (just 14 unintentional walks the last two seasons, or 0.8 BB/9) and homer (0.3 HR/9 career) rates are the stuff of legend, but the problem is that he doesn't miss many bats (5.1 K/9). Heyer also has yet to pitch above High-A. The Yankees sent him (and Pope) to the AzFL to get a longer look, so you know he's at least on their minds. The stuff is fine (click the link above for a scouting report), but the experience isn't.
* * *
Of those four, I'm taking Kontos and Pope. Pendleton will almost definitely be selected since cheap spot starters/long men are always in demand around the league, but that's the cost of doing business. Heyer might get picked, but chances are he'll be offered back at some point. Kontos and Pope have by far the best chance of being impact players for the Yankees in 2011, and more importantly have a better chance of sticking on another club's 25-man roster next year. The Yanks need to keep replenishing their pipeline of young and cheap strikeout relievers, and these two are next in line. If they somehow clear up a fifth 40-man spot, I'd go with Pendleton over Heyer given how much closer he is.
If you're losing players in the Rule 5 Draft, it's a good sign, not necessarily a bad thing. It means you have players in your system other teams covet, which is one of the caveats of a deep farm system. The Yanks have some tough decisions to make this year and well definitely lose a player or three, but that's life. the important thing is that they keep the right ones.
Hoffmann, Kontos photos both courtesy of the AP.