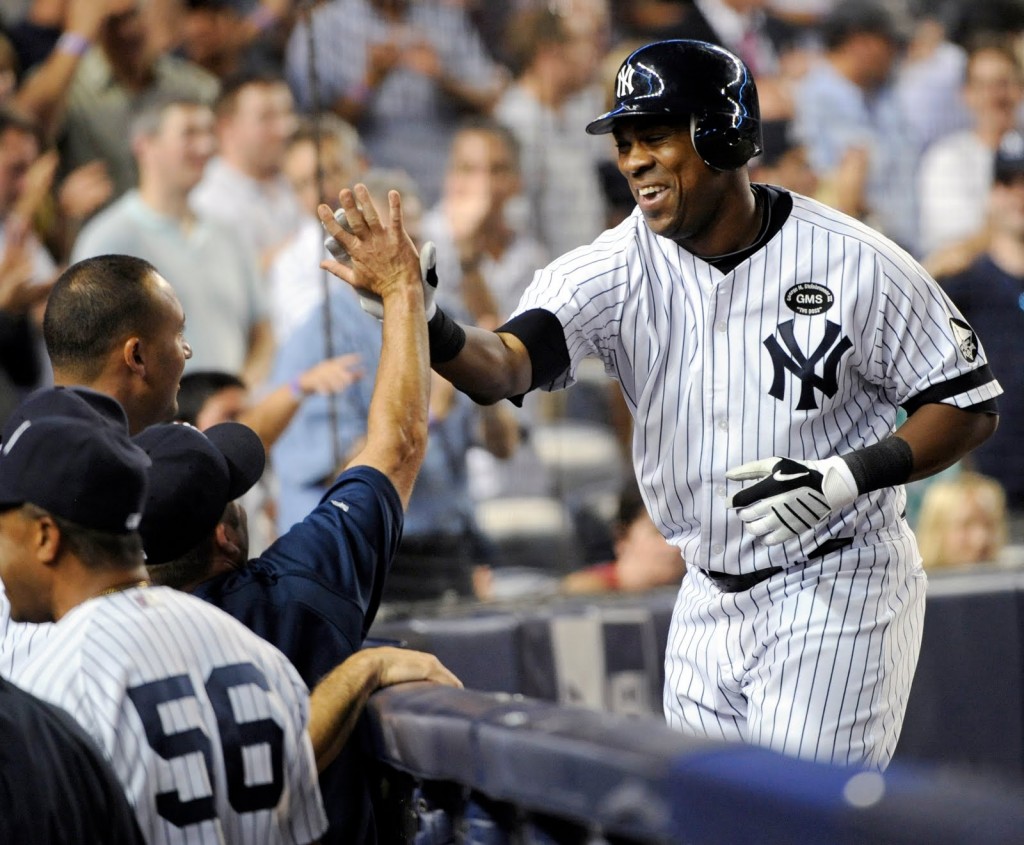 As the 2009-2010 offseason played out, it became increasingly clear that the Yankees needed some sort of righthanded bat to balance out their lefty heavy outfield. Nick Swisher wasn't the problem since he's a switch hitter, but the newly acquired Curtis Granderson had significant trouble against southpaws in recent years (.267 wOBA vs. LHP from '08-'09) and Brett Gardner was still a complete unknown at the time. Enter Marcus Thames.
The former Yankee farmhand agreed to a minor league contract in early February that granted him an invitation to Spring Training, at which point he'd have to compete for job against the likes of Rule 5 Draft pick Jamie Hoffmann, Greg Golson, and David Winfree. Thames didn't perform well during camp at all (.135/.182/.269 in 52 at-bats), but the Yankees preferred his experience and power to whatever the younger guys had to offer. If you're going to go for experience over youth, a bench/platoon spot isn't a bad place to do it.
Thames started the season in a platoon with Gardner (not Granderson, contrary to what we all expected) and played in only two of the team's first eight games. He got a start at designated hitter in the ninth game of the season, going 2-for-3 with a double in a win against the Angels. That earned Marcus another start the next day, which resulted in another two hits, and before you knew he finished the month with a .588/.650/.941 (.666 wOBA) in 20 trips to the plate. Thames kept hitting so Joe Girardi kept giving him starts through the month of May.
The Yanks started play with a 24-13 record on May 17th, certainly a dynamite record, but they hadn't had one of those big remember-why-you-love-'em wins yet. Thames gave New York just that when he completed a ninth inning comeback against Jonathan Papelbon by following Alex Rodriguez's game-tying two-run homer with a walk-off two-run homer of his own. Brought in to mash lefties, he also was getting the job done against righties, and that homer won him a place in the heart of every fan.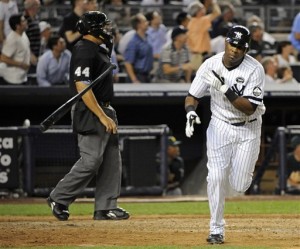 After a bum hamstring sidelined Thames for close to a month, he returned on Independence Day and provided an instant jolt to the team's offense. He pinch hit for Ramiro Pena in the tenth inning of a tie game against the Blue Jays, driving in the winning run with a walk-off broken bat single. Not bad for a welcome back moment, eh? A few weeks later he helped the Yanks mount a comeback win against Cliff Lee and the Rangers by whacking a solo homer in the eighth before driving in the go-ahead run with a single in the ninth.
Thames' role became more and more prominent as the season progressed. He hit .342/.384/.671 (.438 wOBA) after returning from the disabled list through September 1st, after which he and the newly acquired Lance Berkman went into a straight platoon at DH. All told, Marcus hit .288/.350/.491 (.365 wOBA) with a dozen homers in 237 plate appearances on the season, filling the role of platoon bat perfectly. He did his job against lefties (.354 wOBA) and was even better than expected against righties (.382).
Of course, we can't forget the horror show that was Thames' outfield defense. He played just 171 innings in the outfield all season, but he managed to cost the team more than four runs defensively. It seemed like a helluva lot more, I know that much. The most notable blunder came a day after the walk-off homer against Papelbon, when Thames botched a fly ball in right that led to a pair of unearned runs in the ninth and an eventual loss. Thankfully Girardi wised up, and Thames' days as a regular outfielder were finished after he came back from the disabled list.
Mighty Marcus Thames was everything the Yankees hoped he would be and then some, giving them pop off the bench and later on, production in a damn-near every day role. As far as gambles on minor league deals go, the Yankees hit the jackpot with this one.