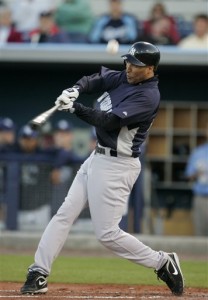 Given the general construction of their roster, it's always difficult for the Yankees to sign quality bench players as free agents in the offseason. No one in their right mind wants to sit for weeks at a time behind a cast of All Stars, especially when their playing time will impact their future earnings. As a result, the Yanks have had to resort to signing cast-offs late in the offseason and/or trading for help at midseason. They did both in 2010, signing a reserve outfielder right before pitchers and catchers reported, then replacing him with a trade deadline pickup. Unfortunately, neither worked.
Randy Winn
The Yankees signed Winn to a relatively cheap contract in February, a one-year pact worth just $1.1M guaranteed, though there was another $900,000 tied up in incentives based on plate appearances against left-handed pitchers only. That told everyone right away that they viewed him as some sort of a platoon bat, not to mention a defensive specialist and occasional pinch runner.
As it turned out, Winn's tenure in pinstripes lasted less than two months. He was designated for assignment on May 28th, less than 50 games into the season. His time with the Yanks featured just 71 plate appearances (0-for-11 vs. LHP) and a lowly .276 wOBA, though I will say that I thought he had some decent at-bats. He seemed to work the count well and at least make the pitcher work, though the results just weren't there. Perhaps even more damning is that the supposed defensive specialist cost the team 1.2 runs in 162.2 defensive innings. Mash it all together, and Winn was worth three-tenths of a win below replacement level during his time in New York. Thankfully the Cardinals lessened the blow somewhat by assuming roughly $270,000 of Winn's contract when they signed him in June.
Austin Kearns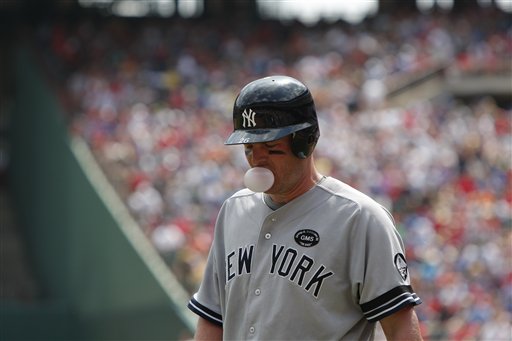 After Winn flunked out of pinstripes and it became painfully obvious that Marcus Thames was a hazard to himself and anyone around him defensively, the Yanks went out and acquired Kearns from the Indians in exchange for a player to be named later (Zach McAllister) at the trade deadline. The former Red had rebuilt his value with the Indians in the first half, wOBA'ing .343 overall and (more importantly to the Yanks) .353 against southpaws.
Kearns instantly improved the team's bench and overall depth, and his first three weeks in pinstripes were superb: .434 wOBA in 45 plate appearances while filling in at both outfield corners and occasionally pinch-hitting. That was basically all the Yankees would get out of Kearns though, as his production simply cratered after that. His final 74 plate appearances of the season featured just 24 times on base (inflated by four hit by pitches and one reached on an error) and 26 strikeouts, or one every 3.08 times to the plate. Although he made the postseason roster, Kearns didn't make it into a single game even after Mark Teixeira's injury.
Kearns wasn't a total loss for the Yankees (.310 wOBA) because his defense was rock solid (1.6 runs better than average), coming in at three-tenths of a win better than some replacement level scrub. In his defense, he was battling some sort of hand/wrist injury down the stretch that I'm sure hampered his swing, but still. Kearns was as close to useless as it gets in the last six or so weeks of the season.
* * *
A pair of approximately replacement level fourth (or fifth, depending on your point of view) outfielders didn't sink the Yankees' season, though they certainly didn't help. Thankfully the starting trio of Brett Gardner, Curtis Granderson, and Nick Swisher were all above average performers this year, ditto Thames in a reserve role, so the lack of a true outfield bat off the bench wasn't as much of a problem as it could have been.