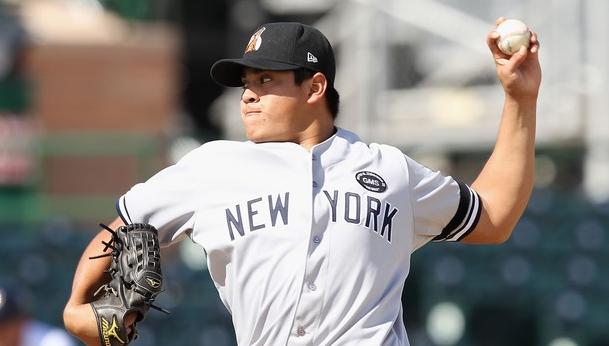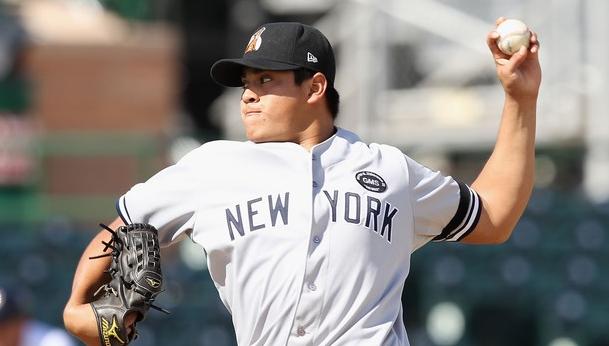 Jamie asks: First I'll start off by saying I'm confident that the Yanks will sign or trade for another SP prior to Spring Training and this question becomes moot. However, if they don't there's been talk of using kids to fill the rotation out with names like Betances and Banuelos thrown out there. My question is, how often have teams' top pitching prospects skipped AAA entirely and have there been many pitchers that have been successful in doing so? What's the best/worst case scenario we could see out of ManBan or Dellin if either were the 5th starter?
I did some digging around and it turns out that quite a few top pitching prospects skipped the Triple-A level before jumping into the big leagues, including current Yankee ace CC Sabathia. He made ten High-A starts in 2000 before being promoted at midseason and making another 17 starts with Double-A, and the next year he made the Indians' rotation as a 20-year-old right out of Spring Training. His lone career Triple-A start was a rehab outing in 2006. A.J. Burnett made the jump from Double-A to the majors in 1999, but he went back to the minors to start the 2000 season before resurfacing in June. He made all of one Triple-A start before sticking in the show.
Some of the other notable big leaguers that skipped Triple-A all together: Justin Verlander (just 20 minor league starts total, seven in Double-A), Mat Latos (nine Double-A starts), Clayton Kershaw (16 Double-A starts), Josh Beckett (13 Double-A starts), Scott Kazmir (eight Double-A starts), and former Yankee first round pick Eric Milton (14 Double-A starts). Tim Lincecum (five), Roy Oswalt (five), and Cole Hamels (three) all made a very limited number of Triple-A starts before sticking in the big leagues. The Tigers were aggressive with Verlander but he was a college draft pick; Rick Porcello was a high school kid that famously jumped from High-A to the big leagues in 2009. Half-a-decade earlier, the Tigers did the exact same thing with Jeremy Bonderman. Yeah, Detroit likes to be aggressive with their prospects. Johan Santana jumped from High-A to the big leagues as well, but he was a Rule 5 Draft pick, so his situation was a little different. I'm certain there are more examples out there, but these are just a few.
As for Manny Banuelos and Dellin Betances, we have to remember that if either guy started the 2011 season in the Yankees rotation, they wouldn't be just skipping Triple-A, they'd essentially be skipping Double-A as well. Banuelos is still just 19 years old, and he has a total of three starts and 15.1 Double-A innings to his credit. Betances is older in age (22) but not in Double-A experience, his three starts at the level produced a total of 14.1 innings. Combined, the pair have faced 119 batters above the Single-A level. Throwing them to the AL East wolves with that little upper level experience is just asking for trouble. The chances of success are probably like, 5%, and the worst case scenario involves 50 or so innings with a 6+ ERA and a trip back to the minors with confidence at an all-time low.
Thankfully the Yankees have some arms in Triple-A they could turn to first. Hector Noesi and Andrew Brackman are already on the 40-man, and David Phelps can be added without a problem. We can even add Adam Warren to that mix as well. Those four can and should be given a rotation spot before turning to Banuelos or Betances. The time will come for those two, but 2011 is too soon.