Joe recapped some of the more notable non-tenders yesterday, but there's one player he didn't touch on that's probably worth exploring. Given the Yankees search for a second left-handed reliever, we might as well cover every base.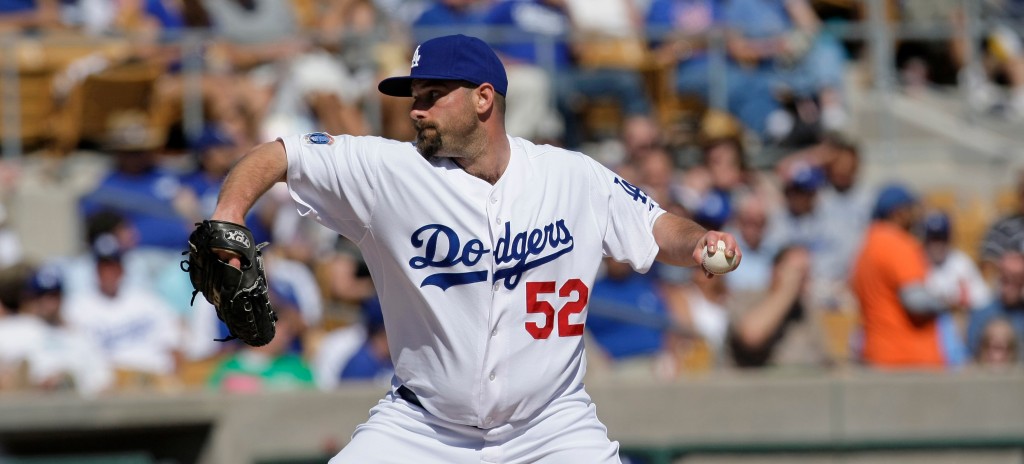 Ryan asks: An interesting non-tender is George Sherill. I know his 2010 was brutal but he has been murder on lefties his whole career (including 2010). What are the chances the Yankees take a flier on him?
You're right, Sherrill was brutal in 2010. For the low low price of $4.5M, the Dodgers received a 6.69 ERA (5.20 FIP, 5.61 xFIP) and -0.5 fWAR in just 36.1 innings. He struck out just one more batter than he walked (26 K, 25 BB) and right-handers absolutely annihilated him (.482 wOBA against). The former independent leaguer (four different indy teams too) also missed two weeks with a sore back and his velocity was erratic but generally down. No matter how you look at it, Sherrill was a disaster for Team Torre in 2010.
Digging a little deeper though, there are enough reasons to believe that not all hope is lost for the 33 year old (34 in April). Sherrill still handled left-handed batters well (.272 wOBA against) this year, just not as well as he did from 2007-2009 (.220 wOBA against). The one homer he surrendered to a lefty in 2010 was a majestic blast that Yankee fans will remember fondly. A .352 batting average on balls in play (compared to .292 career) certainly didn't help matters, and it's probably not a coincidence that his worst stretch of the season came right before he hit the disabled list.
There are very real concerns though, don't be mistaken. Sherill's never been a control freak, unintentionally walking 3.8 batters per nine innings (3.4 BB/9 vs. LHB) over the last three seasons. He's also a fly ball pitcher (47.4% career), though he has improved his ground ball rate for three straight seasons. Fly balls mean homeruns, a less than desirable trait for any pitcher, especially a late game reliever.
At this point, Sherrill should be limited to lefty specialist work and nothing more. His days of being effective against right-handers are behind him, but the fastball-slider combo work fine against same-side hitters. The Dodgers understandably non-tendered him and the overall bad year should help keep Sherrill's price down this winter. In fact, there has at least been speculation that he might have to settle for a minor league contract with an invite to Spring Training to prove himself worthy of a roster spot.
Considering the cost vs. expected production, I'd much prefer Sherrill to someone like Pedro Feliciano. I'm comfortable with his track record against southpaws, and I also like that he spent some time in the AL East and knows how tough life can be there. As long as his exposure to righties is limited, Sherrill should be quite the weapon. A one-year, low base money deal is fine by me, and if he takes a minor league contract than great. He's absolutely worth a flier.