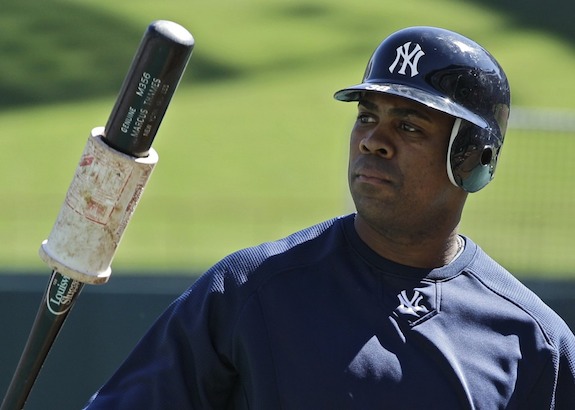 So the Yankees have extra cash, and need a 2011 Marcus Thames. I love the case for Scott Hairston, but what about … Marcus Thames?
(Here's my case for Scott Hairston in case you missed it)
I don't think you'll be able to find a Yankee fan that doesn't appreciate the job Thames did for the Yankees in 2010. He did what he was brought in to do against lefties (.354 wOBA) while far exceeding expectations against righties (.382 wOBA) and providing big hit after big hit after big hit. Plus he was extremely easy to like, at least based on his interviews and stuff. Sure, his defense was so bad that Joe Girardi simply refused to play him in the outfield in the second half (understandably), but the man hit, and that's what he was hired in to do.
Now, as good as Thames was this season, let's not forget that it was the second best offensive season of his career, behind his age-29 season in 2006. His wOBA and OPS+ in 2010 were just .005 and 1 off from his career highs, respectively, and if you go by wRC+ this season was actually the best year of his career. Either way you look at it, the point stands. Thames' 2010 season was not a level of performance we should expect him to repeat going forward, especially against right-handers and especially when you consider that he'll turn 34 in Spring Training.
That's not to say that Thames can't be a valuable contributor off the bench, because he certainly could be if his exposure to righties is limited. His 2010 performance against southpaws is almost dead even with his career average (.358 wOBA career), so we can expect that skill to remain. No so much against righties however, he outperformed his career average against same-side pitchers by more than 50 wOBA points. There's no reason to believe that at his age, the light bulb just came on. There's also the issue of defense. Thames is basically a platoon DH, so the Yankees would be wasting one of their bench spots on a guy that can't play the field.
I like Thames and he'd be a fine choice to fill a similar role next season, but preferably he'd be a fall back option. Guys like Hairston and Reed Johnson can also play the field, giving the team that much more flexibility, and will probably cost less coming off down years. Thames did fine work for the Yankees, but are there are players available that could be even better next season.