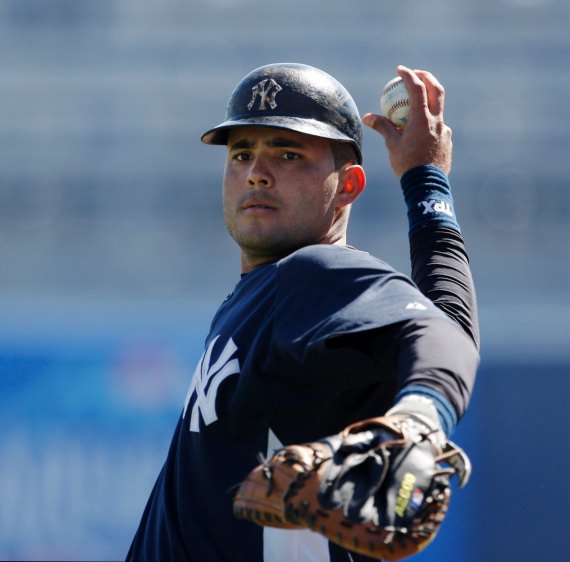 The focus has shifted. With Cliff Lee out of the picture, the Yankees must move on and start fortifying the rest of the team. In just the last day we saw them bring in a catcher and a longshot reliever. These types of moves might underwhelm, but they do bring improvement on the margins. The Yankees will likely continue maneuvering in this manner for the rest of the winter, since no readily available player presents an opportunity for the Yankees to immediately improve. But that doesn't mean they're not looking.
The trade market can help heal what free agency hath wrought, and the Yankees will certainly explore options on that front. That doesn't mean they'll find much worth taking. The players — in this case pitchers — who can provide the most significant value will come with a prohibitive price tag, if they're available at all. For the Yankees that likely means parting with Jesus Montero. Mike and I discussed this at length on the Radio Show yesterday. While there will always be exceptions, we came to the basic conclusion that the Yankees probably should not include Montero in any deal that doesn't return them a pitcher along the lines of Zack Greinke. Sounds pretty reasonable, right?
I thought so, too, until I read Joe Sheehan's latest on SI.com. He feels that the Yankees should not use Montero to acquire Greinke, since Greinke's deal last just two more seasons, after which he is eligible for free agency. Instead, the Yankees should only use their best trading chip for the best from another team. "If the Yankees are determined to trade Montero," Sheehan writes, "they should target less-obvious candidates who can contribute for more than 70 starts — even if it seems like these pitchers will, or should, be untouchable." Emphasis mine.
In the very next paragraph Sheehan discusses David Price, Matt Garza (for whom I would not trade Montero), Brett Anderson, Madison Bumgarner, and Clayton Kershaw. Those names might seem outlandish, given their age and abilities, but that's the entire point. The Yankees have a premier talent in Montero. Why would they trade a potential middle-of-the-order bat for just another pitcher? Sheehan is right. If they are to trade Montero, they should make sure they receive premier talent in return. They might need to package another prospect along with him, but if we're talking any of the above names it would be a worthy expenditure.
Refusing to include Montero in a deal for anything less than a young, elite pitcher might mean the Yankees stand relatively pat this winter. They'll continue adding pieces, and perhaps they'll add a lesser pitcher — someone who can pitch ahead of Ivan Nova in the rotation, but not much more. What they shouldn't do is trade Montero for a pitcher whom they can't control for a few years. The value his bat will likely provide more value in that case. It's certainly tempting, especially with Russell Martin in the fold and a strong crop of catchers on the farm. But the Yankees have something special in Montero. If they trade him, they should receive something special in return.