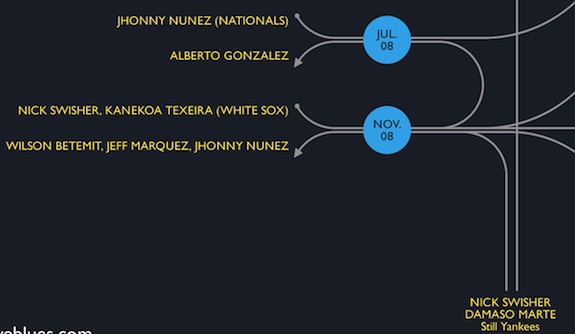 As the trade deadline approached this past July, I traced the long and winding road from Hideki Irabu to Nick Swisher. The pieces the Yanks used to acquire Swisher traced their Bronx lineage back to international free agent signings the team had made in 1990, and the resulting flow chart show how Swisher was the ultimate reward from a very complex series of transactions that stretched across two decades and four World Series championships.
I approached Craig Robinson of Flip Flop Fly Ball fame to produce a visualisation of the trade lineage, and today, it's ready to go. The segment above is just a small piece of Robinson's final work. You can view it in full in a new window by clicking the thumbnail at the bottom of this post.
Here's a guide to the chart: The players on the righthand side were those drafted by the Yankees. Follow their lines to see when they were traded, to which teams and for which players. Those at the bottom of the arrows are the guys the Yanks sent packing. On the left side are the trades. For instance, in December 2001, the Yanks acquired Robin Ventura for David Justice. They eventually sent Ventura to the Dodgers for Bubba Crosby and Scott Proctor. Following Proctor's arrow lands you at Wilson Betemit and from there, to Nick Swisher. What a complicated web a baseball trade can spin.