Since Joe Girardi took over as manager of the Yankees, we've seen a trend from his bullpens. They start off a bit shaky, but after weeding out the ineffective ones and bringing in new blood they end up among the better units in the league. But now that the team has money and roster spots available, might they try to strengthen the bullpen now, when there are a number of quality relievers available?
The Yanks already have a good base in the pen. Mariano will return to close out games. Setting him up are Joba Chamberlain and David Robertson, both of whom are worthy of the job. Robertson has spells where he struggles, but he has far longer streaks of dominance. Joba got off to a rough start, but by the end of the year he was pitching as well as his peripherals indicated. Boone Logan, too, will be back as the team's primary lefty. After that the Yankees have some openings. With the current free agent crop, they could choose to sign a primary set-up man and move Chamberlain and Robertson down the ladder.
Rafael Soriano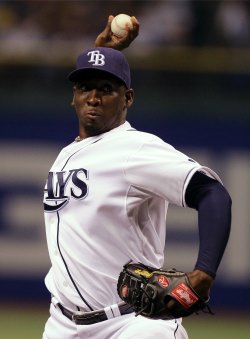 Yesterday ESPN New York's Andrew Marchand wondered whether Rafael Soriano would work as a setup option. It seems to be based on an anonymous scout saying, "It would make sense," so let's look just a little deeper at the cases for and against Soriano.
If the Yankees want the absolute best reliever on the market, Soriano is their man. Since 2006 he's been downright dominant, averaging a 2.54 ERA, 0.961 WHIP, and 3.17 FIP. He broke out in 2003 when he pitched 53 innings to a 1.53 ERA, but he then missed most of the 2004 and 2005 seasons after undergoing and recovering from Tommy John surgery. In 2006 he returned to form with a 2.25 ERA in 60 innings. The Mariners then traded him to the Braves for Horacio Ramirez, which was one of the most lopsided deals of the last decade.
In Atlanta Soriano continued his dominance. During his three years there he threw 161.2 innings to a 2.95 ERA and 3.26 FIP. He became eligible for free agency after the 2009 season, but instead decided to accept the Braves' offer of arbitration. They then traded him to Tampa Bay, who signed him to a $7.5 million contract. He more than earned it by producing a 1.73 ERA in 62.1 innings as the team's closer. The Rays offered him arbitration, but this time he declined. We haven't heard much about him during the free agency period.
While Soriano, 31, is likely seeking a closer's gig, there might not be one immediately available. He was originally connected to the Angels, but they signed Scott Downs and already have Fernando Rodney. That leaves him with only a few options. Setting up for the Yankees could certainly be an attractive gig for him. He remains on a winning team, and gets to set up for the greatest closer of all time before perhaps taking over for him in 2013. Soriano is by no means the next Mariano, but he'd be an adequate replacement after Mo finally hangs 'em up.
There are downsides to signing Soriano, of course. First, he's going to command a multi-year, big money contract. We know that relievers are volatile creatures, and while Soriano has been relatively consistent throughout his career, he's still susceptible to random fluctuations. His health is also somewhat of a concern. After his Tommy John Surgery he missed time in 2008 with further elbow troubles. Since the Rays offered him arbitration he'd cost the Yankees their first round pick, which makes it a bit tougher a proposition. Losing the pick would be even worse if the contract didn't work out.
Bobby Jenks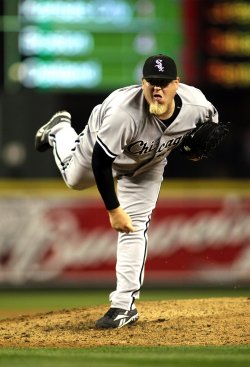 Last night Ken Rosenthal made a pretty terrible pun by saying that there is "heavy action" on former White Sox closer Bobby Jenks. He mentioned that the Rays have interest, as do the Yankees. What can Jenks offer the Yanks?
After producing a 4.44 ERA and blowing four saves in 2010, the White Sox declined to tender Jenks a contract. This comes as a curious decision. Since he came up in 2005 Jenks has been at least a good reliever, and at times has been downright dominant. He has the highly desirable combination of high strikeouts, high ground balls. That will play well in any park, but it works particularly well at Yankee Stadium.
The fear is that Jenks is in decline. It started in 2008, when his strikeout rate dipped all the way to 5.55 per nine. That was the culmination of a four-year trend. After striking out 11.44 per nine during his rookie season, he saw that number dip in each subsequent year.
2005: 11.44 K/9
2006: 10.33 K/9
2007: 7.75 K/9
2008: 5.55 K/9
Throughout all this he kept his ERA below 3.00, and still kept his FIP at a decent level. In 2009 he rebounded to strike out 8.27 per nine, but something else changed. He more than doubled his career home run rate to that point, allowing nine in 53.1 innings (1.52 per nine). That led to a career high 4.47 FIP, and his ERA inflated to 3.71. While his strikeout rate was encouraging, there still had to be some concern about Jenks. Still, the White Sox took a chance and tendered him a contract, which paid him $7.5 million in 2010.
In terms of peripherals Jenks completely rebounded in 2010. His ground ball rate shot back up to near 60 percent, and his strikeout rate rebounded to 10.42 per nine. He walked a few more than normal, but nothing drastic. Most importantly, his home run rate dipped down to his normal, low career level. He did struggle at times, thanks to a .368 BABIP — his career mark is .306. This makes the Sox decision to non-tender him a bit curious. He's now a free agent, and while he could cash in better next off-season if he went to close for the Rays, he could also raise his value by setting up for the Yanks.
David Aardsma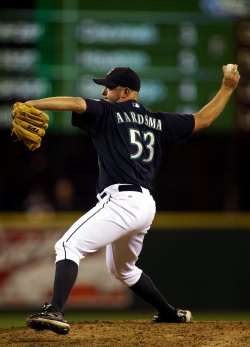 Rosenthal was at it again last night, this time reporting that the Mariners were shopping closer David Aardsma. After bouncing around the league since his debut in 2004, Aardsma finally settled in with the Mariners in 2009, establishing himself as their closer that season. His 2010 season wasn't as impressive, but it was still a decent season for a relief pitcher.
Aardsma has always been a high strikeout guy, but walks have hurt him in the past. That tendency was at its worst in 2008, when he walked 35 in 48.2 innings for the Red Sox. With the Mariners he showed a bit more control, but at 4.29 walks per nine he still issued a few too many. He thankfully made up for that by striking out 10.09 per nine and allowing just four homers in 71.1 innings in 2009. That certainly raised his stock, and instead of getting DFA'd, as he had grown used to, he got a $2.75 million contract from the Mariners.
In 2010 Aardsma continued his walk happy ways, but didn't quite have the strikeouts or home run rate to sustain his 2.52 ERA from 2009. He did get some help on balls in play, a .235 BABIP that had to be somewhat influenced by Seattle's strong defense. His FIP rose a full run to 4.05, which has to be a concern as well. It wouldn't be surprising to see Aardsma have a disappointing 2011.
The big problem, though, is his fly ball rate. Aardsma is a straight fastball pitcher, and as such induced many fly balls. In Seattle's large park he was able to keep his HR/FB ratio in check, but that won't be as easy in Yankee Stadium. This makes him a poor fit for the Yankees. He might fit nicely into a setup role for another club, and might close for a second division team. But his fly ball and walk rates make him less than ideal for the Yankees.
Go hard after Jenks
It should be clear at this point that Jenks fits the Yankees the best. He doesn't have Soriano's track record, and there are certainly concerns with him, but given his price tag and lack of free agent compensation, I can see the Yanks getting involved. They might have to go above and beyond in order to land him as a setup man, but a two-year deal could definitely seal it. The only question then is money, though I suppose that depends on the types of offers he's receiving elsewhere.
While Soriano makes sense for some reasons, he presents a few too many risks to warrant a four-year contract. That would be ideal for the Yankees, since it would give them a closer for two years after Mariano's current deal expires, but if Soriano gets hurt along the way it doesn't matter. Jenks can be had on a shorter contract and has the potential to be an elite setup man. If they're going to target a righty free agent bullpen arm, it should be him.