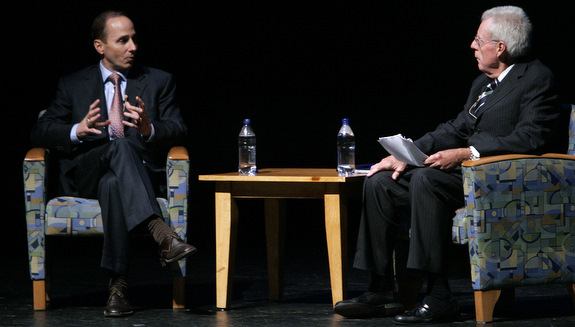 Josh Norris sat down for a chat with Brian Cashman on Friday (part one, part two), getting the GM to spill the beans about a number of topics, including Jesus Montero, the draft, and a bunch of other stuff. Unfortunately he didn't say anything controversial, so those of you who enjoy that sort of stuff are out of luck. Rather than give you just a link and telling you to check it out, I wanted to talk briefly about some of the stuff Cashman discussed. I block-quoted some of it and added my two cents below, but still, you should go check out the interview in its entirety. Josh did a great job as usual. On to the quotes…
We have been very aggressive in the draft and re-dedicated ourselves to tools, not necessarily to performance coming out of the amateur ranks.
I'm going to focus on the tools over performance part, because the Yankees have drafted quite a few guys with questionable college performances and turned them into quality prospects because they focused on the talent. David Phelps jumps to mind, he had a 4.65 ERA and a decidedly unsexy 7.26 K/9 in his final year at Notre Dame, but his minor league career features a 2.50 ERA (382.1 IP) and last year he struck out eight men per nine. David Adams hit just .286/.384/.411 in his draft year at Virginia, but as a pro he owns a .281/.370/.439 batting line with wood bats against much better competition. Andrew Brackman belongs in this conversation as well.
I guess the point here is that the development process is just as, if not more important than the talent acquisition process. You can spend all the money in the world and select Baseball America's top ten draft prospects every year, but having the coaching staffs and personnel in the minors to help these kids realize their potential through instruction and training is absolutely crucial. At the professional level, pure talent will only take a player so far, they've got to put the work in and the team has the have the people in place to help made adjustments.
Kevin [Towers] and I are dear friends, but I only (got) Kevin involved because I knew he was going to be a GM someday somewhere else, but I wanted to get an outside perspective of our system. He's a tremendous evaluator of talent, so Damon Oppenheimer used him for the draft. He went out there and saw the amateurs that were out there. He went through our farm system, and he was a guy I could lean on and ask for advice on a lot of different things. It was nice to have him for the short time we had him.
Until now, we had basically no idea what Towers did for the Yankees last summer aside from speculation about the Chad Huffman and Steve Garrison waiver claims. Cashman also said he had KT evaluate the team's present minor league talent for an objective take on what they had, admitting that internal biases often come into play. I'm curious to know which (if any) drafted players came on Towers' recommendation; he's always been a polish and probability guy, but the Yankees went after upside and took a lot of risk this summer.
[The Russell Martin signing is] an indicator of who's going to be the starting catcher. It's going to be Russell Martin, period. Then after that, the back-up situation's going to be open for discussion between Cervelli, Montero, Romine, we'll see. Or all of them. … They all could split time and get a little education in the process.
Last week Cashman appeared to say that the starting catcher's job would be an open competition, but that was a misquote. The competition is for the backup job, though I'm not sure how much of a competition it will really be. That's not a knock on the process, it's great to let the kids think they have a shot to earn a job in camp, but I believe Cervelli has a head start on the job simply because Montero and Romine need to play every day to continue their development.
Cashman also commented on Montero's much maligned defense, saying "We believe he can catch, and we believe he can catch long-term." That's all well and good, but as Kevin Goldstein mentioned at Saturday's BP/SABR event, the Yankees are the only ones that believe he's a catcher. No one outside the organization believes that. Yes, some bias comes into play, but it's basically the Yankees against the world. I think that as long as he can fake catcher as well as Posada did over the last few years, the Yankees will take it and wait to change Montero's position until some yet to be determined point in the future. Or they could trade him for someone really, really good.