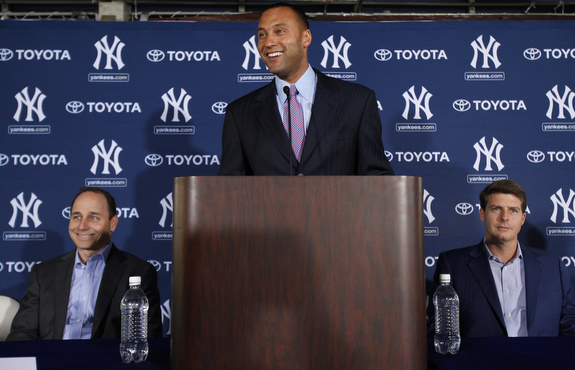 As crummy as this offseason has been, one thing it did do was show that no matter what moves the Yankees make, they're never right. There's always backlash, whether it's from us, the MSM, the fans, whoever. Every single move, from the smallest minor league signing to the latest record-setting contract, it's wrong in one way or another. Seriously, people were complaining about the Steve Evarts signing, and I'm willing to bet a whole lot of them had completely forgotten the Yankees signed the guy until just now. The Cliff Lee, Derek Jeter, and Rafael Soriano situations all prove this point as well. Each and every one was wrong in one way or the other.
Back in November and early-December, when it appeared as though the Yankees were the favorite to sign Lee, the narrative was that giving a 30-something finesse pitcher a long-term deal was a terrible idea. He'll break down, he doesn't have enough margin for error, yadda yadda yadda. Then once the Phillies landed Lee, the story became "how could they let him get away!" Nice, easy, and convenient. It doesn't matter that everyone was talking about what a bad idea it was just a few weeks earlier, they failed to get him and that was a mistake.
The Jeter situation was in a class by itself. We had one side saying the Yanks needed to be firm with an aging and declining player while another was saying that they had to give him whatever he wanted because, dude, it's Derek Jeter. The Yankees got him to take a pay cut on an average annual basis but signed him through age 40 with zero competition on the open market. They managed to disrespect him and cave into his demands at the same time, depending on who you ask. Same deal with Soriano. They needed this guy because the rotation's awful and they can shorten the game but OH MY GOD DO YOU SEE THAT CONTRACT?
Perhaps my favorite narrative of the winter is that the Yankees aren't spending enough money and are now being frugal. This is coming after years and years and years of stories and articles and blog posts declaring that the team was ruining baseball by buying all the best players. They dropped half-a-billion dollars* on three players two winters ago and will still have the highest payroll in the game, but no, they're not spending enough. And if they had signed someone else, be it Lee or Carl Crawford or whoever, those bastards are ruining the game and the competitive balance all that.
* It was really $423.5M, but you're allowed to artificially mark things up 18.1% to support your narrative, apparently. Half-a-billion just sounds better, facts are irrelevant.
Oh, oh, and then there's the prospects. How can they worry about giving up the 31st overall pick, have you seen the list of players taken with that pick? Rewind back a few years and we were talking about how the Yankees have no farm system because they gave up all their draft picks to sign free agents and traded anyone with an iota of prospect status for the latest band-aid, and in a few years we'll probably be saying the same thing again. It's just the nature of farm system, they cycle between good and bad every few years. But for the Yankees, it's always a problem. Too many prospects? Why aren't they calling them up/trading them oh my goodness they love their own minor leaguers too much. Not enough good prospects? How can this possibly be with their resources I don't understand. Lose-lose.
Yankee bashing is a pastime as old as the game itself, and the current age of media just makes it more prevalent. It's a vicious cycle, and no matter what the Yanks do, it will always be wrong in the court of public opinion. We're all guilty of it, no question. It sucks and there's nothing we can do about it, but it goes to show what kind of world this team has to operate in.