Ah yes, the big hit. We know one when we see it because we can quite literally feel the impact it has on the game (at least sometimes, anyway), but other times it takes a little bit more research to realize just which ones had the most impact. That's what WPA is for, a neat little stat that tells us how much a specific event (a hit, a ground out, a stolen base, whatever) increases or decreases the team's chances of winning. Let's go back and re-live the five biggest hits of the Yankees' 2010 season, just for fun…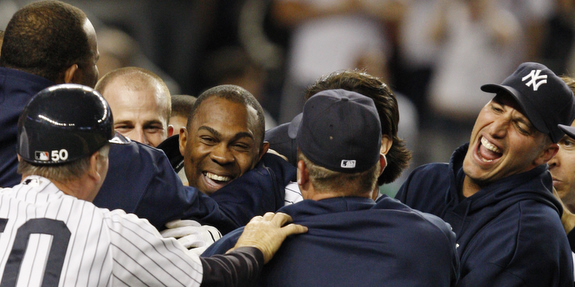 May 17th: Thames walks off again Jonathan Papelbon (video)
I think that in terms of emotional highs, this was the biggest hit of the 2010 season. It was the Red Sox, Papelbon, the Yankees had a big lead and blew it before having another lead in the later innings and blowing that one, and again, it was Papelbon. Plus I was there, so maybe that's clouding my memory. Either way, this homer was awesome and I will continue to remember it as such. There's not much that's more enjoyable than celebrating a win while Papelbon slowly walking back to the clubhouse with his head down.  The WPA swing on the homer: 0.43.
May 17th: A-Rod sets things up for Thames (video)
You know what's just as exciting as beating Papelbon? Watching Alex Rodriguez hit a homer off him to tie the game a few batters before Thames ends it. The Yankees were down two at the time, which is why this homer was slightly more important in terms of WPA. It brought the Yanks back from the jaws of defeat, Marcus just polished things off. A-Rod's homer accounted for a WPA swing of 0.46.
May 30th: Tex goes deep for the 250th time (video)
It's pretty amazing how many big hits we forget. This is the game when Justin Masterson came to town with like, a 6.00 ERA, then proceeded to shut the Yankees down into the seventh inning. Down three-zip, Nick Swisher singled to lead off the seventh before moving up to second on a Juan Miranda ground out. Brett Gardner beat out an infield single to put runners at the corners, but then Frankie Cervelli struck out as a pinch-hitter replacement for Chad Moeller. Derek Jeter singled into two after Gardner stole second, ending Masterson's night.
In came lefty reliever Tony Sipp, who promptly gave up a double to Curtis Granderson, putting men at second and third. Instead of intentionally walking Mark Teixeira to set up the potential inning ending double play, they made the foolish choice of pitching to him, and six pitches later the ball flew over the leftfield wall and the Yankees went from down three to up two within the span on three batters. It was Tex's 250th career homer and checked in at 0.48 WPA, and I still barely remember it even after seeing the video.
Sept. 17th: A-Rod turns it around against Koji Uehara (video)
As Yankees fans, we're privy to watching a lot of great players do a lot of great things, though I think we all still marvel at some of the things A-Rod can do on a baseball field. Remember, coming into this game the Yankees were losers in eight of their last ten and had failed to score more than three runs in seven of those games. Alex put three runs on the board in one swing.
The Yanks were down by two heading into the ninth, and Jorge Posada got the rally going with a monstrous 11 pitch at-bat against Uehara before reaching on a single. Thankfully Jeter struck out instead of grounding into a double play, and Grandy moved Posada to second on a single. The rally looked dead when Tex popped up into foul territory, and it looked even deader when A-Rod took a 1-2 pitch inside for a ball that appeared to be a strike but was ruled otherwise. Uehara went back to the same pitch and tried to put in the same spot, but Alex sat back on it and hit a colossal three-run homer that gave the Yanks their first ninth inning league in what felt like eons. The WPA of this sucker? How about 0.72.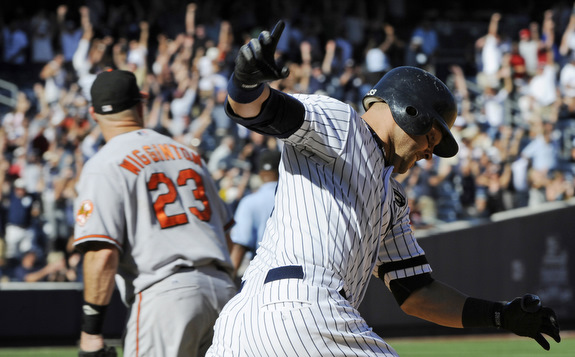 Sept. 8th: Swish walks off against Uehara (video)
Poor Koji. Barely a week before A-Rod broke his spirits with his homer, Swisher did the honors at Yankee Stadium. The Yanks were coming off three straight losses and were down a run to the O's when Uehara started the ninth inning. Captain unclutch Alex Rodriguez singled to lead off the frame and was immediately replaced by pinch runner Eduardo Nunez. Robbie Cano nearly won the game on his own, sending a ball to deep center that Adam Jones corralled for out number one.
Uehara had come into this game having allowed just four earned runs total in the previous two months, a sparkling 1.44 ERA. Batters were hitting just .202/.219/.309 during the time, so getting even that one single from A-Rod to lead off the frame was a minor miracle. The Baltimore closer fell behind Swisher 2-0, prompting the Yankee rightfield to sit on a fastball. Uehara obliged and Swish delivered. I remember thinking it was a double off the bat, but it just kept carrying and eventually landed in the visitor's bullpen for a two-run, walk-off homer. The losing streak was over and the ten game homestand ended on a high note. The WPA of Swish's shot was a season high 0.78. That's ginormous.
* * *
Just for fun, here's a few other memorable hits from throughout the season…