Ah yes, the return of the regular old mailbag. We milked some questions for longer posts over the holidays, but here's one of the old school, quick hits style mailbags that we've all grown to love. This week's topics include a potential trade for Ryan Madson,  interest in Matt Garza, using Cliff Lee money on prospects, Nick Johnson's job prospects, Gil Meche, and book recommendations. If you want to send in a question, the Submit A Tip box in the sidebar is the way to go.

Steve asks: Do you think there's a chance the Phils will trade Ryan Madson, say for Nunez & one of their young pitchers? This way if they can play Nunez at ss & trade Jimmy Rollins save around 12m.
No way. The Phillies are clearly going all in right now, as they should because the core of the team consists of players on the wrong side of 30 (Chase Utley, Ryan Howard, Roy Halladay, etc.), and they won't be productive forever. Madson is arguably the best setup man in the game, and they sure as hell won't trade Jimmy Rollins. He's massively overrated but still a damn fine player, and who's taking on that contract? I'd love to see Madson in pinstripes because he's downright awesome, but it would take a lot more than Eduardo Nunez and a pitching prospect to even get their attention.
Tucker asks: If Matt Garza was in a different division, would the Yanks be all over him?
Yeah, probably. Young enough (27), cheap enough ($3.35M last year and is up for arbitration for the second time this winter), healthy enough (hasn't missed a start since April of 2008), and effective enough (4.24 FIP last three years, identical to Gavin Floyd and Brett Myers). He'd be an ideal target, but I can't see the Rays trading him within the division. Andrew Friedman's been calling the shots in Tampa Bay since the end of the 2005 season, and he's made exactly one three trades within the AL East: he acquired Chad Bradford and Gregg Zaun from the Orioles in separate deals, and he also dealt Nick Green to the Yankees. Just not gonna happen, not at a reasonable cost anyway.
Late update: Looks like Garza's headed to the Cubbies.
Sam asks: Does any part of you wish that the Yanks would re-allocate some of the money they almost spent on Cliff Lee to trying to sign more high-end international guys/draft picks than they would have originally? I get that what they already spend is substantial but I would love to see them throw an extra 2-3 million into both budgets.
Of course, but as you said, they do spend a bunch of money as it is. You can always spend more, but eventually you'll reach a point where you're just throwing money away because the rate of return is so low. We can complain about a lot of things with the Yankees, but the farm system isn't one of them. They know what they're doing in that department these days.
Matt asks: Was looking back at the 2010 roster, and who the Yanks were getting rid of and keeping. One that I know won't be back in Nick Johnson, but is there any clue where he would go ?
Reportedly, NJ is fully recovered from his latest wrist surgery and is working out twice a day down in Arizona. He was in the mix for Oakland's designated hitter job at one point, but they've since signed Hideki Matsui. The Cubs were also in the mix before they signed Carlos Pena, but that's pretty much it. We haven't heard a peep about Johnson all offseason. Just look at how little activity there is in his MLBTR archive.
I don't know where he could go next year now that most of the major free agent first baseman are off the board and teams in need of a DH will turn to Jim Thome or Manny Ramirez or Vlad Guerrero. Maybe the Rays? Twins? Angels? The Marlins are seeking a lefty hitting bat off the bench, and he played there for half-a-season, so maybe that fits. If he was willing to take one of those ever popular minor league "prove yourself in Spring Training" contract with a mid-summer opt out date, I'd be all over the guy. No risk with that type of contract, and it could end up having a high reward.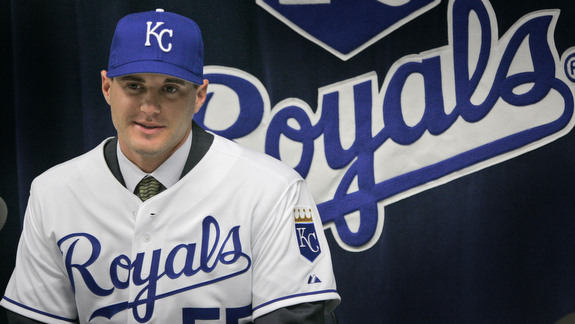 Howard asks: It is pitching (of course) which we want to discuss—maybe a deal for Soria would be easier if we took Meche and his contract at the same time? Is Meche still a capable starter? And why do the Yankees insist on keeping Mr. Chamberlain in the bullpen? His performance as a starter was quite good when they let him pitch on regular rest.
Once upon a time, Meche tossed up two consecutive seasons of at least 210 innings pitched and a 3.82 FIP. Of course that was three years ago. He's since been battling back and most notably shoulder injuries, and his performance has cratered: just a 5.03 FIP in 190.2 IP over the last two seasons. Meche finished the 2010 season as a reliever (and a pretty good one at that), and the decision has already been made by the Kansas City brain trust that he will return to that role next season. They don't think he's physically up to starting after missing 150 days with shoulder issues in the last two seasons.
So to answer the first question, no, he's no longer a capable starter. With a $12M salary, he's a deal breaker if the Royals want to try to lump him into any potential Soria trade. As for the second question, I don't think any of us know why they insist on keeping Joba in the bullpen. I'm sure they have a very valid reason (Brian Cashman said something like "his stuff just isn't the same as a starter," but … duh), but we outsiders don't know what it is. I'd love love love to see him given a chance to start again, but I've accepted that it just won't happen. For shame.
Dan asks: After just finishing Steinbrenner: The Last Lion of Baseball, which was brilliant I might add, can you suggest other books of the same quality? I know that these long, drawn out winter days make everyone a bit nostalgic. What better way to keep the flames burning then with a decent read through Yankee, or Baseball in general, history/insight? I know I'd love to get some suggestions from Yankee writers and fans on titles that are not to be missed.
I haven't read the book, so I don't know anything about it and can't make any good recommendations. However, I'm sure some of our readers have, and I'm willing to bet they have some recommendations to offer. If you have one (or some), leave it in the comments.