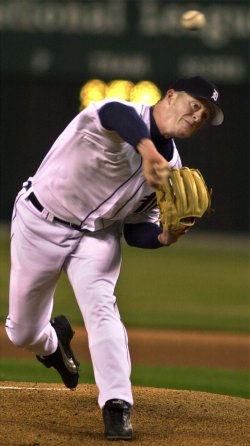 Expect to see a lot of this the rest of the off-season, or at least until the back end of the Yankees' rotation does not include the names Ivan Nova and Sergio Mitre. Not long ago Fox Sports's Jon Morosi reported that the Yankees "have shown interest" in Jeremy Bonderman. To what degree they're interested is not clear, but I think we can turn to an oft-repeated line from Brian Cashman to get an idea.
"It's something we do with every free agent."
Two weeks ago Mike examined Bonderman and found little to like. While it appeared that his career was on the right track in 2006, when the Tigers went to the World Series, he's been quite the disappointment ever since. It's hard to believe he was just 23 that year. You can check Mike's post for the gory details, but suffice it to say that injury played a major role in his downfall. After missing time in 2007 with blister problems followed by an elbow issue, he pitched just 81.2 innings combined in 2008 and 2009.
Bonderman did have a few good stretches in an overall disappointing 2010. From April 21 through June 1 he had a 2.70 ERA in 46.2 innings, which included a 35 to 12 K/BB ratio. Mixed in there was a seven-inning, two-run performance against the Yankees. Those starts, unfortunately, were bookended by two of his worst: a four-inning, 10-run debacle against the Mariners and a 5.2-inning, seven-run job against the Royals. He also continued to induce ground balls at a decent rate, a skill that is always welcome from a righty at Yankee Stadium.
As Mike said, "It would be foolish to count on Bonderman recovering the magic from 2004 through 2006." But if he can build on what he did in 2010, he can be a decent back end option. With just a little improvement he'll past the basic test — is he better than Segio Mitre? — with flying colors. It's going to take quite the incentive-laden deal for me to get behind this one, but considering what the Yankees have on hand and what's on the market, they could do a lot worse than a low-risk deal on Bonderman.